This is a sponsored post written by me on behalf of AllWhites Egg Whites for IZEA. All opinions are 100% mine.
Hey yall! Have a good weekend? Darn those Packers…am I right?!?! We were soooooooo rooting for them to go to another Super Bowl. The end of that game was complete craziness! We are enjoying one more day off although my day started off with a bang today and I feel like I have been going a mile a minute. If you are searching for something to soothe your sweet tooth….but you don't want to kill your diet…these low calorie brownies are just the ticket. Make some this week and see for yourself….
Did you know that your typical 2-inch square brownie will cost you about 250 calories? If I told you you could have the same size square brownie and save a hundred calories and not compromise any taste would you try it? Usually something like that would be too good to be true…but seriously these brownies are just a decadent as any other brownie you've ever eaten. That's called winning my friends.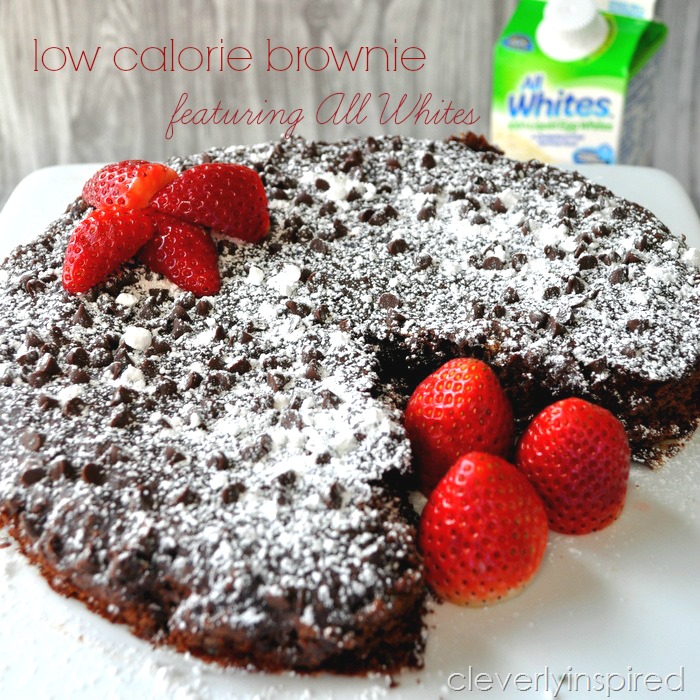 My friends at all white egg whites invited me to try a recipe for brownies telling me they are at least half the calories of a regular bakery brownie. (and bonus..they gave me a coupon to pass along..$0.50 Off AllWhites Egg Whites) . I really didn't believe them.  I would try it and it would taste like a healthy brownie…which are usually not worth eating.  You will never miss what is missing in this dessert. And I will show you an easy way to make your brownie into a heart….perfect to make for your sweethearts on Valentines Day. The brownie comes together really easy mixing the dry ingredients and adding in wet….no brainer.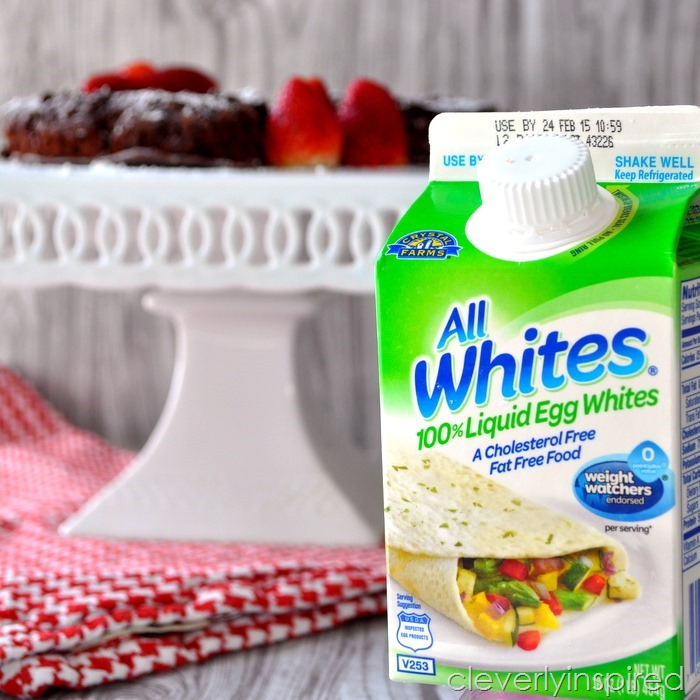 Simple ingredients always produce the best outcome…and this recipe is no different. Here is what you will need to make this heart shaped brownie for the loves in your life:)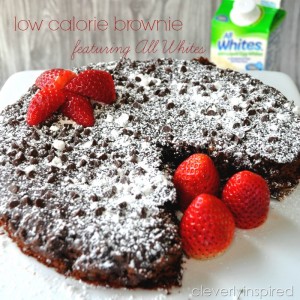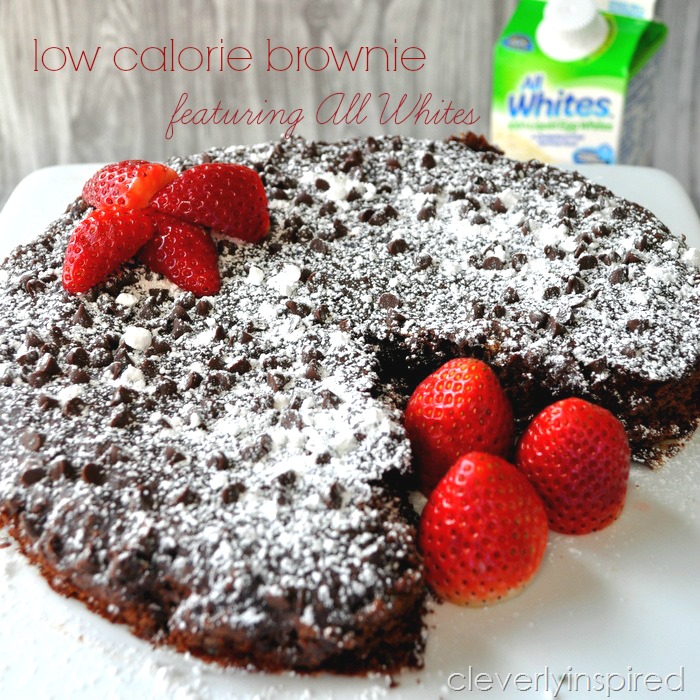 Low Calorie Brownie Recipe
Ingredients
1

cup

all-purpose flour

3/4

cup

sugar

1/2

cup

firmly packed brown sugar

1/2

cup

unsweetened cocoa powder

1

tsp.

baking powder

1/2

tsp.salt

1/2

cup

applesauce

1/3

cupAll Whites

2

Tbsp.canola oil

2

squares

1 oz. each

semi sweet baking chocolate

melted

1

tsp.

vanilla

1/4

cup

miniature semi sweet chocolate chips
Instructions
Heat oven to 350°F. Spray 8-inch circle baking pan with nonstick cooking spray. I always use parchment liner too which will make it easy to take out of the pan.

Stir together flour, sugar, brown sugar, cocoa powder, baking powder and salt until well mixed. Stir in applesauce, Better'n Eggs, canola oil, melted baking chocolate and vanilla just until well mixed; careful not to over stir. Place foil on one edge and spread  brownie mixture into prepared pan around the foil creating a "heart" shape. Sprinkle with miniature chocolate chips.

Bake 20 to 24 minutes or until toothpick inserted in center comes out clean. Do not over bake.
 When the brownie is done baking….let it cool a bit. Take out the foil piece and shape up your heart with a paring knife. Powdered sugar and berries will cover up any mishaps:)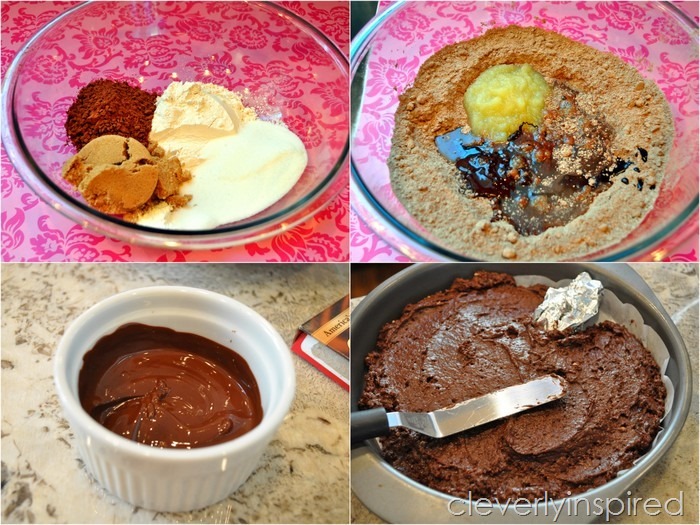 You can find lots of other low cal recipe ideas on the AllWhites Egg Whites on Pinterest. And AllWhites Egg Whites Favorites. A great way to start your 2015… getting healthy!!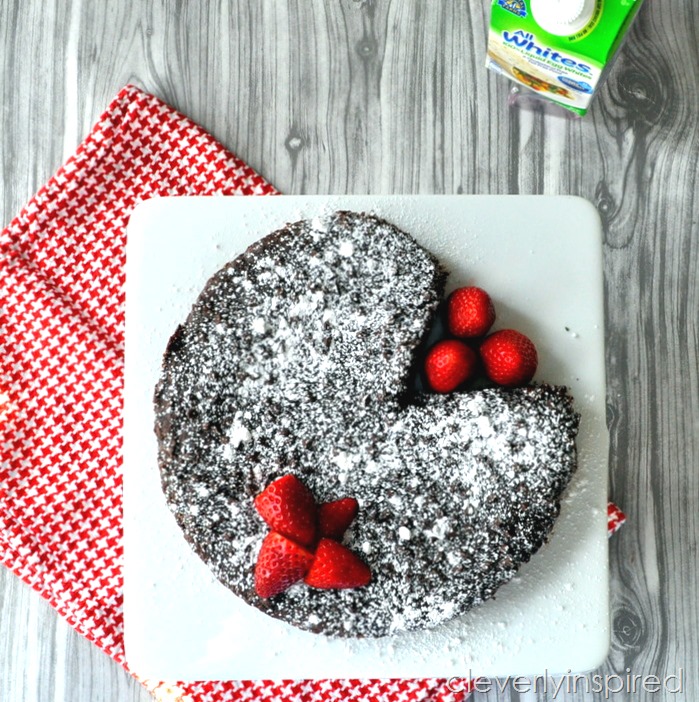 Even better with a little fresh berries to decorate the top:)