I hope you had a wonderful restful weekend! We had a very productive one…..I am excited to share with you soon about what we have been up to….But since I have had zero time to get it all out of my head….I will share this yummy weeknight recipe instead:) Will spill beans soon….
My mom would make a casserole very similar to this one when I was growing up. Hers had dried beef on the bottom layer…and I think it also had sour cream in it.  I was in a "use what I have" mode…so I used bacon…cause you know this girl never runs out of bacon!!! :) Don't you think you could put bacon on almost anything…and it would make it better? Yes, you know I love bacon….and here is yet one more way to enjoy it. This recipe works so well because the fat from the bacon keeps the boneless chicken moist and tender….since boneless cutlets don't have any fat…you need something like bacon to prevent it from drying out. This casserole is a perfect weeknight meal…comes together so quick and only takes 30 minutes to cook. Make a side salad and you are done!
(Sorry for the poor quality pics….I was hungry;)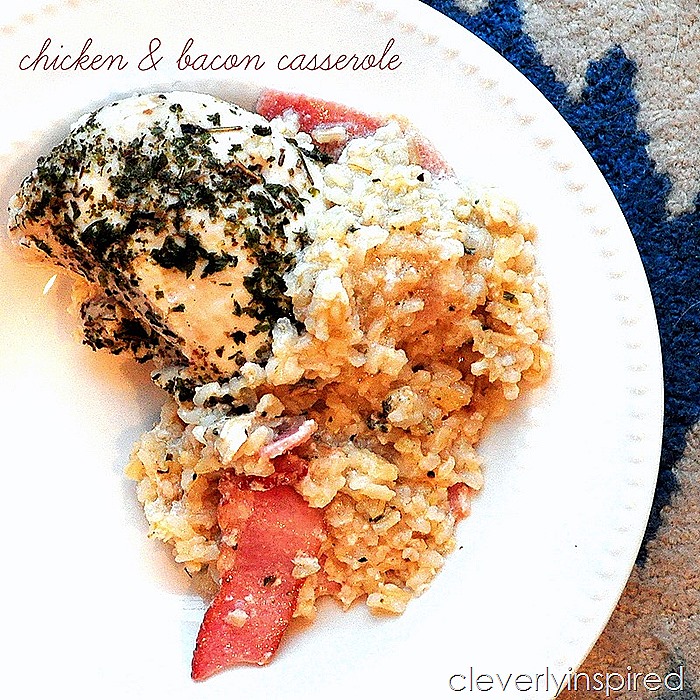 No canned soup used in this recipe either…which cuts down your sodium…and I promise it just as easy as opening a can of soup!
Please note: use a pan smaller than 9 by 13…you need the sauce and chicken to be surrounding the rice for it to cook. My pan is 8 by 10 or so.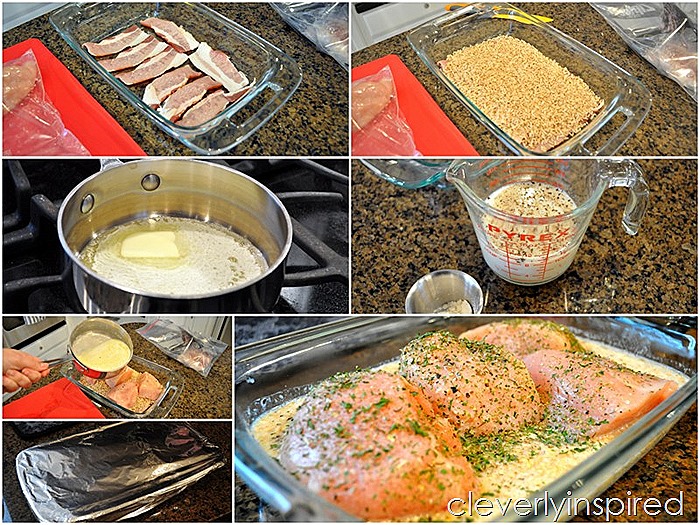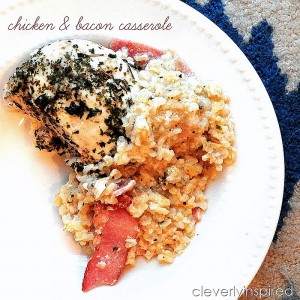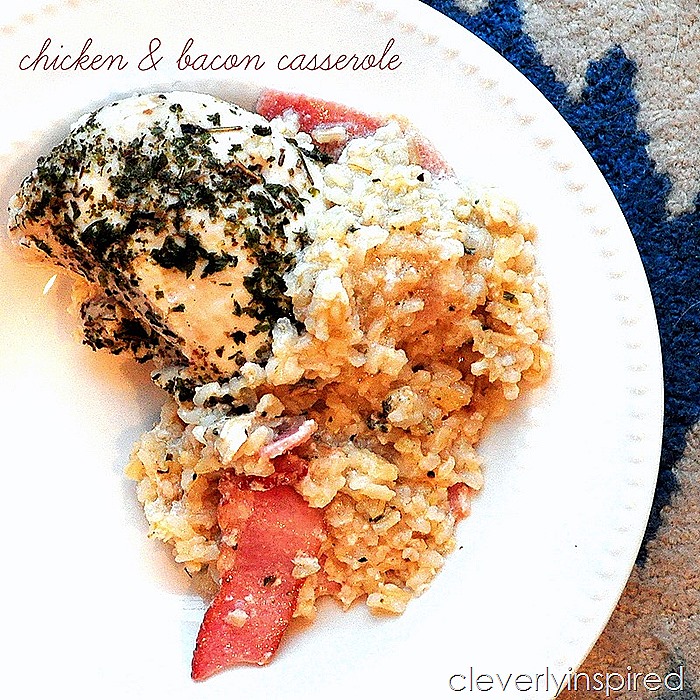 Chicken Bacon Casserole
Ingredients
6

slices

of bacon

1

cup

brown rice uncooked

or white

2

large boneless chicken breast

cut them in half

1

tsp

oregano

1

tsp

parsley

1/2

tsp

garlic salt

3

T

butter

1/2

C

chicken broth

1/2

C

milk

1

T

flour

salt pepper
Instructions
Preheat oven to 350

Melt butter and in a small pan.

Whisk in flour for 2 minutes.

Remove from heat and add in broth and milk.

Return to heat and let thicken for about 7 minutes.

Meanwhile, layer baking pan (use a smaller casserole pan 8 x 10 or so) with bacon.

Pour rice on top of bacon

Place chicken on top of rice.

Sprinkle chicken with salt and pepper.

Slowly pour soup mixture on top.

Sprinkle with herbs. Cover with foil and bake 30 min.
Have a great Monday!
xo