Guess what!?!? Our new family room light is being installed today…..cannot wait to see it up! I think it will make a huge difference in this room.  I am chit chatting today about the Pantone color of the year. Have you seen it yet? When I first saw the color all I could think of was 80's. But I thought it would be fun to play around with it a bit….
When is Marsala ever a good idea? And we ain't talking about the wine….because that's always a good idea am I right or am i right? I'm talking about the Pantone Color of the Year Marcella. It's kind of a purplish pinkish color that I'm not naturally drawn to. I feel like I say this fairly often when it comes to the color of the year. I tend to not really be too trendy. My tastes have changed over the years but the color palette I think that I have now I have always naturally been drawn to…although there was definitely a phase I went through of jewel tones. I do feel much more comfortable in a relaxed cool palette with soft furnishings.
The Pantone Color of the Year is not really my style but I thought it would be fun to come up with a way incorporate it into a room.  I think when you add in little bitty pieces of trendy colors like this it make sure home feel updated but still very much your style.

I put a mood board together that would introduce the color of the year. My board came our more pink than "terracotta" …but still in the mood of this Marsala color. Sometimes all it takes is an art piece or a vase or maybe a special rug to pull out certain colors that you might otherwise would have overlooked. Mixing it in with natural colors and tones….along with a little bit of bling….I could see this working really well together.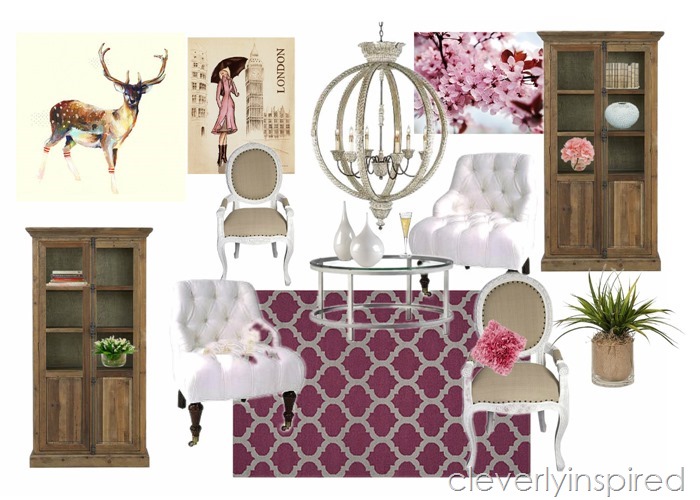 All of the buying list for this mood board can be found on my Olioboard. Are you looking to update a space in your home this year? I would love to help you out. Just check out Design Services tab at the top of the blog to find out more information. Have a great weekend friends and stay warm!