A friend of mine from college recently contacted me about helping her arrange her master bedroom. I jumped at the chance! You know how I love a good moodboard :) Molly and Dan wanted to brighten up the space…and figure out the best way to arrange the furniture. Here is what I came up with for their modern master bedroom…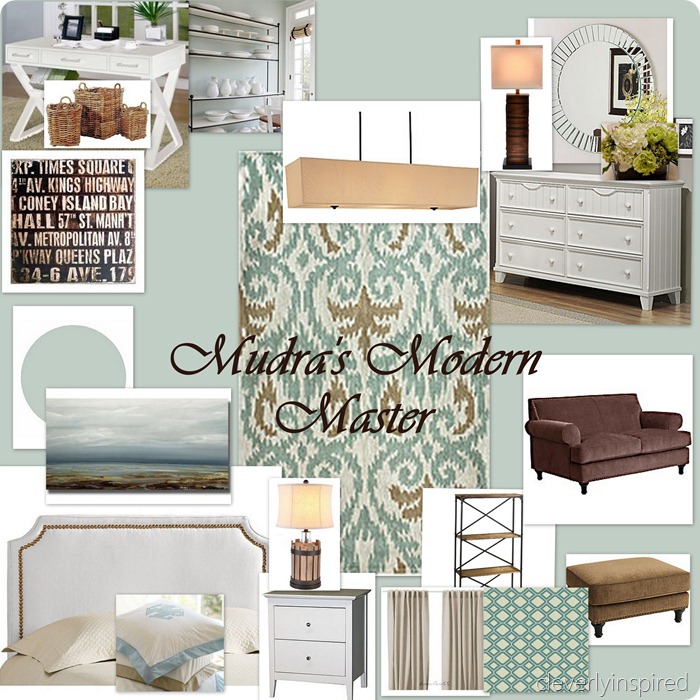 My inspiration was this fabulous rug (overstock) . I fell in love with the colors and texture. The paint I chose is Woodlawn Blue by Ben Moore. It is a silvery blue that plays nicely with many colors. I suggested to Molly that the furniture be painted white. I love the idea of this nail head upholstered headboard by Ballard designs.It is timeless and feminine by not to much:) A beautiful print above the bed to bring out the colors of the space. The bedding is a simple hemstitch pattern (a beige or blue would both be nice) As for the furniture layout…I suggest moving the bed so that it is directly opposite the windows. The bedside tables on both sides with a lamp (like the one above from Kirkland's) The key to this space is lamps! The peaked ceiling makes it feel dark…no matter how much light pours in from those windows. I think a larger lamp on the dresser would be great too…with a large statement mirror above.
On the other side of the room….where the windows are…I would place a loveseat in brown velvet with an ottoman. A perfect spot to read …and listen to quiet ;) As for the windows…I would hang long panels of fabric (a burlap would be nice…or a pattern like the Robert Kauffman print) Many times you can find ready made panels that will compliment nicely. Something with blue and tans would be great (maybe a touch of light green too )
The long wall in between would be a great place for the desk and maybe a hutch above (for books) or a bookcase along side the desk. Again…another place for a lamp ;) I like the idea of incorporating some iron (like the bookcase above) and some natural baskets…for texture. Some light greenery (vases, greenery..etc..) would be a nice splash of color.
I think it would be fun to do a piece of subway art that is representative of the couple (UD, flyers, etc….) Along with some family pictures in black and white.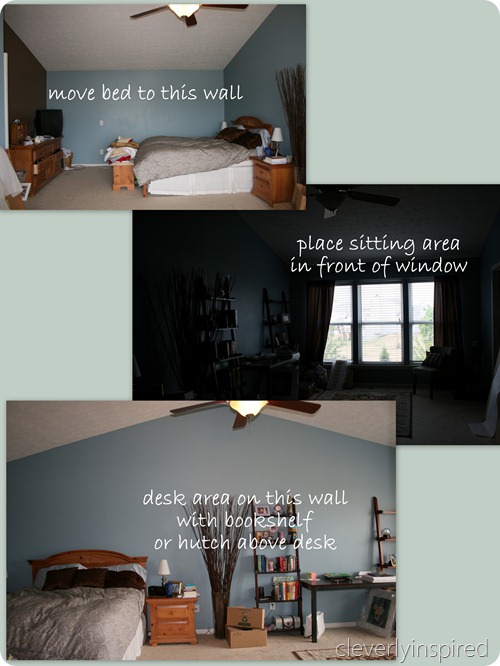 I would love to create a design for you also! See the tab at the top of the page "design services" and we can chat more about it!
I can't wait to see this master bedroom come together! Thanks Molly and Dan!
Sources:
Paint: Woodlawn Blue Ben Moore
Robert Allen Fabric Rowel
Bookshelves
Sharing at