Hope your 4th was full of fun and fireworks. Our poor Stella girl was not a fan of all the booms and cracks in the sky all weekend.She's thrilled that it's over. Wrapping up Homearama house this week into next….we are on the home stretch! Hubs and I are sneaking away to the beach house for a bit first though. I need a bit of a get away;) The new beach bathroom is complete so I'll be sharing pics of that real soon too:)
I walked the homearama house yesterday with my friend April who will be photographing the entire house so that I can share it all with you! I cannot wait to show you some of the unique features that we have put into this home.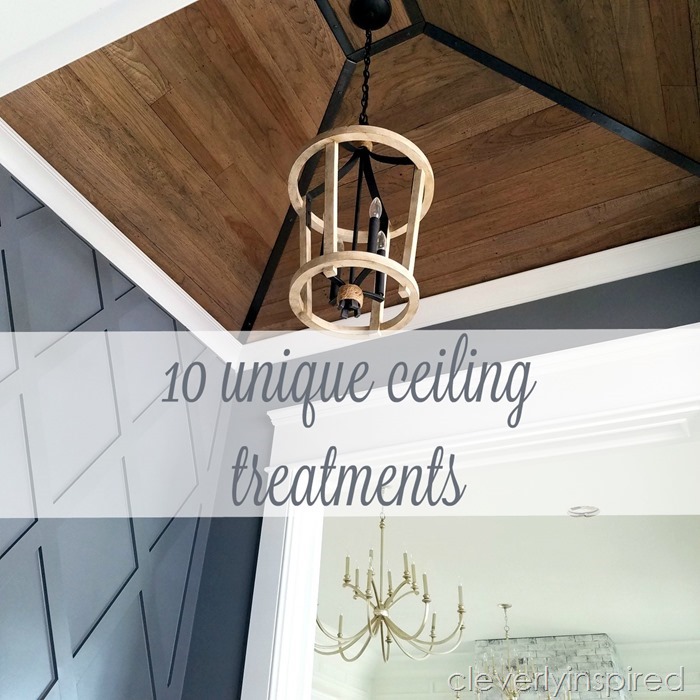 (A little sneak peek at one ceiling that is a showstopper in our #homearamahouse15 home….I adore this entry space:)
There is the resurgence of making a bold statement with ceilings. Introducing a color on the ceiling has become 2nd nature..now we are seeing elaborate trim and textures. Many of these are great DIY projects…some you would want to hire out;)
In our homearama house I am encouraging folks to LOOK UP and see what a difference some texture on a ceiling can make in a room. Here are a few design inspirations to get you thinking "up" ;)
I love that some of these ideas are just a unique way to use trim…others are just a paint finish…and some repurpose old wood…They all add a new dimension to the room.
Promise to show you more soon of #homearamahouse15! :)