It is like static hair, or having a hang nail…or the theme song to Hey Jessie…kind of un-nerving…my feelings about our master bath. There are things I love…there are things I hate….but I do feel like this year I am going to make it all right…once and for all–maybe:)
I never really finished this space….like ever…in the 10 years we have lived here. I have added things here and there….but never just finished it. There is a list of things I would love to do in here…and I feel like this is the year to finally get it looking good—all at the same time.
1. New frameless shower doors (not DIY)

2. New tile wall and floor in shower (not DIY)

3. New paint (DIY)

4. New bath counters (possible DIY)

5. Paint the trim (DIY)

6. New countertop tower-type cabinets (maybe DIY)

7. New faucets (DIY)

8. New drop in sinks (DIY)

9. Backsplash (DIY)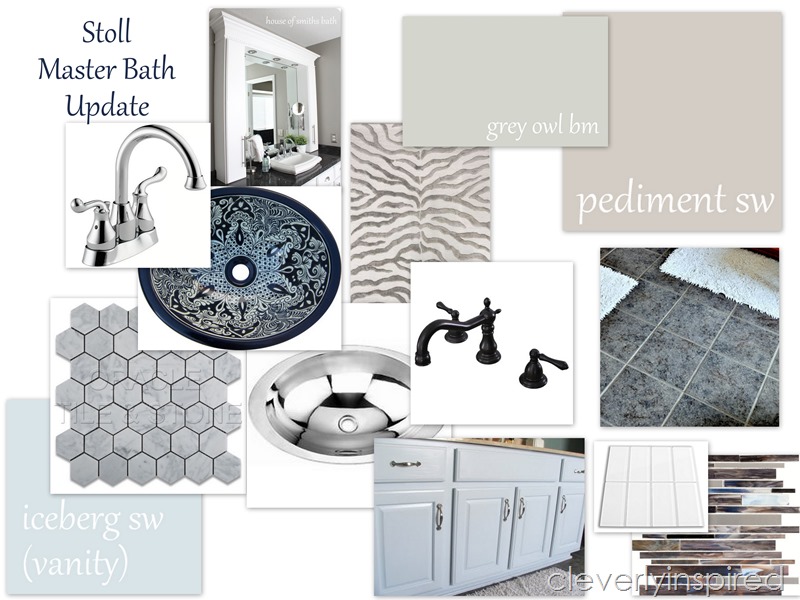 Things that I love about this space:
1. Still LOVE this light.

2. Vanity lights

3. Jewelry storage

4. Floor tile

5. Painted surround on whirlpool
Here is what I am thinking…at least for now:) I would love to do a tile like this hex Carrera tile (or something similar). It comes in sheets and I could easily do this myself (with my honey…) I would do a grey grout to add some dimension and character. As for the sink….I love the look of the stainless. Fresh and clean. But I also equally love the Mexican ceramic drop in sink….unique and completely gorgeous. The faucets would be either the brushed stainless or the oil rubbed bronzed…I love both…but I would probably pair the ceramic sink with the steel. The vanities are already painted Iceberg (Ben Moore)….and I still love them. They have held up perfect too. The floors are a steel blue ceramic and are still in great condition…so those will stay too. I am inspired by this project that Shelly and Cason did over at HouseofSmiths…perfect slim storage that could rest on the counter top. As for the shower….that would be a project I would hire out for. It is currently cultured marble….not a fan. I would love to do frameless glass surrounding white subway tiled walls and floor with a unique mosaic tile for accent (like the one pictured above, bottom right). The paint color right now is Atmospheric by Ben Moore….it has never really felt right with the tile color.  I like it ok…but not awesome. I think a lighter gray or gray blur would work better. A new rug would finish off the space.
I have high hopes and even higher aspirations for actually getting-er-done….fingers crossed I stay focused on it! What about you…do you have a room in particular that makes you want to crawl under the bed? Do tell….
maybe I'll just move instead;)
houseofsmith//Mexican sink//accent mosaic tile// rug//Carrera hex tile//stainless sink// oil rubbed faucet// chrome faucet//