I kind of left you hangin….in my master bath. Sorry about that….I replaced the countertops with some cool vintage old shutters. We are still diggin those (although we may upgrade those soon too…) The paint has held up fabulously…really really nice. But I have been wanting to do something about the cultured marble that surrounds the tub.
My dilemma was this….I don't like the color of it at all. It looks so dated to me and the beige "marble" effect was really bringing the whole space down. So….I painted it. Yes….you heard me right…I painted the cultured marble surrounding the tub. I am crazy like that.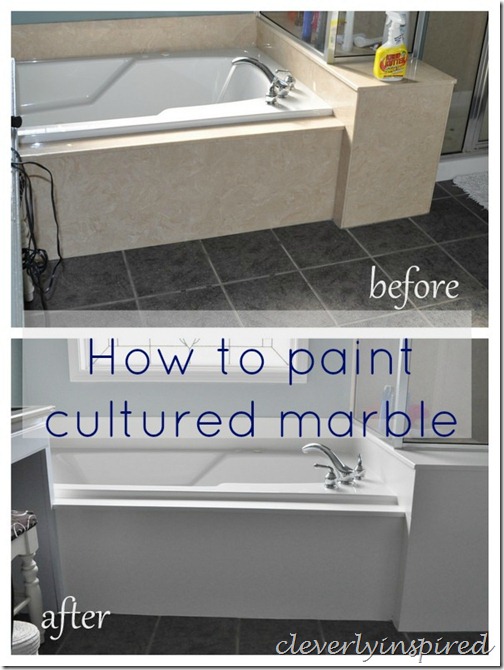 I researched it a bunch. Here are the facts..about my bathroom. I have used the tub about 12 times in the past 8 years (so getting wet constantly isn't a big issue). The bathroom is large ( 11 X 11)….so steam and moisture are not a huge issue…we have 2 fans. I was only covering the spaces that do not get much water. It is not to say that this surface can never get wet….cause it will and this paint will hold up perfectly fine. I would not advise to paint inside the shower stall…but that's your call. My thoughts were this….I would rather not completely rip out something when it really isn't broken. I would rather try and make it work…and my solution is with paint.
First thing to do was to clean it really good. I cleaned all the cultured marble with Krud Kutter…and I filled the tub with super hot water and 3 cups of vinegar and let the jets run. I wasn't painting the tub…but I thought I should clean all surfaces while I there.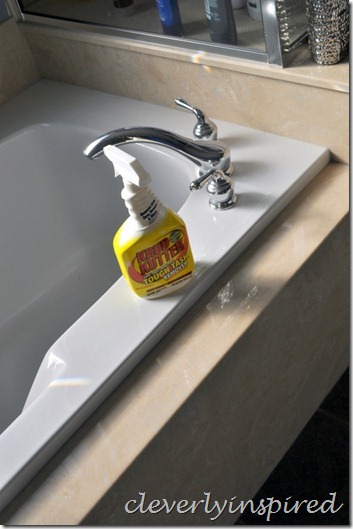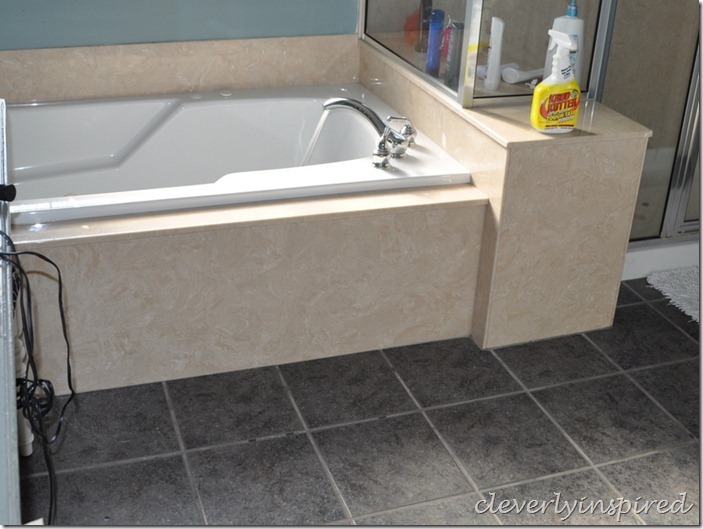 Tape off everything that will not be painted with painters tape. Don't skimp…use a good one like FrogTape. (try to ignore the shower that needs to be cleaned as well ;)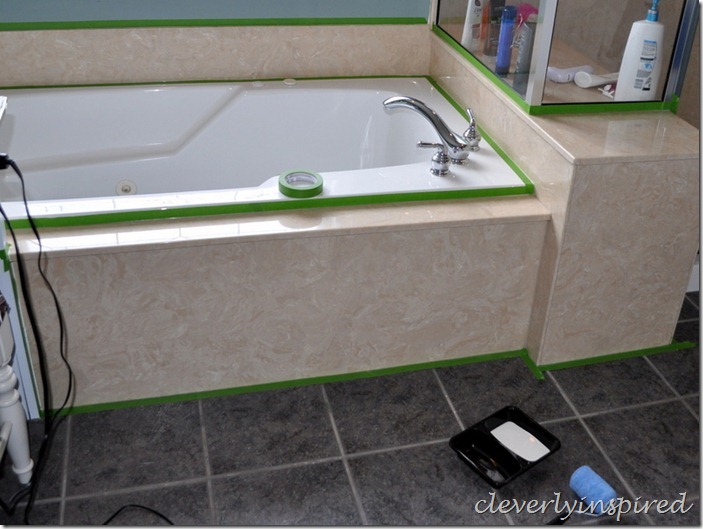 I used my go to primer…Zinsser oil based. One coat and I let it cure over night….even though it dries quick and says you can re coat in an hour…I wanted it to dry super hard. Cultured marble is slick and I needed good adhesion…a water based primer isn't going to fly here. A small roller and brush did great.
The other key is to use a really good enamel topcoat. I had most of a quart of the Behr Semi gloss…a great one to use is Ben Moore Waterborne…great paint for this project. I did 2 coats of paint…letting it dry overnight before recoating.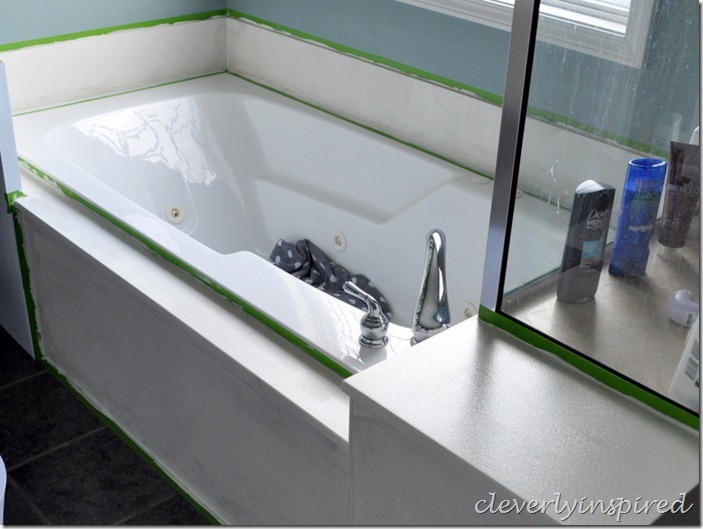 When the paint was good and dry I took the tape off. You will not have a perfect seam no matter how fabulously you taped off the tub. You can use a razor to guide the painters tape off….but you will still need to caulk around the perimeter to have a nice clean finish. Place a bead of caulk and wipe excess with index finger.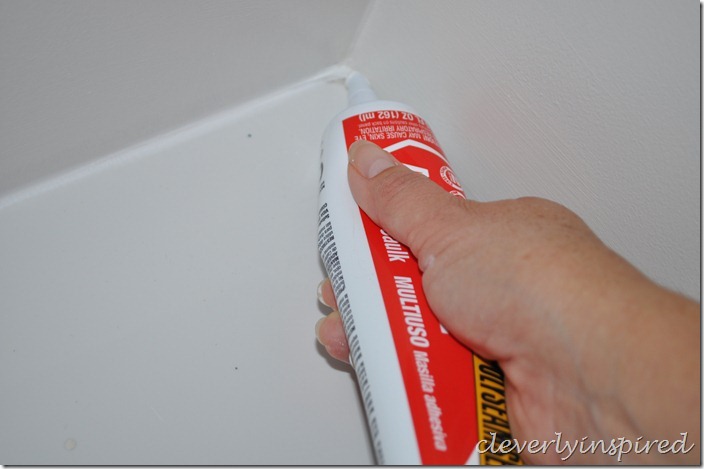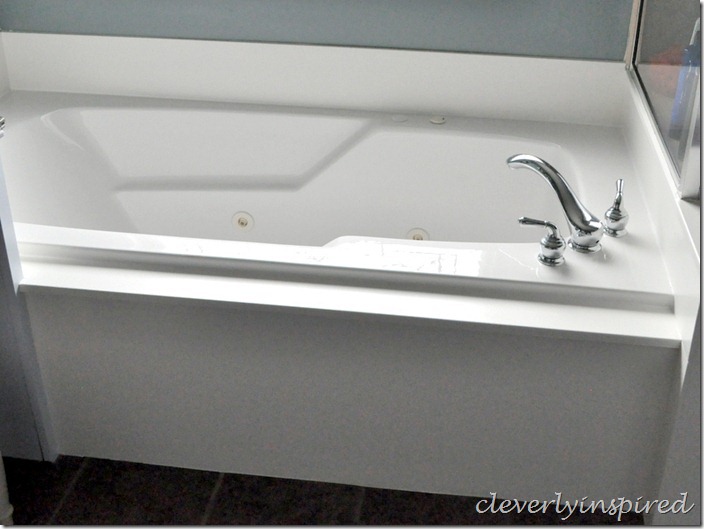 We couldn't believe how instant the update was! Love it! More updates to come….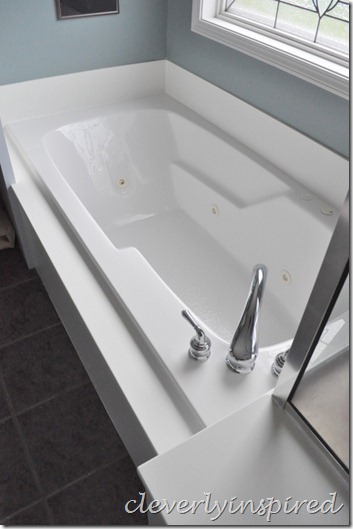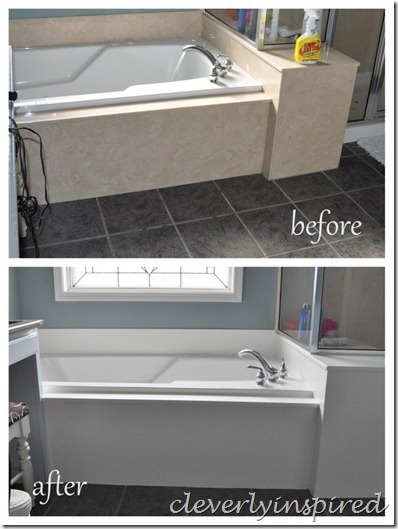 In other news….I was super excited to see my photo on Pioneer Woman's site this weekend……so honored that she thought my picture was worthy of a comment! :)
sharing at
tip junkie
home stories a to z