Just wanted to share how the entire bathroom turned out….many of you saw the Shutters turned into countertops post….well, here is the bathroom as it looks today.
We love the touch of "vintage" it adds to our bathroom….the counters really warmed it up!
And no more cultured marble tops…yipee!
Go find yourself some fabulous new counters….:) Sometimes you find them in the strangest places!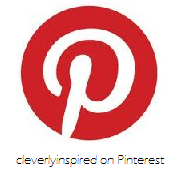 Cleverlyinspired app NOW available on the Android Market! Download for free! For all other smartphones just enter this address in your phone browser: http://cleverlyinspired.mobapp.at