There is a store local to me call Architectural Savage—it is basically a treasure chest. It takes up a city block. Huge—you could be in there hours and feel as if 10 minutes had past. I LOVE it! I always find something new and unexpected—and I love to think of the stories those old objects might tell. The last time I went I was looking for some distressed lumber for another project (show you soon!) but I came across an entire ROOM of amazingly gorgeous glass door knobs.
I couldn't stop picking them up! The man that was working told me to pick out 3 and he would sell them to me for $10! So this is what I came home with…
Had no clue what I was going to do with them…until a few projects popped to my brain…and this is what I came up with for one of them….very shabby chic huh!?!?!
Now—if by chance you don't have an old antique architectural salvage place (which I am sure you do, most cities do—just google it–and you can find them online at http://www.etsy.com/ ) you could use a new knob….not nearly as cool though…just sayin.
Glass Knob picture holder…here is what you need
Steps:
Cut a piece of the (22 gauge) wire about 18 inches.
With the needle nose pliers, make a swirl of the wire at the end that will sit into the end of the knob. You will have to work it a bit and place it in the knob. It is just holding a picture so it just needs to fit (not too snug)
With the other end of the wire, shape it into a circular pattern working with you figures. Again, this is "shabby chic" look, not perfection =)
Place the wire into the knob, place your picture into the spiral at the top so it holds the picture upright.
Enjoy!
Could hold a picture or recipe card….and be a paper weight! !
Be inspired to be clever!
Participating today…..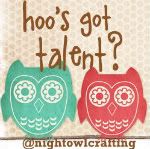 I have 2 more knobs….stay turned to see what I make with them!