Well, I know you all have been on pins and needles waiting the beloved fall mantle…(I joke I joke) Here is what I decided to do this fall….I collected some frames…all different sizes…from all over town. Yard sales, estate sales, thrift stores….my basement…you know how it goes. I ended up with 6.
 And this is how I used them….
Some fall garland….I use cup hooks under the mantle to hang the garland up.
Some fall leaf garland is spread out on the mantle.
Electric candles glow at night.
Some gold spray paint make the pumpkins look a bit more special.
 I took the glass out of the frames…some didn't come with glass….
 I only hung up the middle one…all the others are just laying on the mantle.
 I bought 2 packages of large leaves at Michaels…..and secured them to the frames with fishing line.
 So the leaves just lay in the center of the frame freely.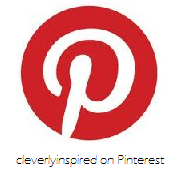 Cleverlyinspired app NOW available on the Android Market! Download for free! For all other smartphones just enter this address in your phone browser: http://cleverlyinspired.mobapp.at