I make this every time I sign up to take a friend dinner. I wanted to share how incredibly easy it is…and it is always much appreciated!
The key to this being EASY…for you and for the recipient is to use a foil roasting pan. A deep square one is best. Preheat 450 oven.
 Roughly chop up carrots and onion (if you have celery you could use that instead) Basically you are using the veggies as a "bed" for the chicken to sit on. They allow the juices to drain and also allow the chicken to not be sitting directly on the bottom of the pan.
 Place the chicken on the veggies and pat it dry. (be sure to take out the giblet and neck sac inside the chicken) You can use that to make stock so I just place it in the fridge in case I want to make stock later.
Rub the chicken with a coat of canola oil….then sprinkle with poultry seasoning (or just salt and pepper) Let the chicken bake at 450 for 1 hour and 25 minutes (for about a 5-6 lbs chicken)
For the last 35 minutes of cooking, toss in some cut up red potatoes (splashed with olive oil and rosemary). Place them on the sides of the chicken and let them cook right in the same pan.
After it cooks up…you take it out of the oven and cover with foil. Deliver it to your friend….she will thank you :) Goes great with a salad or maybe fresh green beans!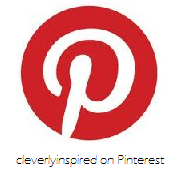 Cleverlyinspired app NOW available on the Android Market! Download for free! For all other smartphones just enter this address in your phone browser: http://cleverlyinspired.mobapp.at
[shopeat_button]