Hi all! Did you hear that this winter is going to be colder than last….that is what the experts are saying. They must be wrong…right (she says while hands shake…). Oh the humanity!!! So try to soak in these last few weeks of hotness mmkay?!?
One of my all time favorite projects that we have completed was our Barn Door Desk. It was a perfect statement piece for my hubs office. It wasn't very hard to put together and it was a great size for that space. We didn't really have an office space for him in the new house (at least not yet) so the barn door desk was dismantled. We were holding onto it for another purpose…we just weren't sure what….until one night we looked at each other and thought…" that barn door would make a perfect coffee table!!"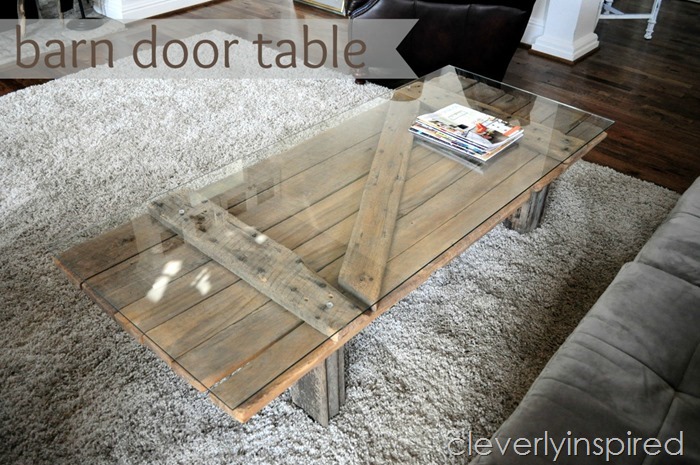 This is the door's "past life"…. The legs on the desk are a piece of old railing…cut up into 4 pieces.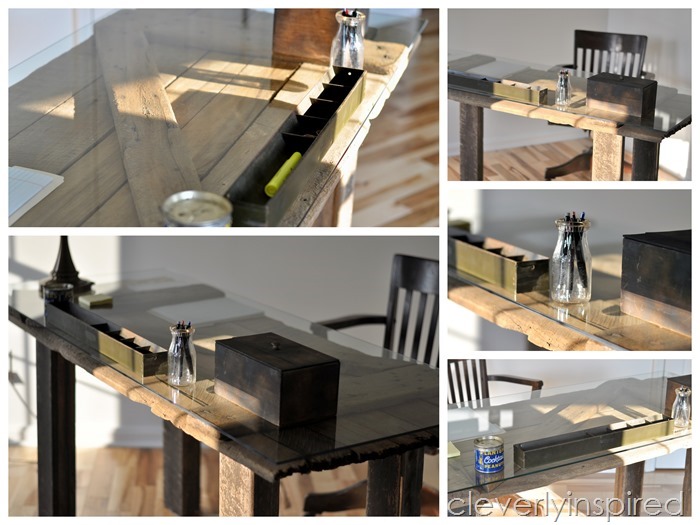 We retrofitted the desk into a table by cutting the legs down. Oh, you caught that part already? I know, you are quick like that;) Seriously though this project couldn't be easier. All you need is a decent old railing part….an old door and some glass that you have cut to fit the top. I would polish the edges of the table to avoid the sharp corners.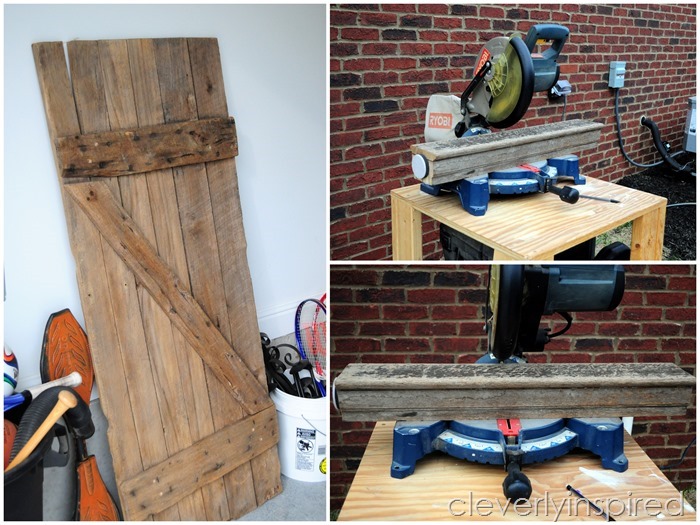 We love how it looks in our new family room….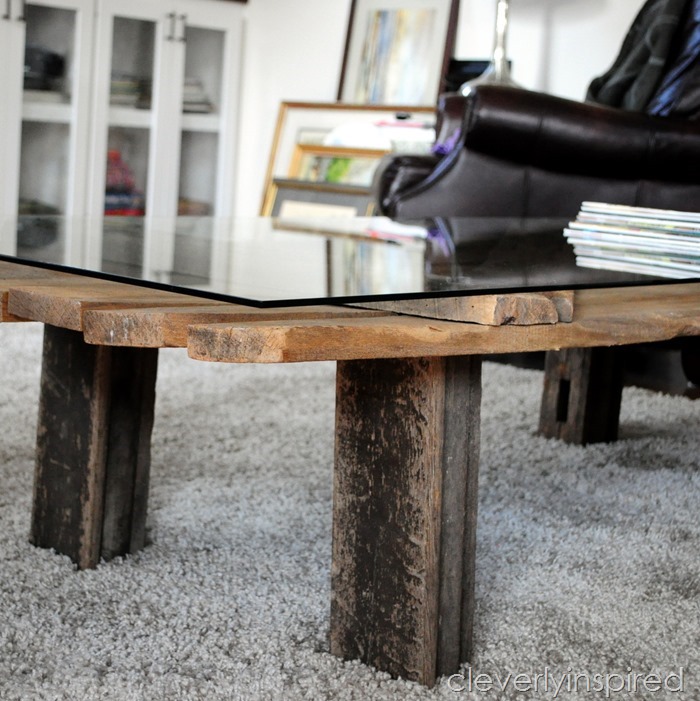 Still organizing this space…but it is really quite comfortable. We love that it is very cozy…but clean lines too. The table fits in great with this room's vibe:)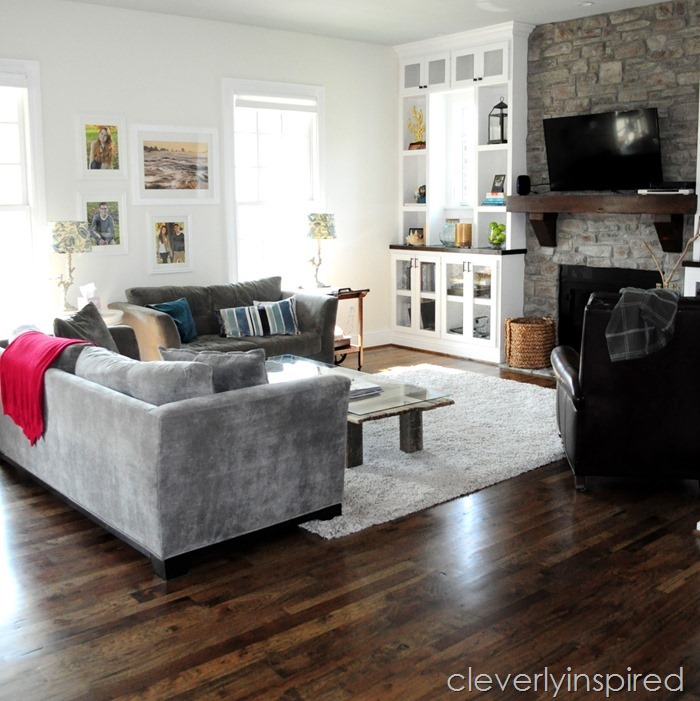 Trying to figure out the best kind of treatment for the windows. We have a honeycomb blinds for privacy. I like that they completely retract so that you have all the sun and light during the day….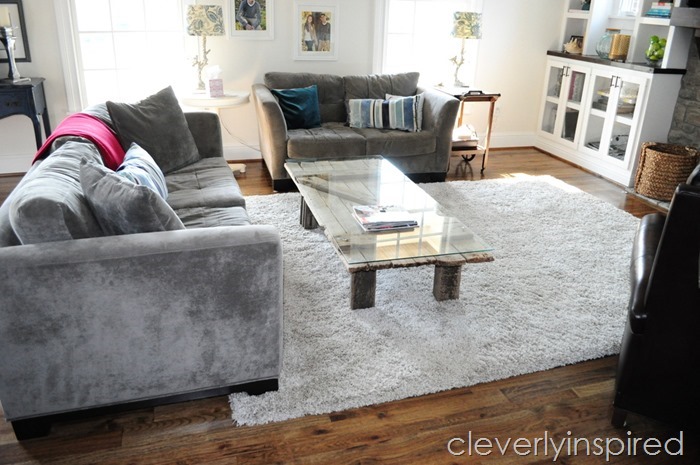 This is the view from the foyer…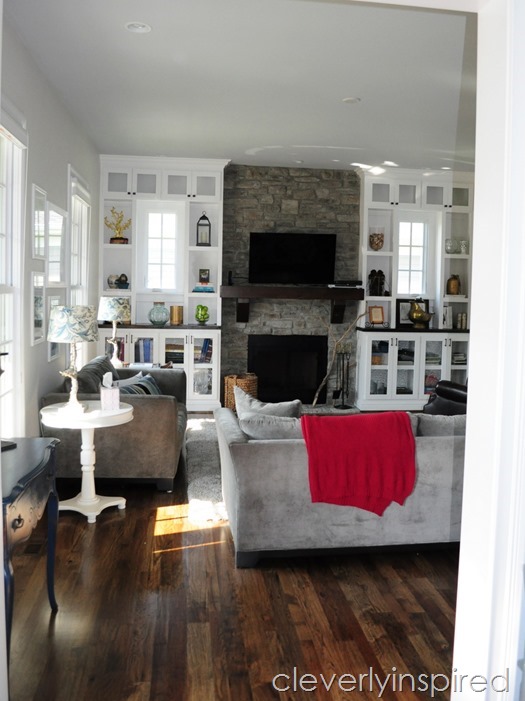 This is the view from the kitchen/dining area….what window "treatments" would you do? I was thinking of narrow panels on both side of each window…too much? I feel like I need to soften that wall….let me know what you think…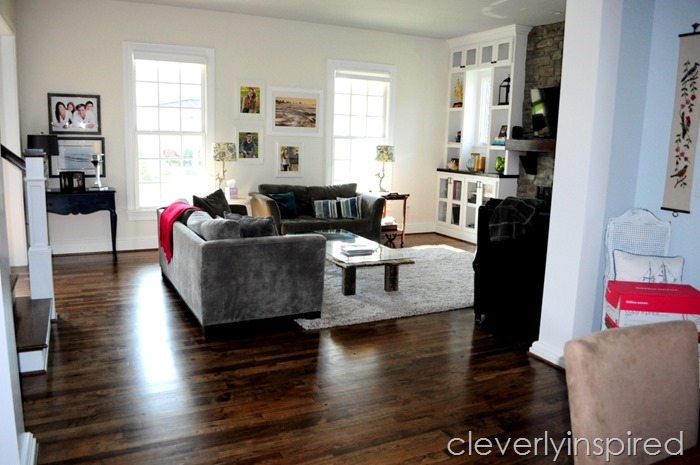 Meanwhile…I will be sitting here…enjoying my table:)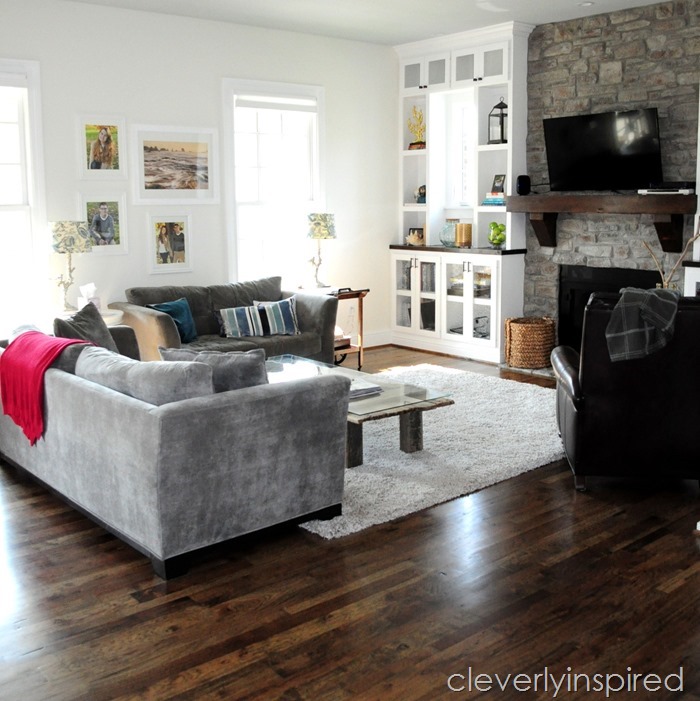 wall color is SandDollar by Restoration Hardware//sofas came from Macy's last year along with the leather recliner//Floor is Rustic Grade random plank solid hickory with Minwax Jacobean stain… Let me know if you have any other questions:)
I hope you can pop in on Twitter later tonight…I will be hosting a twitterchat with my friends at True Value! You can win some fun prizes! Hope to chat later!
Sharing:
BeDifferentActNormal, The36thAve, Whipperberry, TipJunkie, Tatertots&Jello, TodaysCreativeBlog, SerenityNow, PositivelySplendid,  ByStephanieLynn, TheDIYClub, CRAFT.  HomeStoriesAtoZ, InspireMePlease,  Remodelaholic