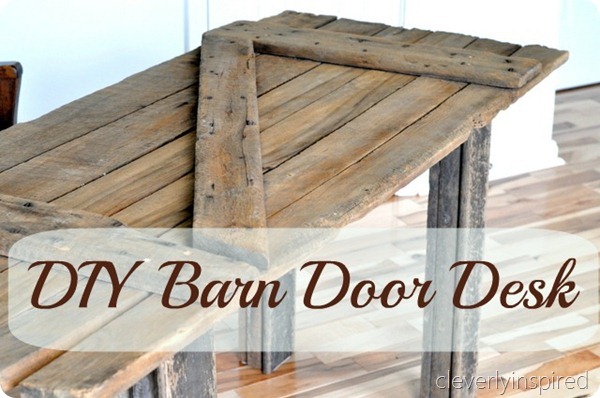 There once was a girl..and a guy…who were completely in love with the design of a particular desk…but were not willing to shell out $680 for it…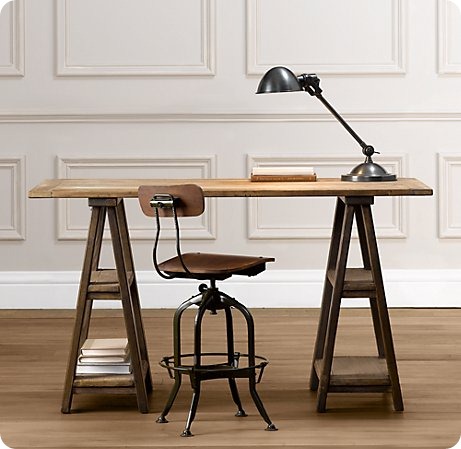 source (Restoration Hardware)
So…they set out on a journey to create their own…very unique desk…for a whole lot less….Story of our lives ;)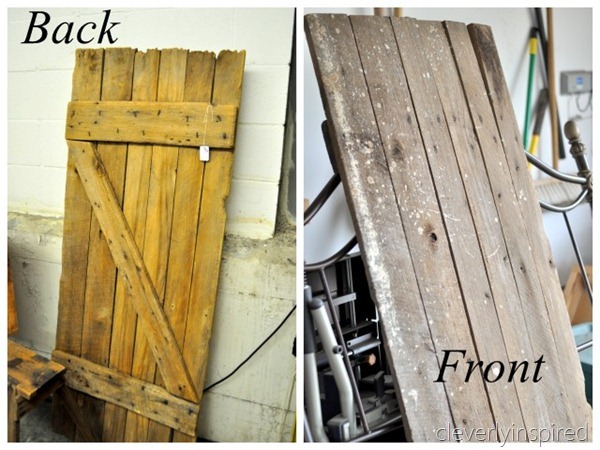 On a recent trip to a local antique mall…I spotted this old, heavy, solid wood barn door. (the lighting was poor inside the shop…the color is more true on the right side)  It spoke to me…"take me home, make me into something useful again…" And so I did. I tried to pick it up…and almost fell on top of it. Super heavy. So I did what most good wives do…I left it where it was and called in my honey to pick it up on his way home from work. So we had our desk top (for $25 !!) …now I needed to find the legs.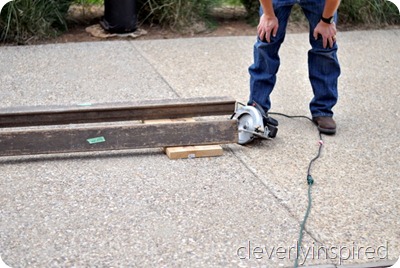 I went to another favorite spot…Architectural Salvage and I found these fabulous old railings. They were the perfect age, color and style. All they needed was a good cleaning up…and cut to length. The railings were $4 a foot and we bought 2 that were 7 feet long. About $60 for 4 legs….not bad. If you happen to go there…all the old wood and trim is on the 3rd floor…they are happy to show you where it is…the place is large!
We brought them home and cut them to 28 inches (the top was about 2 inches wide…then about 1/4 inch for glass) So the finished desk height is 30 1/4 high. The railings are 4 inches wide…which provides enough stability on their own for the heavy barn door top. If you were to use a narrow post for your legs…you would want to secure to a frame first.
We were lucky that the railings fit into the miter saw to give us a nice clean and even cut.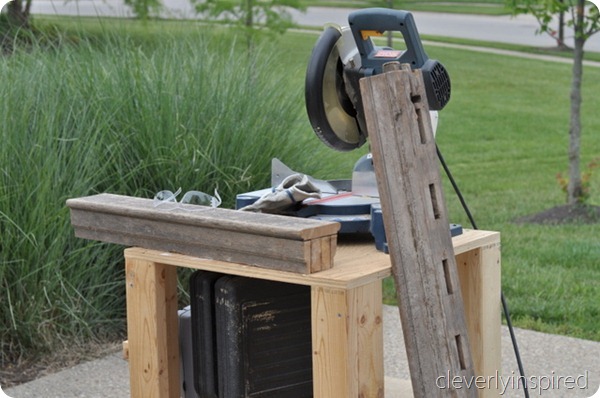 Measure twice…cut once :)  (I was listening Dad:)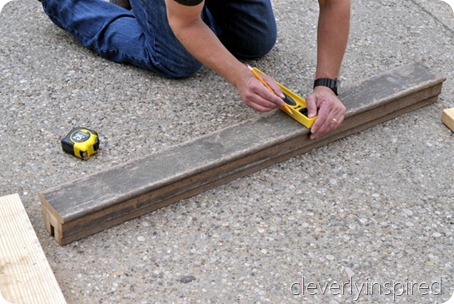 Here is what it looked like not screwed together yet. We were so pumped it was level right out of the gate! Score!! Oh…and I had originally thought to use the front of the door for the top…my friend Brittany said she like the character of the back of the door…so I tried that first and loved it. I am so glad you can see the cross braces of the door on the top.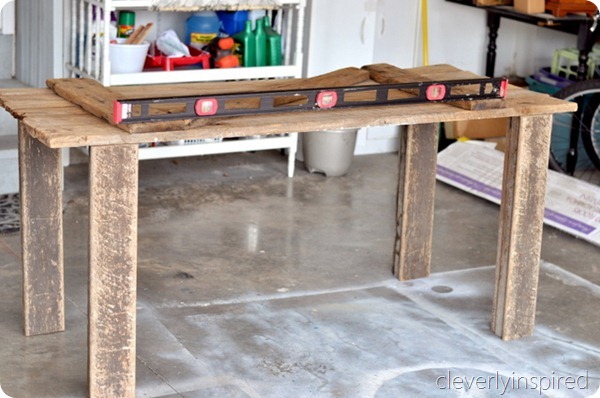 We decided to put the desk together upstairs in the office. Dude is heavy…We placed felt on the bottom of the legs to prevent damage to the floor. We measured and stood up all the legs where we thought they would look best and be stable. We lifted the door on top and re-measured…making sure they door was in the center in comparison to the legs.
We predrilled the holes so that our long screws would be countersunk into the top. This way the glass top would lay flat. The screws were secured to the top of the legs. 2 screws into each leg.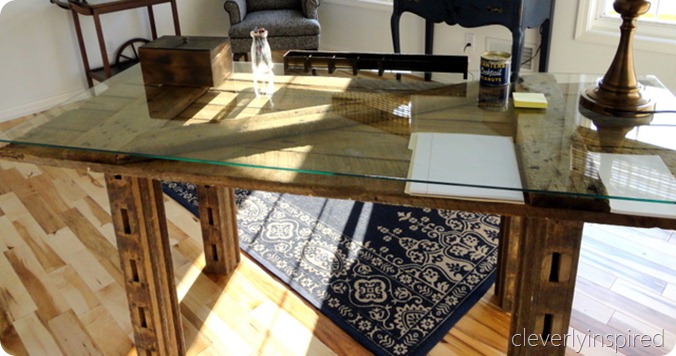 A piece of glass was cut to fit the top. (Kentucky mirror and glass) The piece of glass is 3/4 inched polished edge and was $70. Isn't the back of the desk so cool!?!? You can see where the spindles were on these old railing parts. Love the character.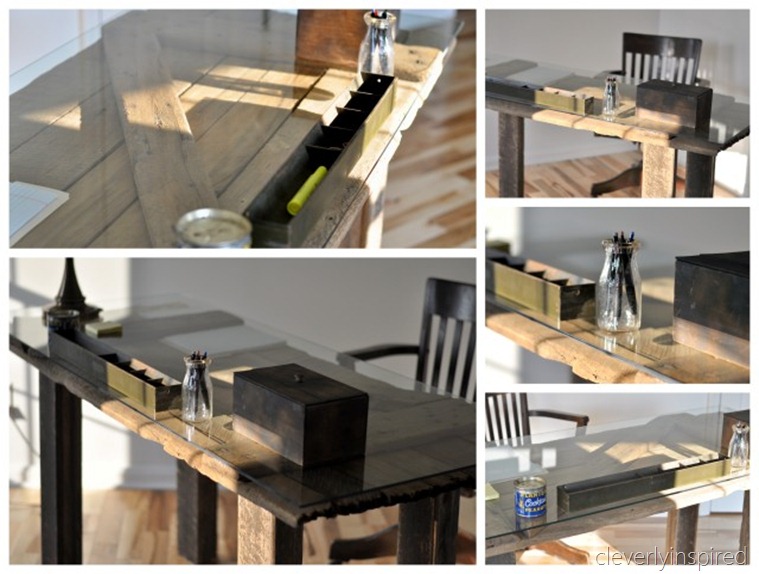 The total cost for our original desk was $155. Not bad…not bad….We are in love with this desk! It goes so nicely with the old desk chair I found. This room is really becoming a favorite. It gets lovely light during the day…a nice little escape.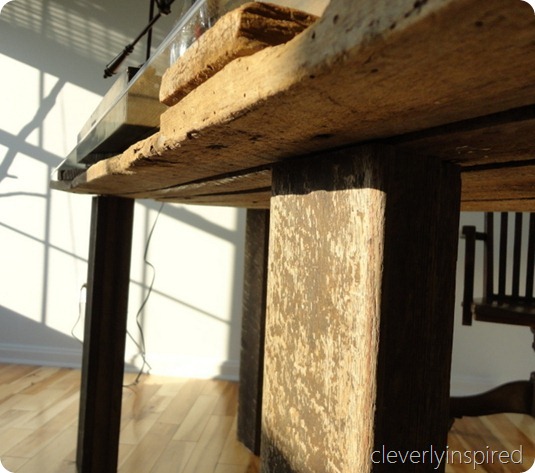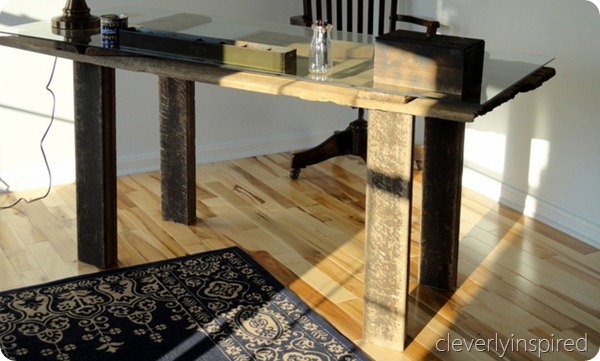 I have totally desk envy now…:) But my honey deserves it!
Just a few finishing touches…and I will show you all that we have done in this space.
Oh yes…be sure to sign up for the Minwax Express color giveaway!! Going to pull a winner today!
Sharing at Funky Junk, Tattertots and Jello, House of Hepworth, The 36th Ave, Miss Mustard Seed, Beneath my Heart, Southern Hospitality
Tracie Stoll is a wife, mom and has a passion for creating new things. On her blog Cleverlyinspired.com she is constantly sharing ways to inspire her readers to be clever in their own home. Since 2010 Tracie has been sharing DIY projects, crafting, remodeling and decorating along with some easy tasty recipes…all on a mindful budget. She is a graduate of the University of Dayton where she studied visual art and communications. Tracie has been featured on popular sites such as Country Living, CNN living, Good Housekeeping, Better Homes and Gardens, Huffington Post, Apartment Therapy, Seventeen and Design Sponge. She is also a member of the True Value Blog Squad & Martha's Circle of trusted bloggers.