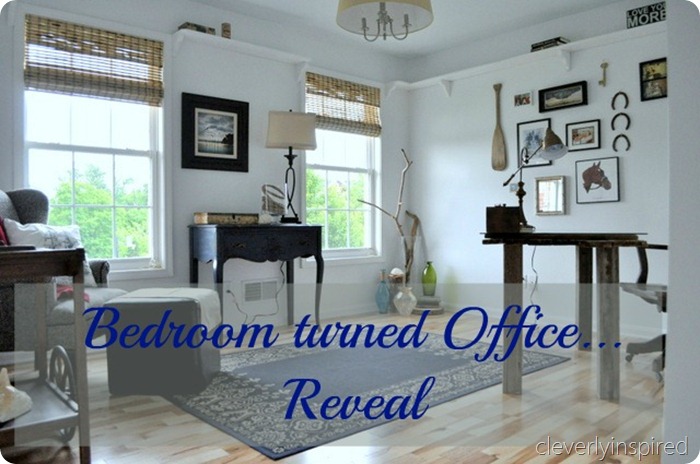 This project started out as just a "space for Bill to do a little work from home"…turned into meaning a whole lot more. When the peanut moved from her old room (which is now the office) into the guest room….it made for a few changes. We moved her into the guest space and decorated it to suit her. (here is that post) and within about a week…Bill had staked claims on her old room. "I need a place to do some work from home…" and I agreed. He is one of the hardest working hubby's I know…he is up at 5:30am…every day. He works 6 days a week. This space has turned into so much more than an office. It is truly a retreat for him. I am thrilled with how it came out. His personality is throughout…full of character and genuine finds…just like him ;)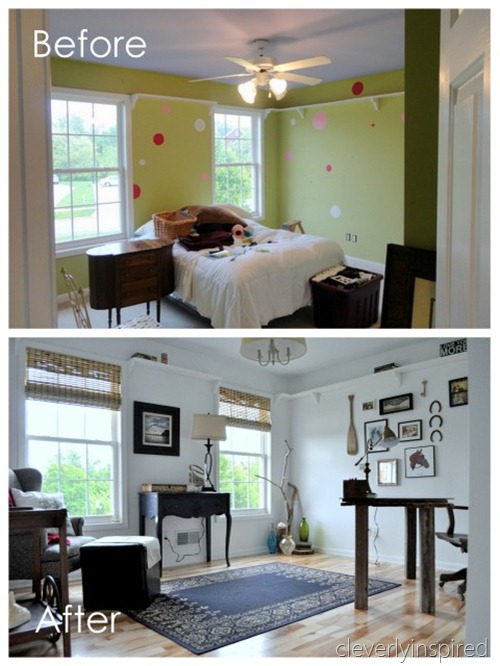 Above you can recall what we started with….a bunch of pink and green…and a huge mess! I walked you through how I repaired the walls . That was super fun…or not….Then we had some gorgeous new maple wood floors laid. Yum! This floor makes such a statement here….we love them!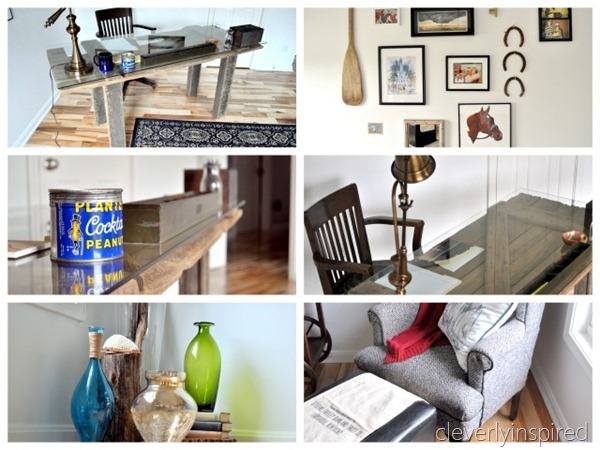 The desk we created out of an old barn door and railing parts is really the focal point of this space. The thrift store chair makes it complete. When you to walk into this space….you have a real clear sense of who Bill is…loves peanuts, and long boat rides, Chicago, baseball (Reds and Cub's..)…a hearty drink after a long day, sunset cruises and beach vacations…and his love for family. He is so deserving of this little retreat and I am so happy that is came together like it did.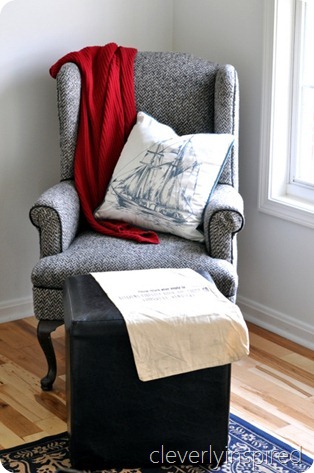 Many items in this space came from antique malls…including the wing chair. A steal at $70 (the upholstery is brand new) The ottoman was $10 at a peddlers mall.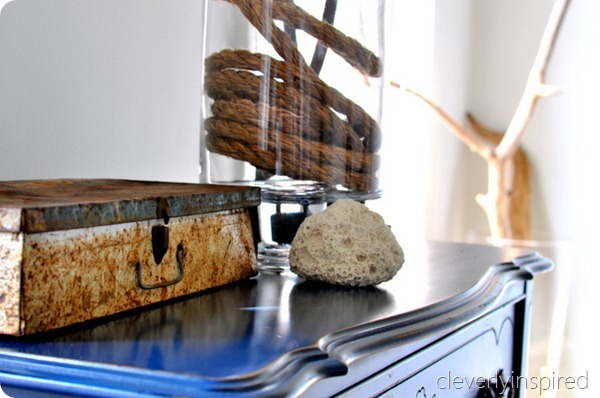 An old rusty tool box is a nod to his work in road construction (his family business is road paving…) Along with a vessel filled with rope (here is that post)…the table is from a local peddlers mall. It was already refinished this blue color…love it!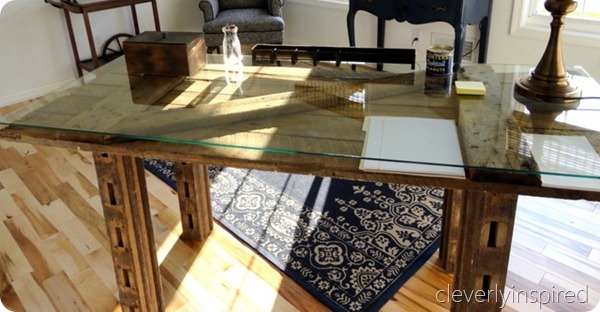 A collection of sea glass vases (Home goods) along with some drift wood and old books create an interesting corner. The large piece of rock coral was something we brought home from our honeymoon in Mexico. I think it is important to use items in a space that have real meaning–even it if is just a rock…it reminds both of us of our wedding ;)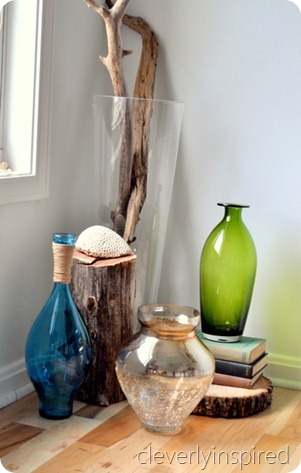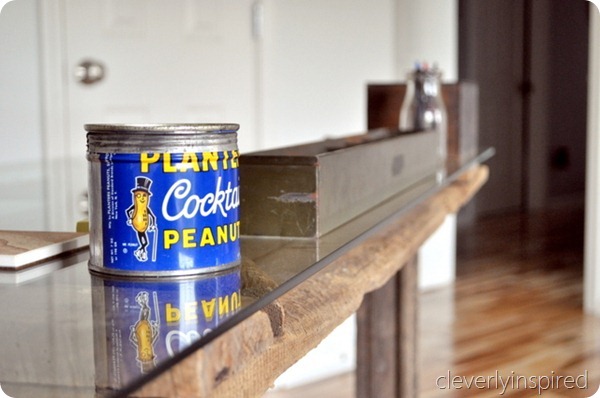 A vintage peanut container makes a great place to hold paper clips. An old desk tray, glass milk jar and wooden box were all found at antique malls and they all serve a purpose to keep organized.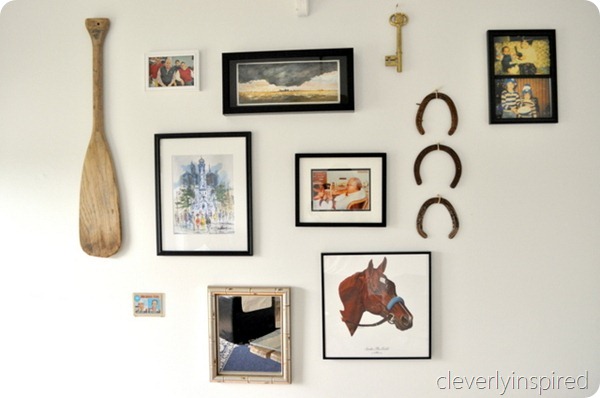 The gallery wall was really fun to put together. I will be doing a post soon on some tips and tricks for you to create your own. The photographs on the adjoining wall are pictures that I have taken…one is the lake…and the other is a picture of Wrigley. (PS….I have since turned the horseshoes the other direction….apparently they should be hung in the "u" shape…to "catch good luck…instead of pour it out"….now I know. I love it when my readers teach me something…I am a Yankee ya know ;)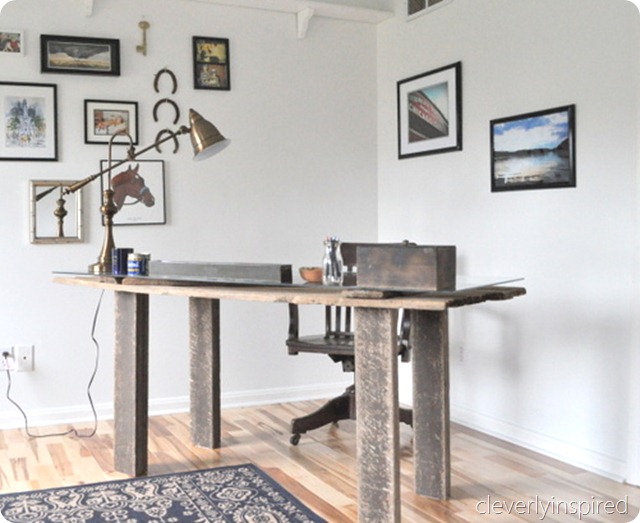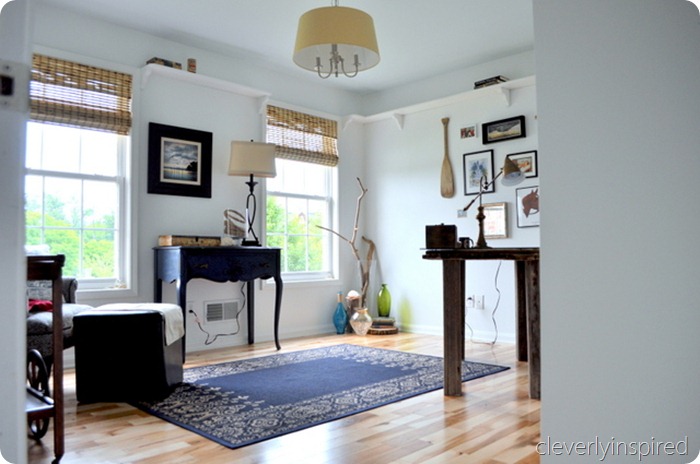 I find myself using this room too! It is so peaceful and it gets the best light! I have office envy!!
The paint on the wall is Ben Moore Decorator White
The ceiling is Breathe of Blue by Valspar