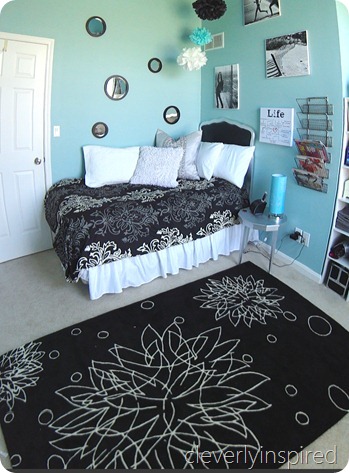 Hey all!! Did ya miss me?? I hope you enjoyed the guest post last week. I was reading right along with you! We had a great spring break…and I will share a few favorite pics soon. Here is a final post about the peanuts room. She is loving it!! It has become quite a little hangout…which is what she was wanting. The room is super hard to photograph. I used my panoramic function on my point and shoot to give you the full effect..hopefully.

We tucked her dresser into the closet to save on space…worked out great. I placed a small "tower" shelf system in a tight space by the closet. This holds all her lotions and potions and some towels…etc.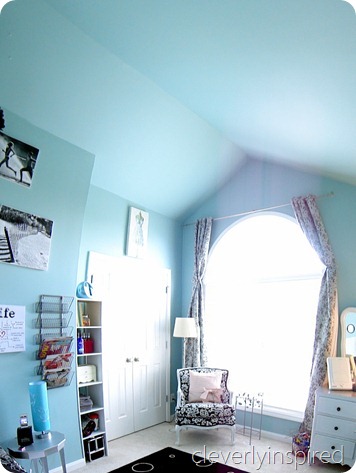 The feature wall was so much fun to decorate. I blew up 3 black and white pictures and spray glued them onto canvas. The round mirrors are from kirklands and the "life" print is from TJ Maxx.
The head board was a thrift store find…I painted it with chalkboard and metallic paint. The coverlet was made from a fleece blanket and 2 yards of fabric…more on that soon:)
Just a touch of blush pink…(to make momma happy :)
The perfect place to hang…don't ya think?!?!
A couple of past post about this space…
Post Update:
As for the paint:  I don't have the specific brand….or color. It was painted several years ago,…however a great place to start would be Benjamin Moore Covington blue (ask for a half strength formula) which is basically half the pigment. Good luck:)