Hi friends! We made it to Friday! Hope you have some fun plans in store for this weekend:) Maybe you will have time to make a cool vintage valance like this one….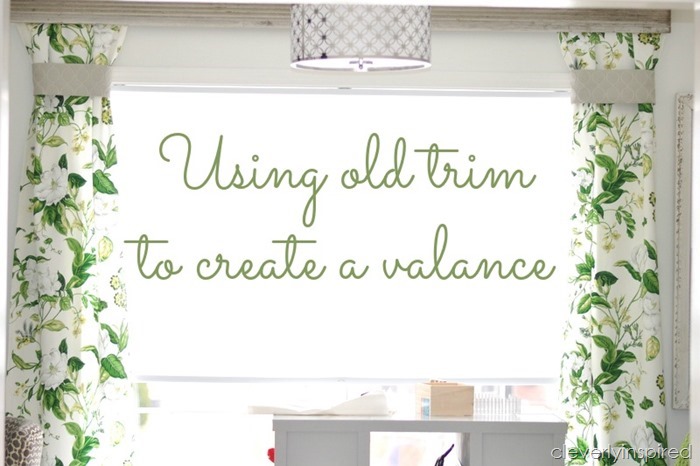 I was struggling a bit with this window in my new office space…I really wanted to keep it as open to light as possible…but yet I also wanted to add a punch of green with some fabric. I can up with something that is still clean and open…but yet adds just the right touch of character to the room.
I rummaged through my favorite place to search for old treasures…(architectural savage, I've chatted before about it here) I found this fabulous piece of old fluted molding..just $14! Perfect old gray color…all I had to do was clean it up a bit and cut it to 8.5 feet to be a nice fit above the window.
We predrilled some holes on both ends.
To hang it up, we cut a block using a 2 by 4. Found the stud and drilled the block to the wall. After I stapled the panels to the back, we drilled the trim piece to the blocks. I placed it all the way to the ceiling to create some nice height.
I will chat more about how I went about making the panels soon….(pattern is Waverly Williamsburg collection: Garden Clover)
The tie backs are simply 1/4 yard of decorator fabric, cut in half. I folded and ironed and glued shut the seams. A bobby pin holds it in place. These panels are just for show, so no worry about opening and closing.
Love the fresh burst of green!! More soon….Here are the other post on this space…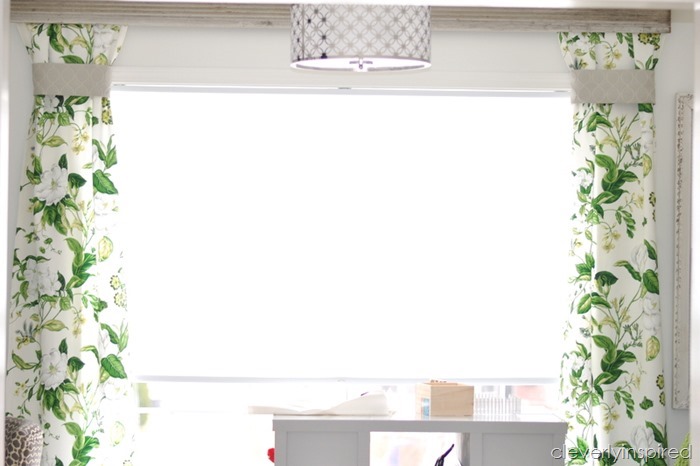 Anything I missed? Ask me….
Places where I share good ideas:
BeDifferentActNormal, The36thAve, Whipperberry, TipJunkie, Tatertots&Jello, TodaysCreativeBlog, SerenityNow, PositivelySplendid, IHeartNaptime, ByStephanieLynn, TheDIYClub, CRAFT. MadinCrafts. HomeStoriesAtoZ