Hey there! Thanks for all your sweet words…yall are the best. I have decided to get back to basics with this little blog. I think in recent years I have become more concerned with putting content out there and less concerned with the quality of the content. I started this blog to catalogue recipes and ideas for my kids….so that someday when they are off living their life outside of this home…they will have all my recipes and thoughts at their finger tips. I am getting back to that mission. I may post less….but my hope is that when I do decide to post…that you may find it helpful and interesting too. Like I said a few weeks back….blogging has really changed in the past few years. I can admit that I was more concerned with "pinning" and sharing rather than concerned with what I posted was actually worth sharing. Thanks for sticking with me…and hopefully you will continue to pop in to see what I am up to:)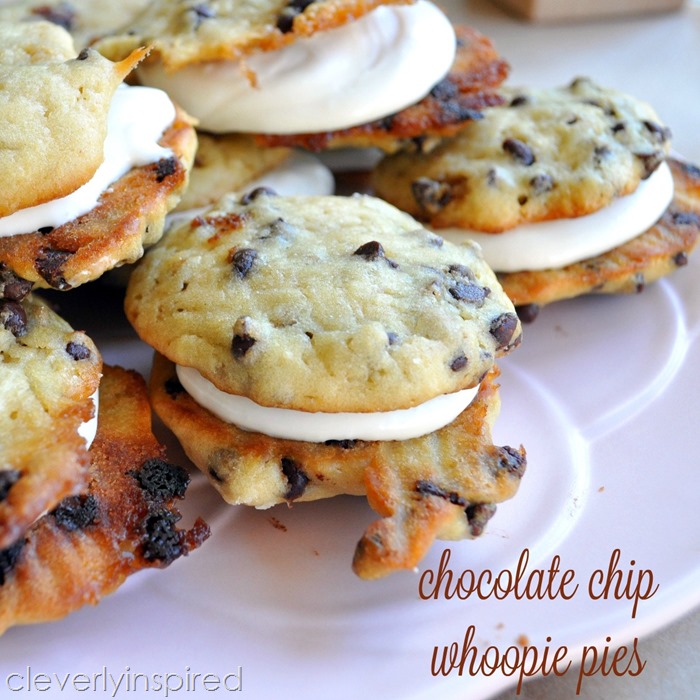 I made some of these chocolate chip whoopie pies last week for my peanut. She commented that I "made all the good stuff for my bunco friends" and she didn't get any of the goodies…lol. So I surprised her with some of these homemade whoopie pies. What I like about this recipe is that it makes about 15 pies….so they are eaten within a few days….which is a good thing:)
Chocolate Chip Whoopie Pie Recipe
Author:
Tracie at CleverlyInspired
Ingredients
1¼ cups all-purpose flour
¼ teaspoon baking soda
¼ teaspoon salt
¼ cup (1/2 stick) butter, softened
¼ cup packed brown sugar
½ cup milk
1 large egg
½ teaspoon vanilla extract
½ cup mini chocolate chips
Filling
¼ stick butter softened
¾ powdered sugar
½ t vanilla
1 C marshmallow fluff
Instructions
Heat oven to 350º F. Line two baking sheets with parchment paper.
For the cookies;
COMBINE flour, baking soda and salt in small bowl. Beat butter and sugar in medium mixer bowl on medium speed until light and fluffy. Beat in milk, egg and vanilla extract (mixture will be thin.) Beat in flour mixture on low speed until smooth. Stir in morsels. Drop by heaping measuring teaspoonfuls onto prepared baking sheets.. 30 cookies will make 15 pies:
BAKE for 12 to 14 minutes until springy to the touch. Cool completely on baking sheets.
For filling:
Whip together butter and sugar. Add in vanilla and marshmallow. Whip for 3 minutes.
Pipe filling in between cooled cookies.
I have made traditional whoopie pies in the past that are equally as awesome:) These are great for a bake sale—packed up cute in a little bag with ribbon—I'd pay a dollar for sure!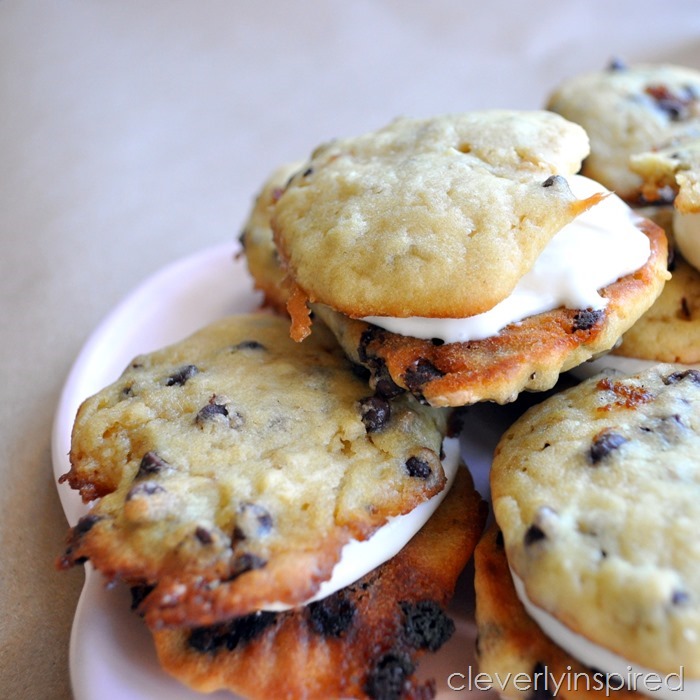 Tracie Stoll is a wife, mom and has a passion for creating new things. On her blog Cleverlyinspired.com she is constantly sharing ways to inspire her readers to be clever in their own home. Since 2010 Tracie has been sharing DIY projects, crafting, remodeling and decorating along with some easy tasty recipes…all on a mindful budget. She is a graduate of the University of Dayton where she studied visual art and communications. Tracie has been featured on popular sites such as Country Living, CNN living, Good Housekeeping, Better Homes and Gardens, Huffington Post, Apartment Therapy, Seventeen and Design Sponge. She is also a member of the True Value Blog Squad & Martha's Circle of trusted bloggers.