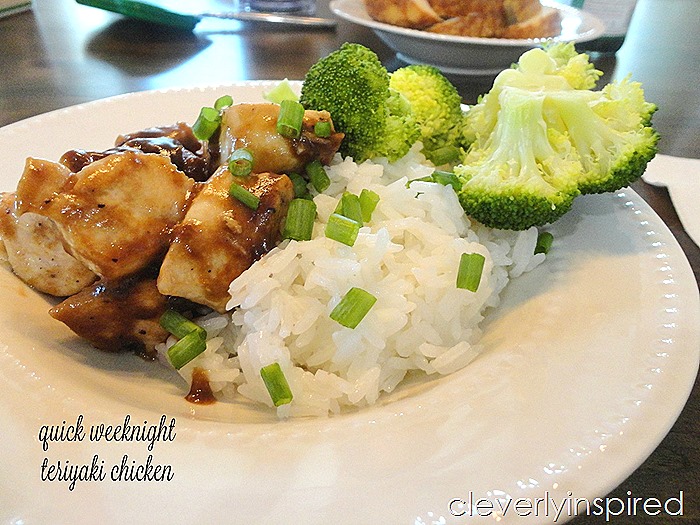 Hey yall….how was your weekend? A wonderful filled weekend of nothing here:) We played puppy games and took lots of walks….great weekend all around. Both our kids are off and driving now…and they are loving their new freedom. I could get very use to eliminating my runs to the grocery store:)
Now that school is back in and we are settling into fall….the rountine of meal planning is back in action. I have talked about how we do things here a few times in the past. I like to allow everyone one dinner pick per week. I makes my grocery list based on those picks. I like to get this done on Sunday so that on Monday I can get in and out of the grocery store. Multiple trips to the store are annoying to me…
I wanted to share a yummy new recipe I made last week. The quick and easy chicken teriyaki was a real crowd pleaser. I adapted this recipe with a few substitutions and it worked great.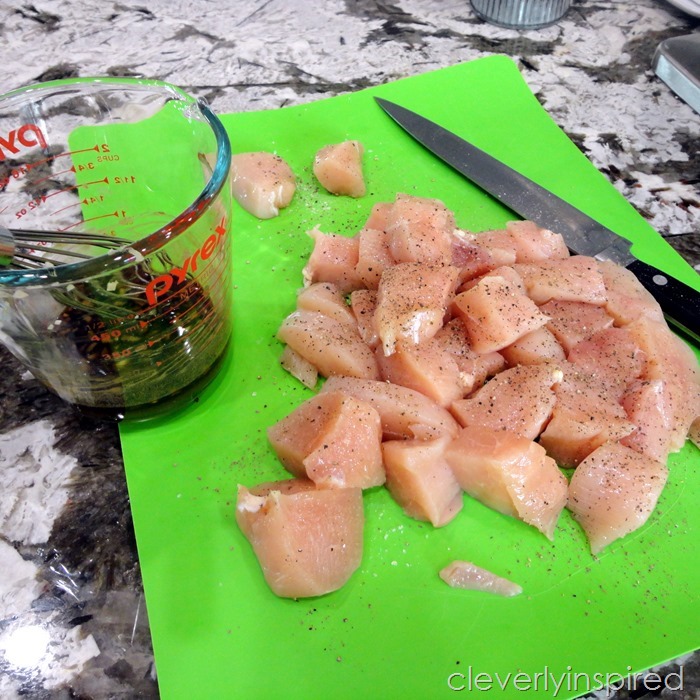 Took about 25 minutes or so….I just steamed some brocolli in the microwave and served it with rice. I love this steamer….makes fresh veggies and rice very easy!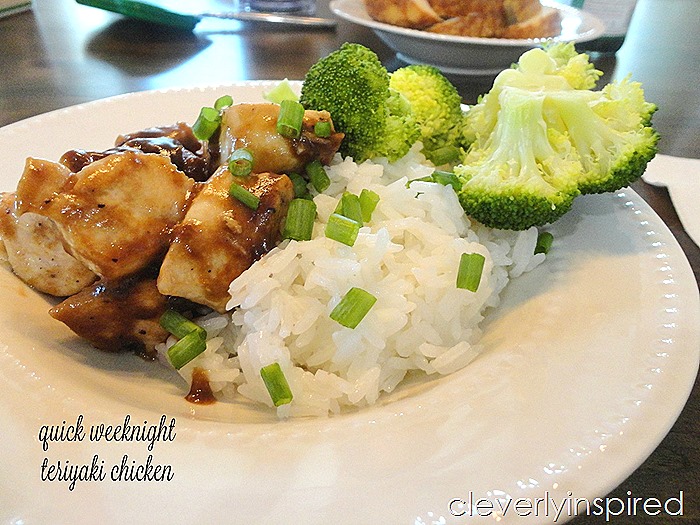 Quick & Easy Weeknight Teriyaki Chicken
Ingredients
1

pound

boneless skinless chicken breasts

cut into bite-sized pieces

salt and pepper

1

tablespoon

canola oil

Teriyaki sauce

below

TERIYAKI SAUCE INGREDIENTS: (whisk together

1

clove

garlic

peeled and minced

1/4

cup

low sodium soy sauce

2

tablespoons

honey

2

tablespoons

rice wine vinegar

2

T

sweet wine

optional

1

tablespoon

cornstarch or flour

1/4

teaspoon

ground ginger

2

T

chicken broth
Instructions
Season the chicken with a few generous pinches of salt and pepper. Set aside.

In a large saute pan or wok, heat oil over medium-high heat. Add chicken and saute, stirring occasionally, until the chicken is cooked through and no longer pink on the inside. Careful not to overcook

Meanwhile, as the chicken is cooking, prepare your teriyaki sauce.

Once the chicken is ready to go, pour the teriyaki sauce over it, then toss to combine until the chicken is evenly coated. Continue cooking until the sauce reaches a simmer and thickens.

Remove from heat, and serve immediately, garnished with optional toppings if desired.
Promise to share buds table on Wednesday! Thanks for the patience!
Have a great day!