I am sorry that my post have been really sporadic lately….lots going on here these past few weeks. I have been working on several design jobs for some new clients…my bubs was in a car accident after having his license just one week (not his fault…he was rear ended and his car is totaled…oy), and other projects in the air—-so I haven't sat down at my desk to write much this week. I am hoping to write more this weekend and share more soon;)
I wanted to share with you this design board for a new client. She has 2 daughters and one is in college. She asked my help to pull together a funky, cool, modern but soft and feminine room. I love the colors that are shown here…all very chill and ready to relax.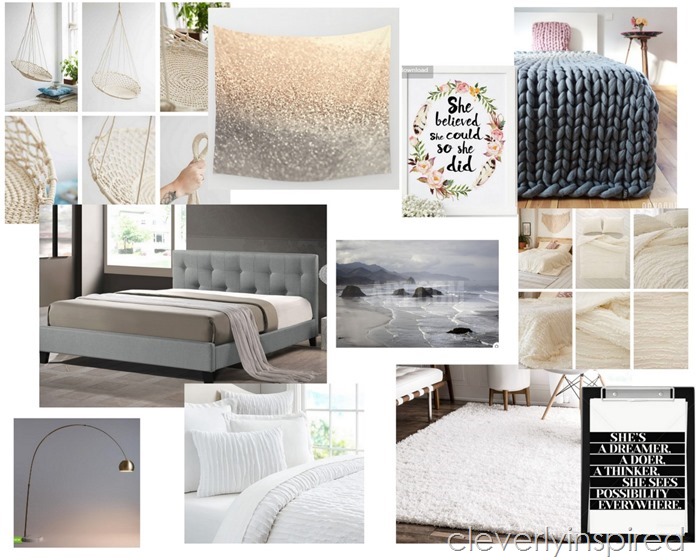 Here were my suggestions for this room:
Some of my suggestions for her room:
Keeping the wall white creates a great soft backdrop for these soft colors to come to the forefront.
I chose a platform bed in this gray linen fabric. I think the vibe of this room is a little modern / eclectic. All of the colors are pale Gray mixed with white & ivory you can even mix in a little bit of khaki or tan and gold…. All muted tones that will all work very well together.
A big chunky knit throw would look great on top.
I found a very cool tapestry that could hang behind the bed in golds and creams. There are so many to pick from on Society6.
I like the idea of a very shaggy area rug to go under the bed and peek out from the foot of the bed it would just be another nice texture to have.
I chose a few art prints some are available to just download on Etsy the other one is available to order on art.com and you could get it matted and framed nicely. Art, Art2, Art3
A fun addition to this room would be this crocheted swing from Urban Outfitters.
Love this metallic Arc Light from World Market.
Architectural floor mirror would be nice and bounce the light around.
I hope if you are stuck in a rut and are looking for a breathe of fresh air in your space that you will consider letting me help you. I love to do edesign….I give you a step by step buying list and design plan for you to create the look. Look on the design services tab for more info.
Have a great weekend friends!!!