Hey guys! Sorry I didn't get this post up yesterday….I am learning how to walk a 2 year old dog and a puppy. If you see me walking…just shake head and move on….I look like a show at the circus—but I..err WE are getting better everyday! Chloe has been such a great addition to our family. Stella is doing great with her. The first day or so Stella would "put her in her place" a bit….but has loosened up and now they are having fun playing. We have noticed that our yard seems to have shrunk…;)
Wanted to continue on with the last few rooms in the Homearama house. I hope that you all are enjoying the house tour. I know it was months ago but I am just now getting to all of the pictures that I wanted to eventually share with you all. If you're just now joining us you can look back on all of the other rooms that I have shared in this house. This home is still available for sale and does qualify for a geothermal tax credit until the end of this year. So if you are local and you are looking to move into Norton Commons make sure you contact the Builder Mark Simpson and he would be happy to give you a private tour.
We have arrived at my favorite room. It is odd that it is the laundry room being that I despise doing laundry;) This little room has so much personality I completely love it!  It really does feel like an old-time farmhouse laundry room.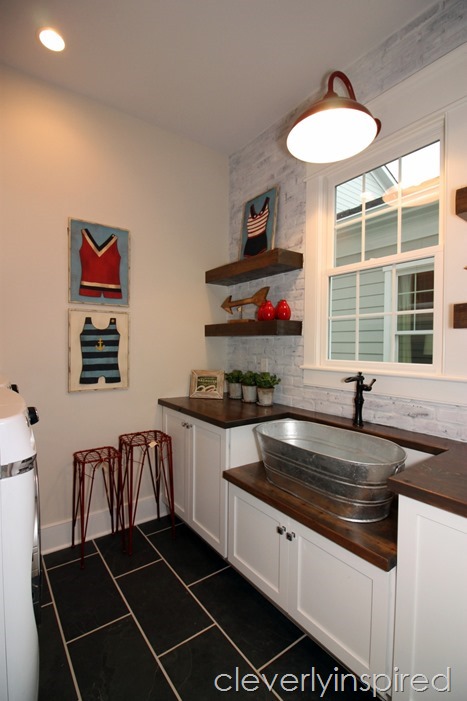 Starting with the floor– we decided to use a large 12 by 24 rectangle black slate floor with white grout. Anytime that you're trying to save a bit of money and want something that's timeless, black slate is a great choice for a floor with the white grout. They use sealers in grout now so that makes it very easy to keep clean.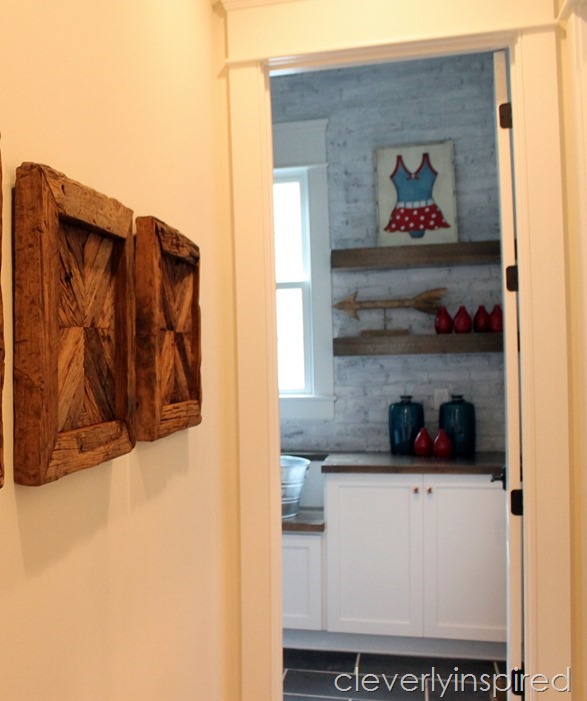 Another feature that I adore is the whitewash brick we used on the feature wall. It is actually brick that is the thickness of a tile. I found ours at Louisville Tile in Westport Village (if you are not local to Louisville and you have a tile shop close to you they should be able to point you in the right direction.)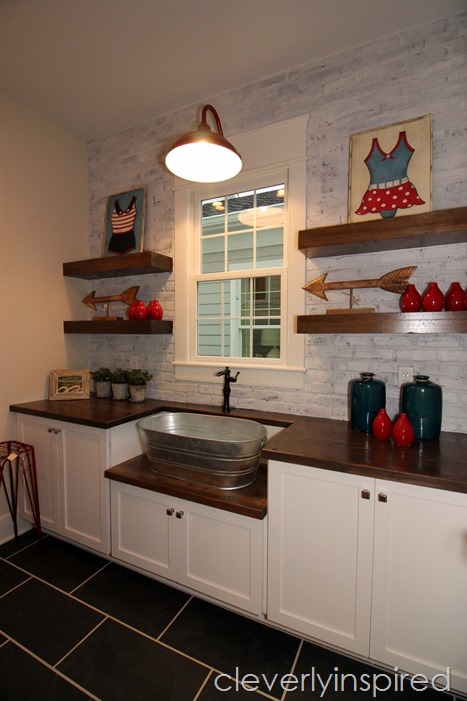 This product is laid directly on top of drywall and can be painted white washed or left alone. The painter basically mixed half water half paint and washed it on the brick and then took them off. Very similar to how I did my fireplace in our previous home.
Cedar shelves that hang on the wall are perfect for laundry soap and other laundry needs.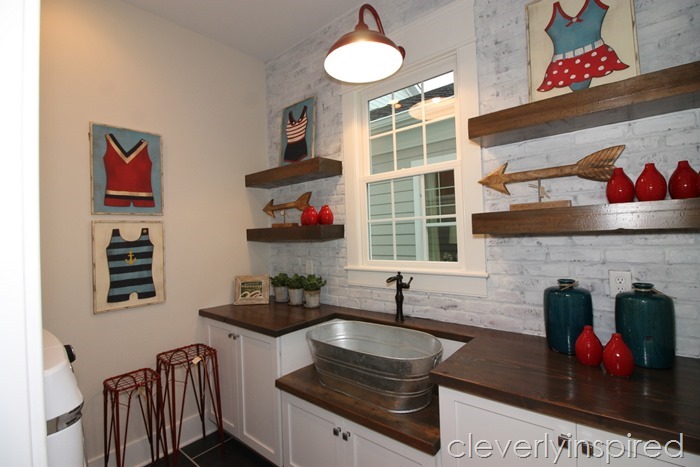 The showstopper in this kitchen is this galvanized feed barrel  that we decided to use as a sink. We found the barrel online an our plumber drilled a hole and recessed it into the center. It works great!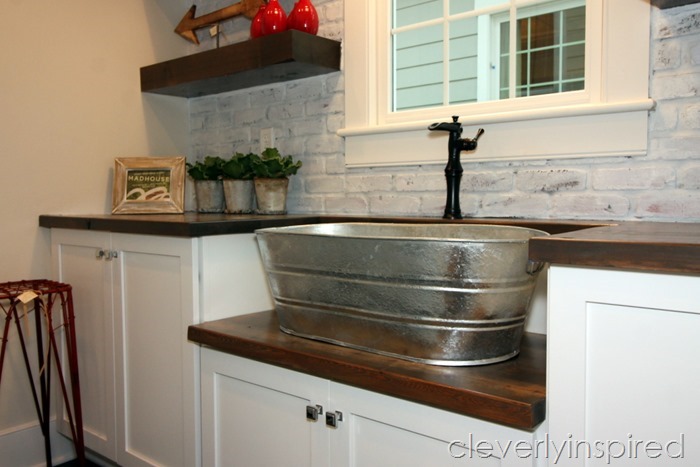 The cabinets are painted Pure White by Sherwin-Williams and the tops are solid cedar wood that was stained the same as our floors which was a mix of charcoal and jacobean stains. I decided to do the oil rubbed bronze farm style faucet. I think a fun unexpected feature is the red enamel farm light on a gooseneck fitting above the window.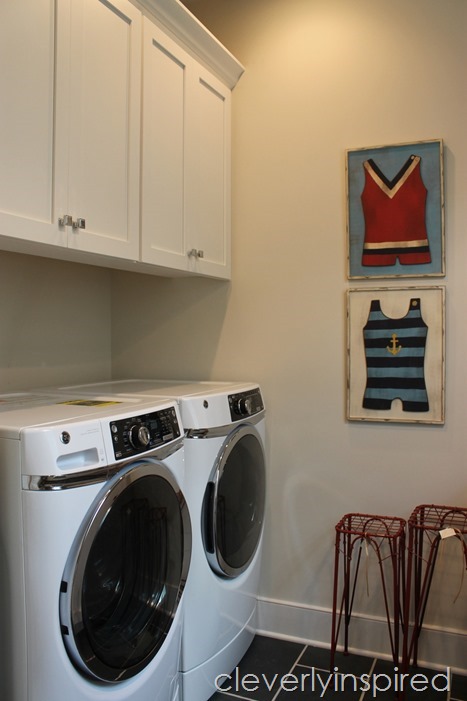 I love that this laundry room looks like it has been here for a hundred years. It has so much character and very usable space. If you have to do laundry you might as well do it in style and this laundry room has so much style! I purposely situated the washer dryer on the opposite wall so that the working parts are hidden so that the door to this room could stay open. This laundry room has a ton of storage for its small footprint. We put in wall cabinets above the washer/dryer. Plenty of spots to store out-of-season decorations or other laundry needs.
If you have any specific questions about this room please be sure to email me. You may not have a laundry room as large as this…but you may be able to incorporate some ideas into your space.
Have a great day friends!
xo