Now open…Coffee and Wine bar….

Have you ever re-thought your spaces? I mean like—why have a kitchen table in the kitchen—kind of thinking? Isn't it funny…sometimes–actually most times…we just place furniture in a room…because that is what is "supposed" to go in there. I got to thinkin one day….why do we only use our Dining room twice a year…when it is a room whose sole purpose is only for dining? And why do we need a kitchen table….if we have a lovely perfectly fabulous "dining" table? These are the questions that keep me up at night…well, that and pinterest.
So I kept thinkin….what if…suppose I….no—I couldn't….nobody has reading chairs in their kitchens…….I wouldn't dare…..Or maybe I would. Welcome to our coffee bar….(slash wine bar :)
The chairs we found were the perfect fit for this space. Plenty deep (39inches) and not too wide.
We found them at World Market.
A re purposed desk becomes a perfect landing spot for morning coffee.
We moved this table to the basement…makes a great game table for the kiddos.
It has become the most favorite spot in the house to recap our day!
I love cooking…as you know.I love baking. I love spending time with my family and friends doing what I love the most. Why not make it more comfortable? Why not make it more of a cozy place to hang out? We have a beautiful dining room to have all our family meals around. Heck, let's use that table instead—and make this kitchen space really functional for how we live! Again, I will interject here….I did marry the most patient man on the globe….he loves all my "out of the box" ideas…he says it keeps him on his toes:) I like to keep him thinkin , wink wink, nudge, nudge… ;)
We are making our plan to change up the colors in here too…more on that soon! Think white woodwork, dusty faded blue island, cabinets in a shade lighter…freshened up windows…can't wait :)
Had an amazing weekend with some incredible friends. Cannot wait to share some pics from the place we stayed….here is just a couple of the sunrise….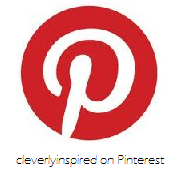 Cleverlyinspired app NOW available on the Android Market! Download for free! For all other smartphones just enter this address in your phone browser: http://cleverlyinspired.mobapp.at