So I briefly told you on Friday that I was toying with the idea of painting our prefinished hardwood floor. Let me bring you up to speed….I painted our floor. I LOVE it (understatement of the century….) And as my mom said to me…"I would buy this floor it is so pretty!" Thanks mom;) Anywho, these next few weeks I am going to walk you through what I did…and some tips that will help you along the way if you want to paint your floors. Here goes…
As with any painting project….your finished product will only be as good as your prep work. The prep work should take you almost as long as painting. So when I set out to paint the floors in the foyer, hallway and kitchen…I had to break it down into small little bites at a time….here is what I am talking about….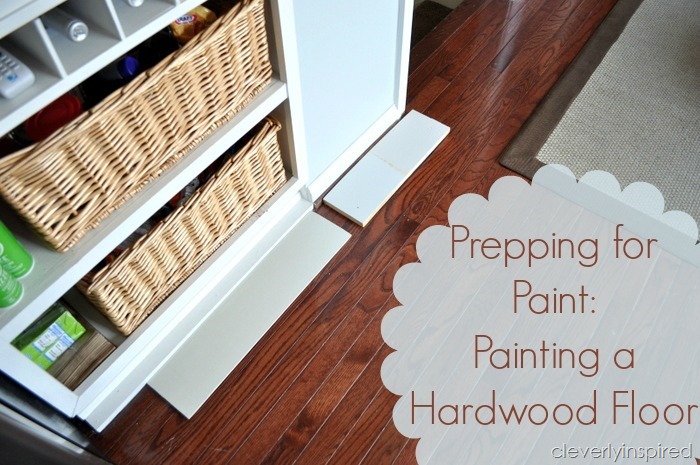 I decided it would be best to start in the foyer. It is the most underused area…and I knew I would have an easy time keeping our dog off the floor in the smaller space. You will want to think about what corner would be easiest to start with based on the traffic flow in your house. My thinking also was based on the fact that if we completely hated the painted floor…this would be the least conspicuous to replace. (even though I KNEW that wasn't gonna happen;)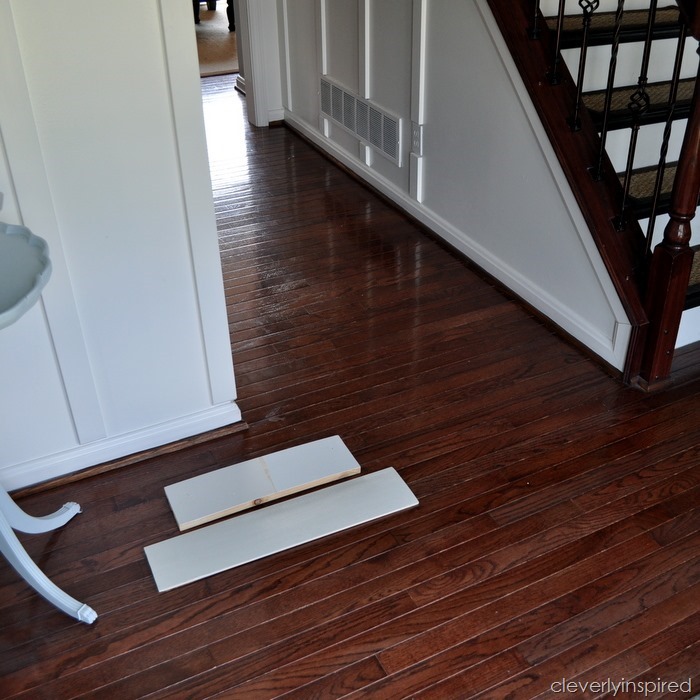 Here is what you will need to get started your prep work:
In my prep basket:
Crud Cutter (awesome degreaser cleaner that doesn't leave a residue)

Good quality painters tape ( I love frogtape and scotch blue)

A putty knife

papertowels

vacuum

lint free cloth

floor steamer (optional)

clean socks
Begin in the corner and vacuum the area. I worked in 4 by 7 foot areas. Vacuum trim and floor thoroughly. Get your steamer out (or a damp hot cloth) and go over the entire area.
Spray your krud cutter along the trim and baseboards and allow it to sit for about 3 minutes. Wiped very well with paper towels (replacing them as they get dirty). Your paint will for sure chip if you do not get all the dirt. If necessary, use the puddy knife to get in tight corners and along where the quarter round meets the floor.
Spray krud cutter on the floor and wipe clean. Allow area to dry (takes only a few minutes). Be sure to have socks on your feet so that the oils from your feet are not transferred to the floor that you just cleaned.
Next you will need to tape off all along your trim. I would recommend using a putty knife to cut the tape. Makes it perfectly straight cut and makes the job go super fast. (video coming soon)
You are now ready for your base coat of paint. I found it best to clean immediately prior to doing my base coat. You don't want to clean it and then walk on it for a day and then go to paint. No No…
You will also want to decide on a paint color. I tested out 3 colors and I painted them on wood to see how they would look on the floor. I would encourage you to narrow your choices down and get a few samples. Live with them for a few days and see the colors in all different lights. The three colors I started with were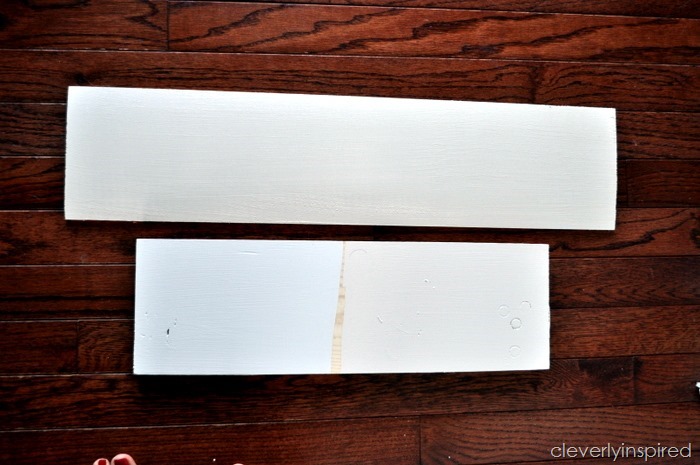 Ben Moore Halo (top board)
Ben Moore Fog Mist (bottom board, right side)
Ben Moore Horizon (bottom board, left side)
We ended up with Halo by Ben Moore (had this color matched with the Porter Paint I used called Breakthrough…more on that next). It is a perfect balance of beige and gray….and it looks fabulous with the colors on the walls.
Ready for paint!!
What are you thinking….would you ever paint your hardwood??