Now that your hardwood is cleaned and taped off…you are ready to get painting. I made a video of the entire process. I would encourage you to watch the whole thing before you begin. There are a bunch of tips and tricks that will make this project really easy for you.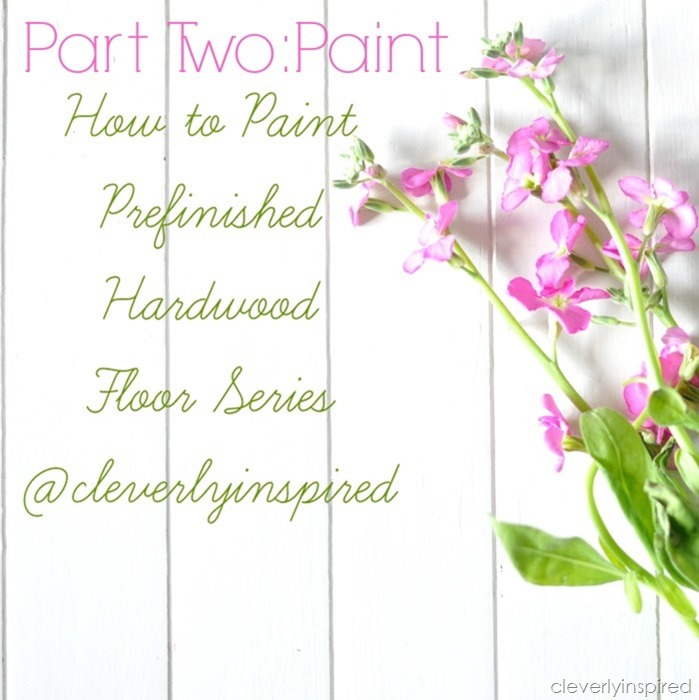 Here are the materials that you will need for this project:
High quality 3 inch and I inch brush (I love purdy brand…they are expensive but worth it)

One gallon of Porter Paint (also called PPG paints)  Breakthrough in Gloss finish (they will color match for you)

5 inch trim roller set with disposable tray

ziploc bags gallon size

saran wrap

paint stirrer

damp cloth
This paint is really unique. Breakthrough by Porter/PPG paints is the only paint I would recommend for this project. It has properties that make it perfect for use on a floor. It dries EXTREMELY fast, it is very thin, it can be drippy (just keep in mind around trim), it is water based (so easy cleanup), did I mention it dries VERY fast. My first coat was able to be walked on in about 20 minutes…no joke…zero tackiness. I have never seen a paint behave this way. So pay the $70 and get yourself one gallon (which covered my foyer, hallway, powder room and kitchen…2 coats) . Worth. Every. Penny. I had about 2 Cups of paint left over…amazing.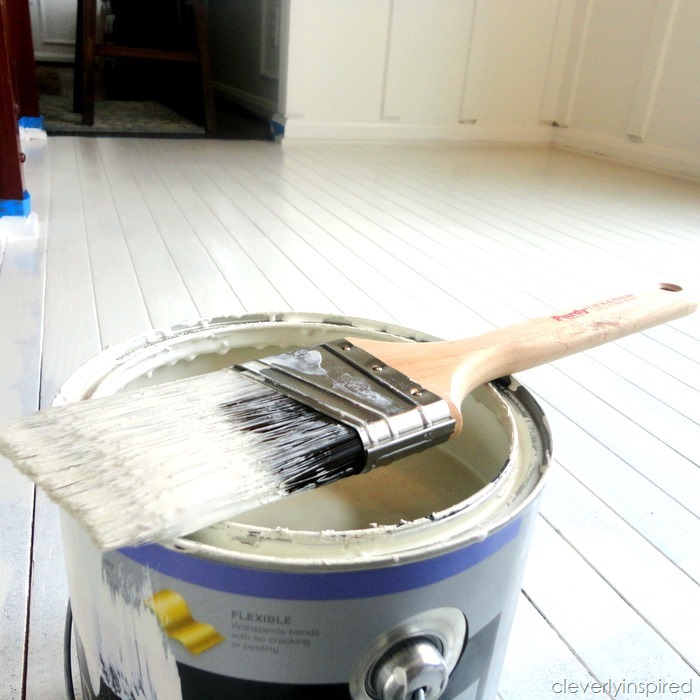 As I said the other day….work in small sections. I started in the foyer in a 4 by 6 area….completing a section before moving on to the next…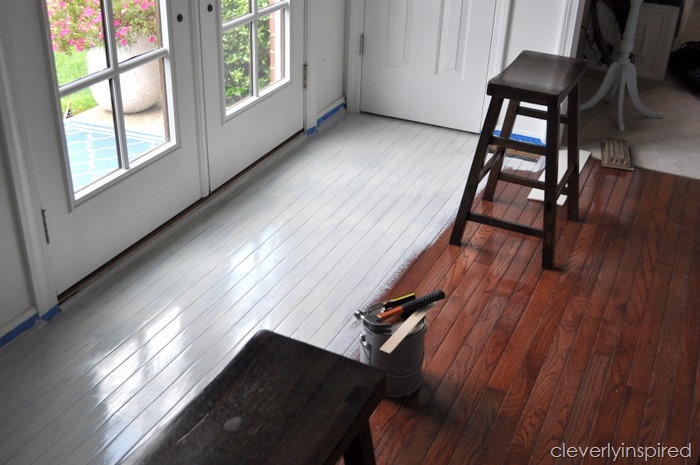 You will want to roll on your first coat. It should not cover and you will see floor showing through…you want that. The first coat goes on much like a primer. Do not leave a wet edge….feather out the edges within 2 minutes of rolling it. I brushed on my quarter round first with a 1 inch brush…then rolled up to meet the quarter round. Work in a 18 inch square area…feathering out as you go. (like I said….the video will make more sense!)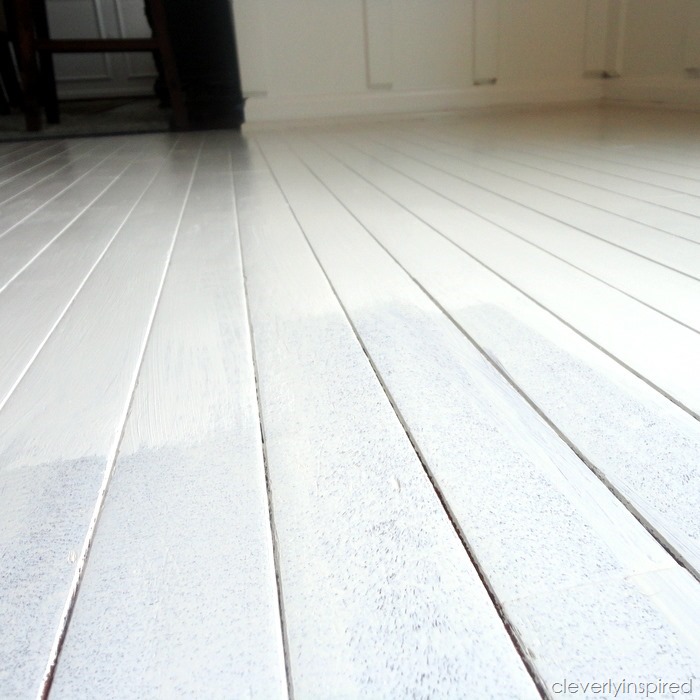 Allow first coat to dry 2 hours. Now use your 3 inch brush to put on your 2nd coat. Working in small 18 inch square areas…feathering the paint out immediately. This is not a paint that you can go back to 5 minutes and catch a run or a drip….you must even it out right away or your paint will start to pick up on you.
The final coat should dry 24 hours before it gets back to full use. We walked on ours with socks only after about 2 hours…no problems. That is what makes this paint awesome—-little downtime…if any. After 24hours…I laid down contractors paper for about 3 days…just to give the paint more hardening time.
A note about pets: We have a golden retriever. He is not a fan of my projects. I sent him to get a bath on the first day I painted. I did this for two reasons….I wanted his nails trimmed as low as possible..and I didn't want him to be coming in/out/around where I was painting so I could "get my barring's" with this paint. I tried to have him stay off the areas that were just painted for at least 24 hours. After that I had him staying on the contractor paper….we have not seen any issues at all with his nails on this hardwood. This paint hardens like an enamel….seriously amazing. We have walked on it with loafers and heels and have not seen any marks. We kept the contractor paper down for 4 full days (really it is best to let paint truly harden for 14days..)so I would say that covering the surface for a week is a great idea.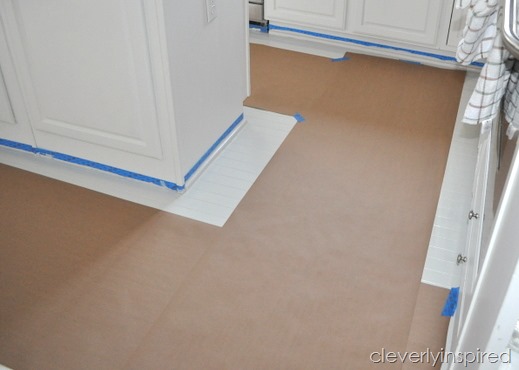 Friday I am going to talk about finishing up this project…in the meantime watch the video and I can answer any questions you may have:)