It is a large wired bowl…something you may put fruit in….but I reminded me of these…
 So, I decided to create them with some craft store mirrors ($2.50 each) and some glue…
 I cut out a piece of felt to protect the wall where it would be hanging…and also to had something to grab a hold of for the glue. I used liquid nails…and some crazy glue too.
 I placed some weight on them overnight to let the glue set up good.
These are going in my friend Patti's new retreat….
The big reveal….coming next week :)
I love it when I get the look of $240 from pb….for only $29 :) It is a serious THRILL!!!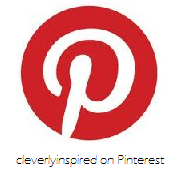 Sharing :
KoJO, Whipperberry, Tattertots and Jello
Cleverlyinspired app NOW available on the Android Market! Download for free! For all other smartphones just enter this address in your phone browser: http://cleverlyinspired.mobapp.at