Hi all! We are really enjoying the new light, bright kitchen! I wanted to show you what I came up with for the backsplash. As you know we have black granite up there now. It really didn't bother us too much after everything was painted. The only area that stood out to me was the area under the vent. Sort of a black hole…and I wanted to do something with it. Brainstorming one night in the wine bar…we came up with a solution that only set us back about $40! Best thing is…it isn't permanent..and there was no construction involved..bonus! Here is how we built a framed mirror for the backsplash…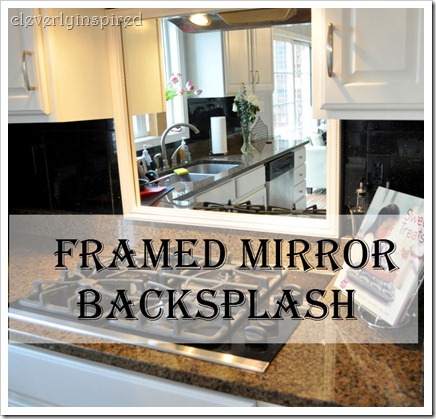 Our local Kentuckian mirror and glass cut our mirror to our exact specs. Ours cost $39…they will cut it any size you need. They will also cut glass (for shelves and such…any size) Super nice people too!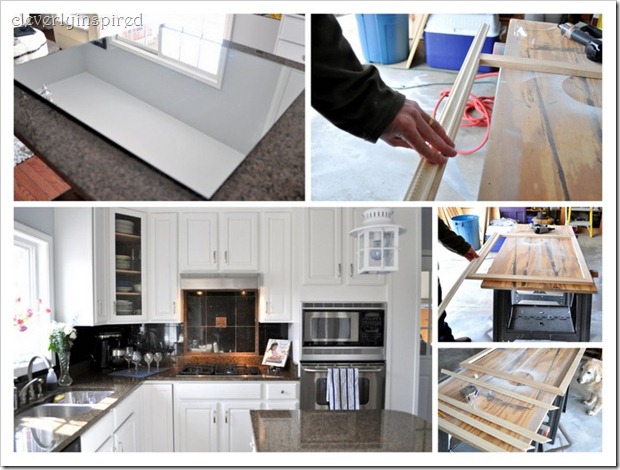 We mitered 4 pieces of 1 by 2 to create a frame. Basic 45 degree angles all the way around. Use wood glue and nail gun to secure the frame together. On top of the frame we used some decorative trim and again used wood glue and a few pops with the nail gun.
Predrilled 2 screw holes on each side of the mirror frame. That way we could hide the screws when we installed it. I sprayed it with about 2 coats of satin white (primer and paint are one spray…Rustoleum product)
To install, I held the mirror up while Bill held the frame on top and screwed it into the cabinets on either side. The frame holds the mirror in place. We added some liquid nails on the bottom and clamped overnight.
That's it! Updated fresh look….for a bunch less than tearing out tiles and starting over!
Sharing at Skip to my Lou and Tattertots and Jello