Hey yall….well if you were following along this weekend on instagram you know that my weekend was full of puppy goodness. We had a ball with Chloe this weekend! We picked her up on Friday around noon….Stella came with us too. Our friend Trisha from Forest Glen Goldens was thrilled to see Stella and have her romp with Stella's pop, Solei and her mama Savannah. Chloe has been such a fun addition—and puppy breath is heavenly;)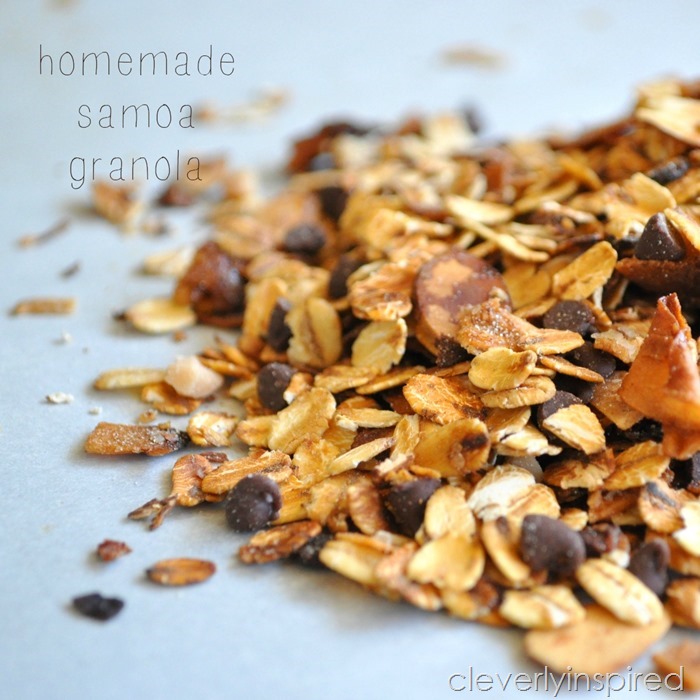 A few of you have been asking about my success with my endeavor losing a few pounds and I am happy to say that I'm still following my plan. I basically eat whatever I want on the weekends and then during the week I keep a close eye on my sugar and limit my white flower intake. This really works well for me because I don't like to live without certain things completely like donuts or pasta so limiting what I eat during the week allows me to not concentrate so much about it on the weekends. I have lost a total of about 16 pounds (since beginning on March 24th) and I can honestly say I've never had so much energy! I feel good in my clothes… which was my whole goal.Like I said before…I think the weight watchers app makes it easy to monitor your portion…and more importantly encourages fruits and veggies. Highly recommend!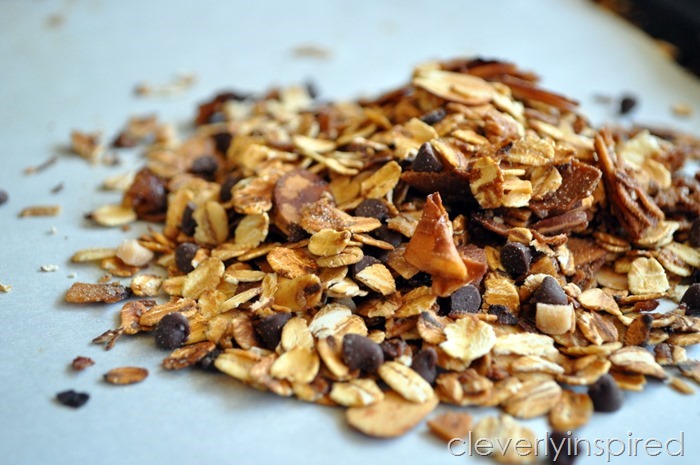 One of my biggest weaknesses is sweets…I love candy and chocolate. I am not willing to live completely without sugar , but I will say drastically reducing it has done wonders for my energy! This granola recipe is just the ticket for me when I want a little sweet with my morning coffee. Pair a 1/4 c of this with an egg white, some fresh fruit…you are good to go for about 4 points;)
It is a great high-fiber snack and a little bit of it goes a long way.  Granola packs up well for lunch or afternoon snack time.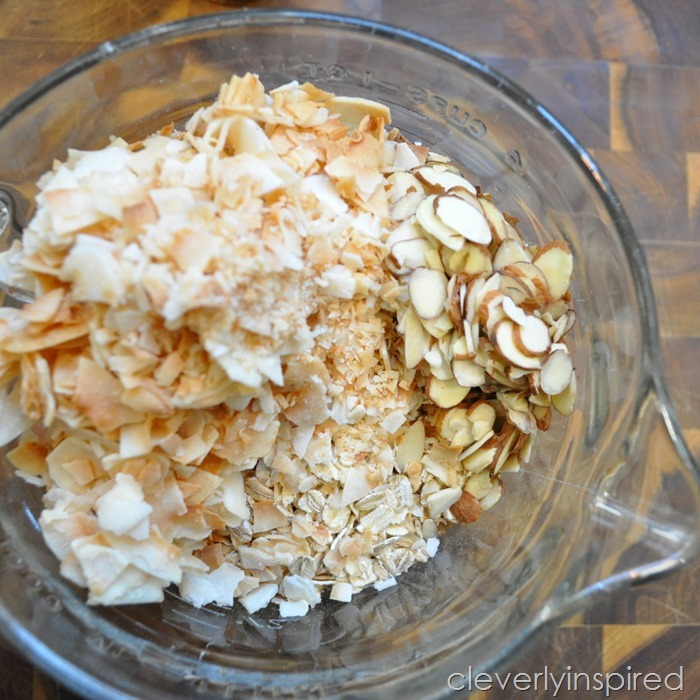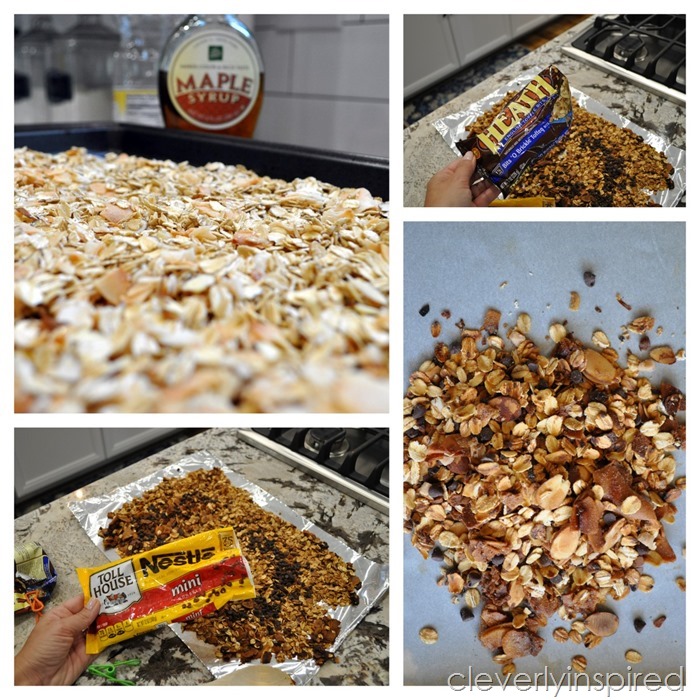 I bought the unsweetened coconut at The Fresh Market  and everything else I was able to find at the grocery store.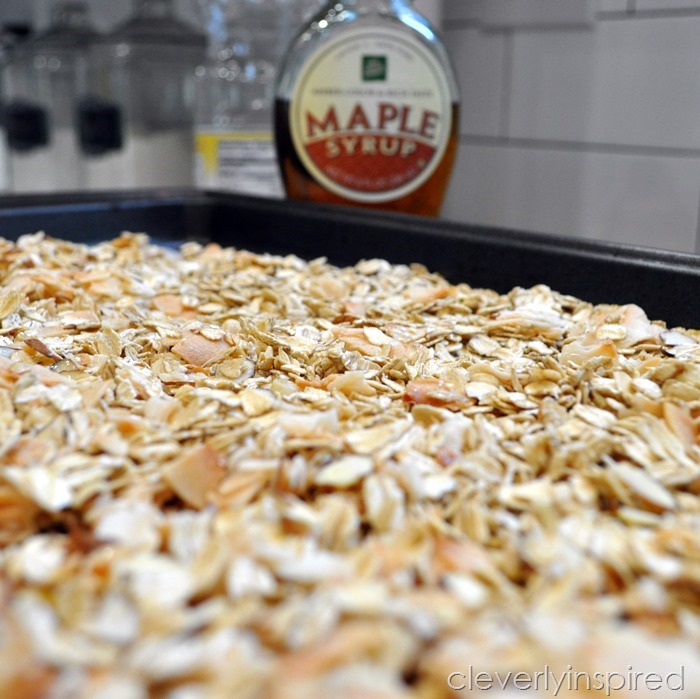 Just be sure to keep your eye on it in the oven…oats can burn easily.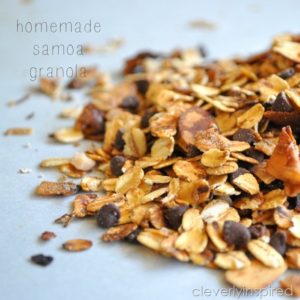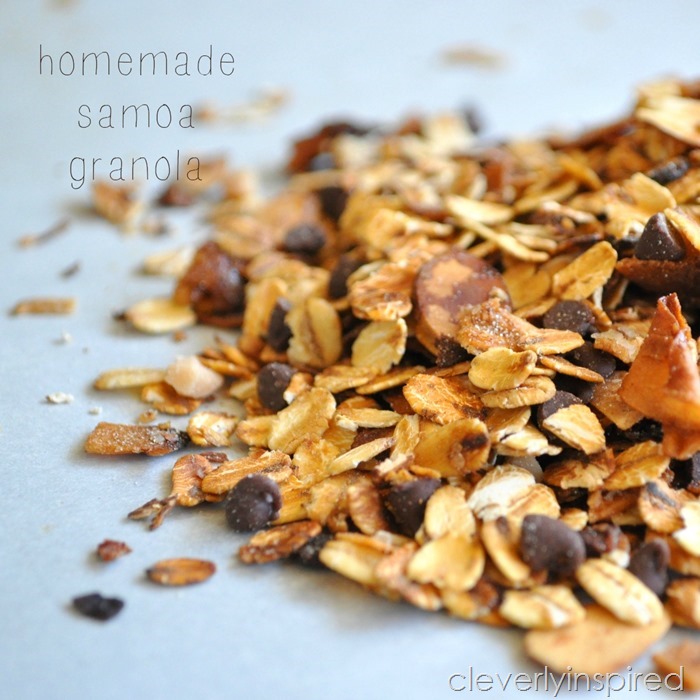 Homemade Samoa Granola
Ingredients
2

C

rolled oats

not quick cook

1/2

C

sliced almonds

1/2

C

unsweetened dried coconut slices

1/4

C

pure maple syrup

1

T

canola oil

1

t

kosher salt

1/4

C

mini chocolate chips

1

T

heath crunch bits

1

T

yogurt raisins
Instructions
Heat oven to 350.

On a baking sheet lined with parchment, combine oats, almonds, coconut, oil, syrup, salt.

Bake 7 minutes and stir

Bake additional 4 minutes or so (oats burn quick so keep and eye on it)

Remove from oven and let cool.

Toss in mini chips and heath.

Store air tight for a week
Of course I have to end this post going back to Chloe:)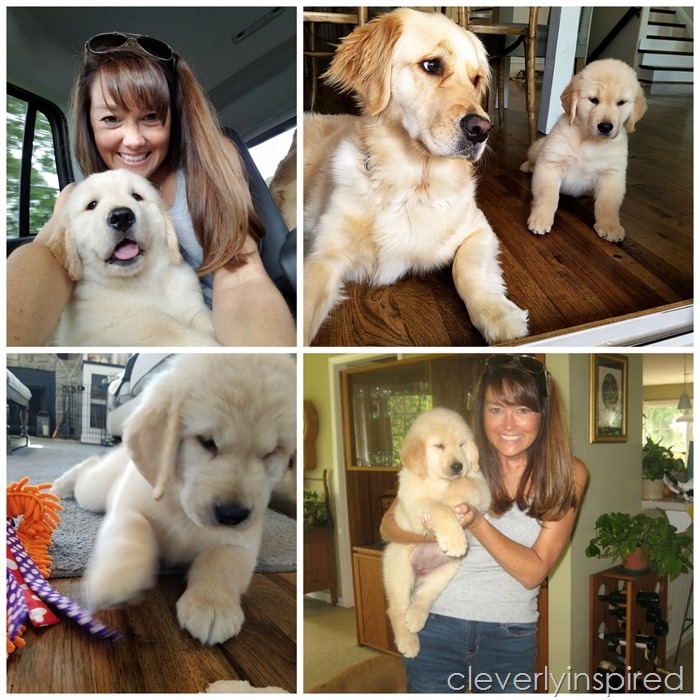 Have a great day friends!