The sofas are here! The sofas are here! That didn't take long did it? I was so excited to receive the call that the sofas will be delivered on Monday between 12 and 4. They arrived promptly at 12:30. I wanted to share with you how they arrived and what I think of them so far. A few have you had commented about the deal that I got on them so I wanted to share our experience.  Now mind you, we have not had them in the house for more than a couple days but I wanted to share with you our overall all first impressions. Here is a few things that we have noticed…..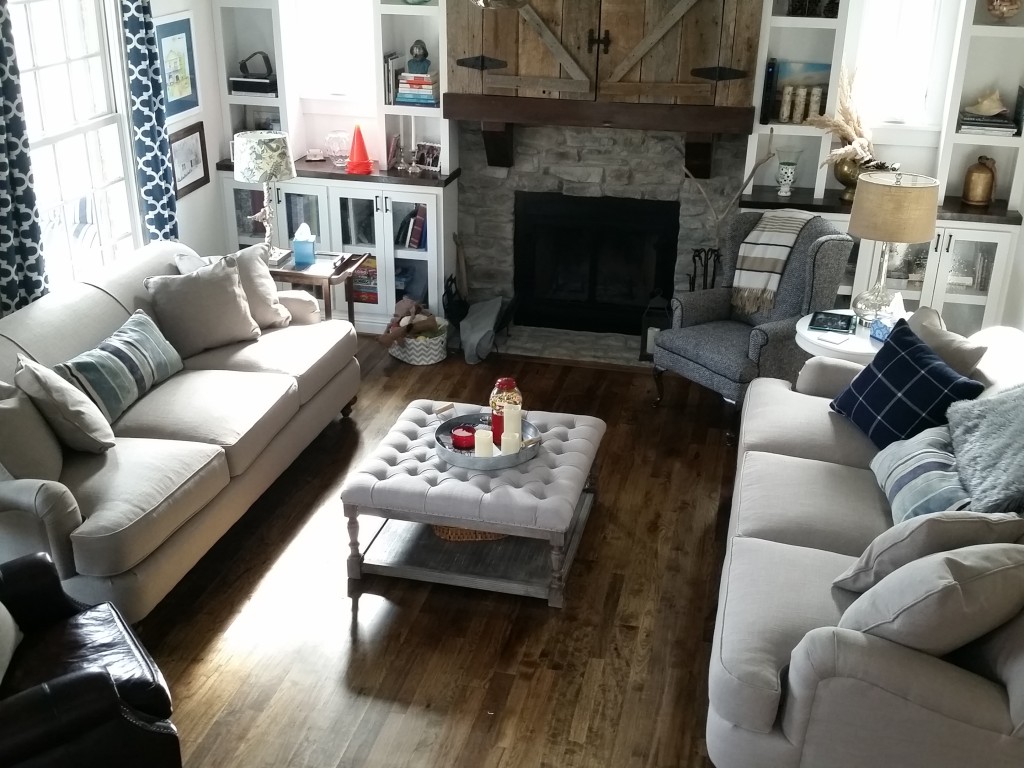 First off…they were packaged really really well. I opted out of the "white glove service" and chose to do the unpacking myself which saved me about a hundred bucks. And I would choose this again because it was pretty much my workout for the day;) It took me about 45 minutes to do it by myself….I was very determined to not wait for anybody else to be home….being the DIYer that I am;) They were basically shrink wrapped and arrived in perfect condition. It took about 45 minutes to an hour to unpack the sofas.  As I said, they are extremely well packed. All of the cushions and pillows along with a bag that the feet came in were all packaged into the sofa basically. The movers placed it where I wanted and took off. After I unpacked them, I screwed on the feet and they were ready to go. I know that many of you were concerned because I have never sat in this particular sofa….totally valid point. However, I have sat in a lot of sofas in a lot of different stores and I have collected ideas from all those experiences. I was very particular in what features I wanted in these couches. I went into a few of these features on the post last week.
The features that were most important to use were: at least 40 inches deep, long enough to fully lay down, tight back without cushions, no skirt, down wrapped foam seat cushions, lower curved arms, durable neutral fabric and affordable! Quite a list!!! The Durham sofa from Birch Lane had our entire wish list!  I am NOT of the theory to overspend on furniture and feel like I am tied to it for my lifetime.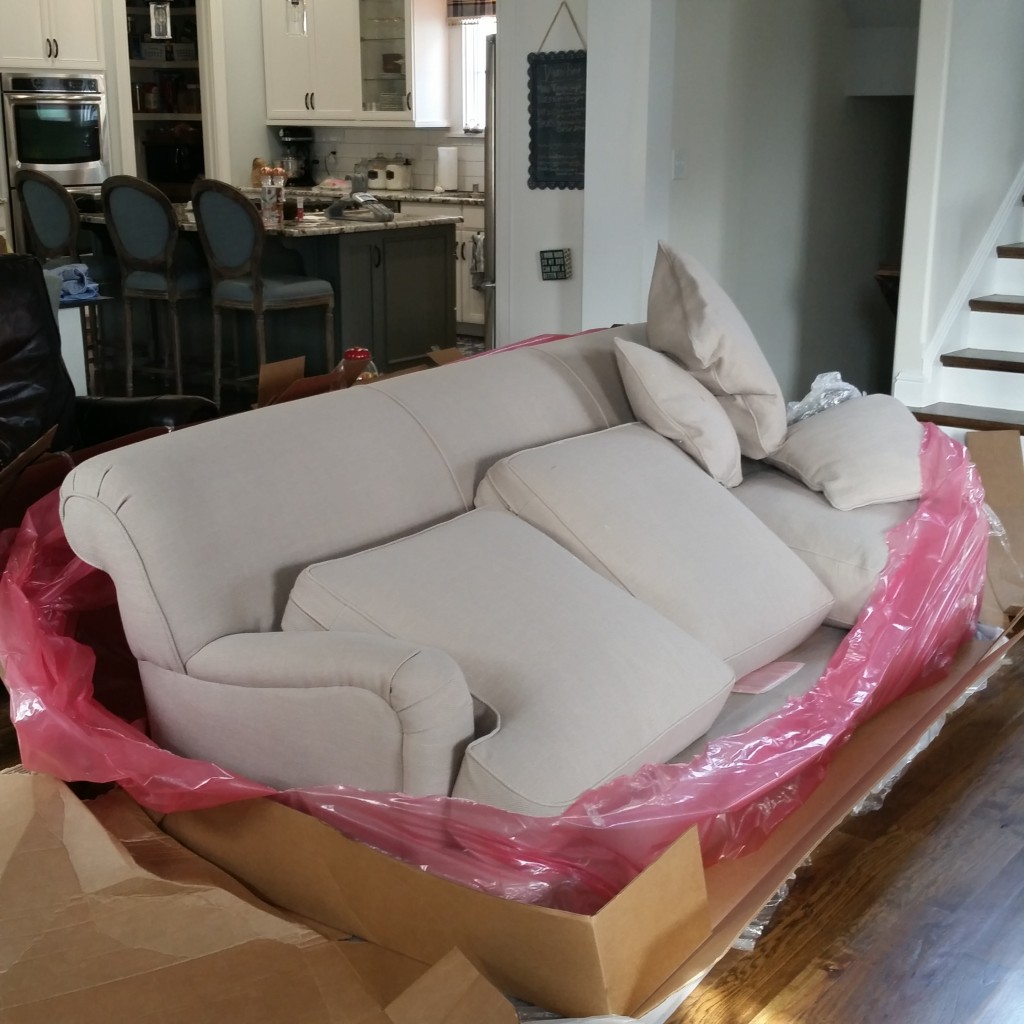 These sofas fit our home and how we live. We are relaxed about our furniture…nothing is too sacred—life is too short to have "too good to sit on and enjoy" furniture.  As I told you before I got both of these couches delivered for $2,400 after my coupon which saved me about $700. In most high-end furniture stores you cannot even come close to buying a down cushions extra deep sofa for under 3,500 to $4,000. We were not willing to spend $8000 for 2 sofas.
I noticed immediately that it balanced out the room. This room has super tall ceilings a very heavy focal point on the fireplace wall …now there is symmetry in the space. I absolutely love how it looks.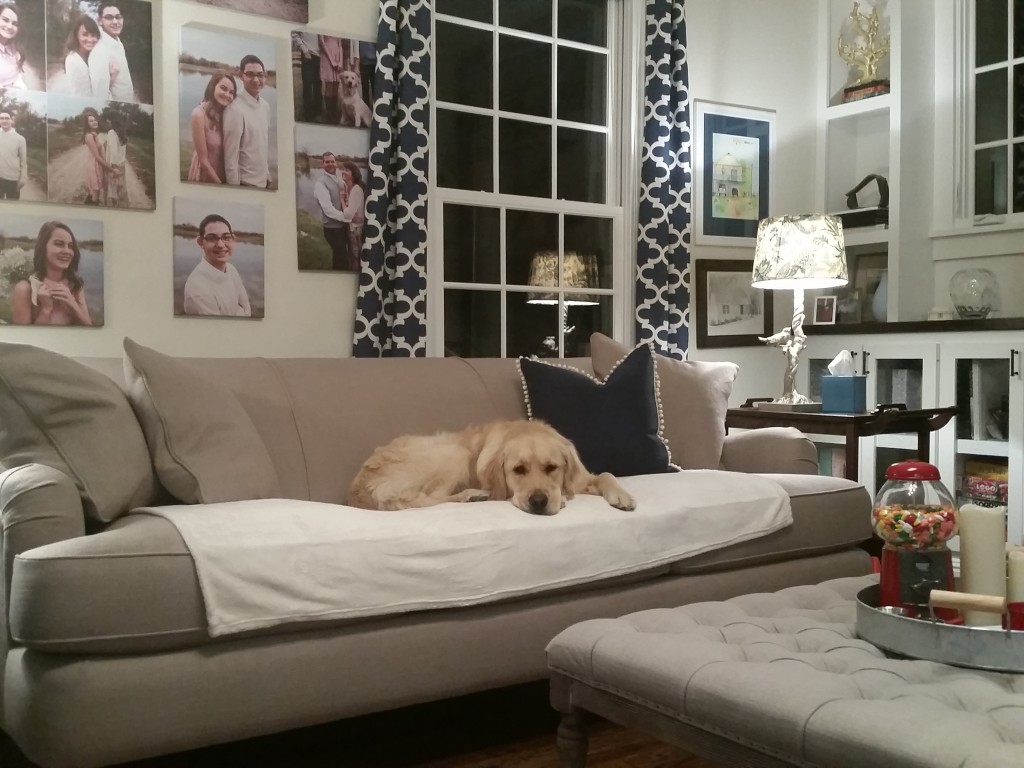 Our initial impressions are that it is really comfortable. As with any new furniture it needs to be worked in a little bit. But you can tell that there is down in these cushions because even though they're brand new you still sit very comfortably on the cushion. I was also impressed that they came with two 22 inch pillows and two 18-inch pillows that are all down feather pillows also. I looked on Etsy and ordered some covers for the pillows so that I can mix them up a bit. It was looking a little bit too beige for me.
The color that we chose is called clay and the pattern is  basket weave. On the Birch Lane website you can order as many color swatches as you want. I ordered about 12 and I was really impressed with the size of the swatch that they sent me. The fabric is thick and very durable. Because we have a dog that does use our couch I do put a fleece blanket for everyday use for her to sit on just to protect the fabric a little bit. The other thing I really like about this sofa are the arms. They are a bit lower and I think look very stately. Next stop… I am going to search for a inexpensive rug. We have not had much luck with rugs and Stella. It is the only thing that she does like to occasionally to the corners of so I really don't want to spend a whole lot on that right now. I really just need something that's there. A few of you were asking about the ottoman and that came from overstock.com.
I will show you some more pictures in a few weeks after I get my pillow covers but I really do feel like this room is coming together so nicely now. When you enter from the front door it just looks like it's filled…love!  If you guys have any more questions about the sofas just be sure to email me and I'll try to get back with you.
Xo
Sidenote: A project of mine is up for Bob Vila's "thumbs up" award….You can vote every day of February. I would love your vote! Mine is the industrial style metal light. It is very easy to vote….no registering at all:)