Hey yall! Happy Monday! Did you watch Grease Live last night? I thought it was actually pretty good….what about you? I liked at a lot better than the Sound of Music that was on Live TV last year. We are ready and waiting for our new sofas today! Cannot wait to share that with you later this week….Today…an idea for the big Super Bowl game coming up soon:)
Almost time for the big game! I was so disappointed my Packers did not make it to the big dance this year….however I do love me some Peyton Manning, so I am thrilled that he might get one more chance at Super Bowl greatness. We shall see :) Whoever you are cheering for, you might like to assemble an easy and tasty snack while watching the game. The first snack that came to my mind was pizza, and this time around I have switched things up a bit and turned it into pizza sticks for easy dunking! They are sure to be a hit with my two homemade dipping sauces I have paired with them. I made the jalapeño dip a day ahead and then finished the last touches right before snack time.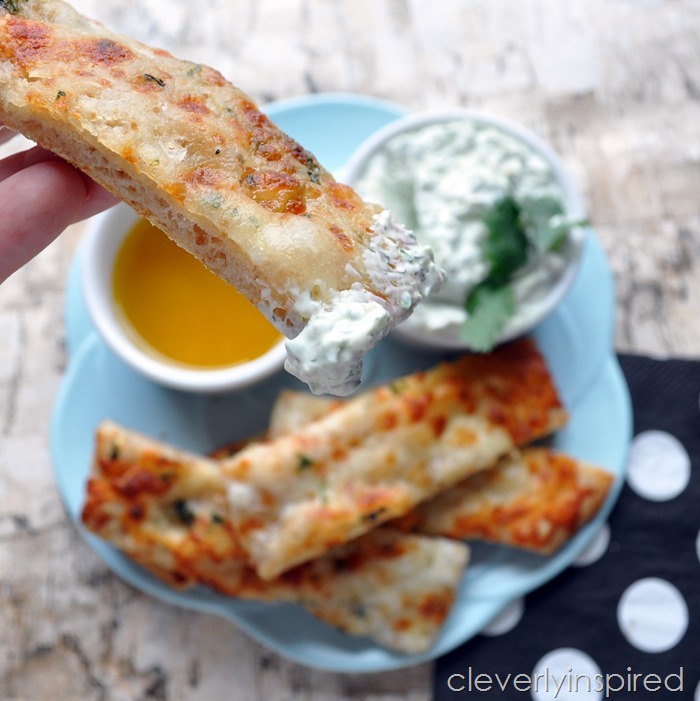 I have partnered again with the folks at the National Frozen & Refrigerated Foods Association (NFRA) to share with you some simple meal assembly ideas for 2016. Their main goal and focus is to help you eat better and make it easy for your family to sit down and enjoy a meal together, with help from convenient frozen and refrigerated dairy products. Check out Easy Home Meals for even more recipes, tips and information! This month, in addition to the Super Bowl, we're focusing on snacks since it is National Snack Food Month. I don't know about you, but it seems that football, snacks and Sundays go hand in hand!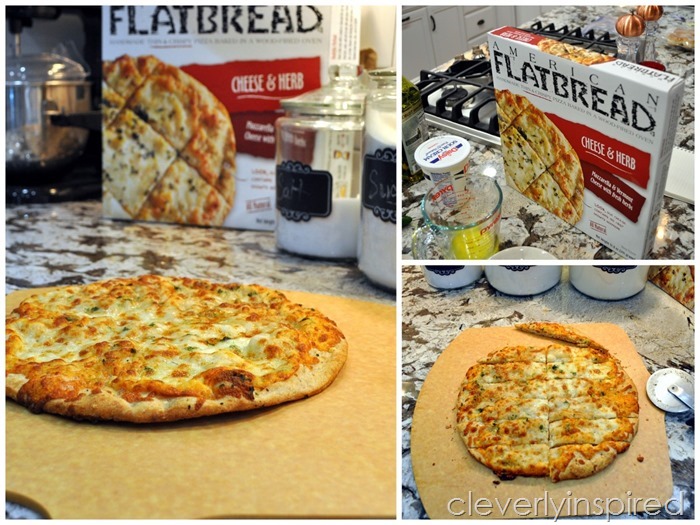 Today I wanted to feature American Flatbread pizza that you can find in the freezer aisle of your local Whole Foods along with some other grocery stores. They offer several frozen varieties from gluten-free, basil pesto, sundried tomato and cheese & herb, which is the one I chose for this particular snack. It's a great base for various creations and customizations. American Flatbread has so many pizzas to choose from and all are really good for you! In addition to the pizza, I wanted to pair it with a few flavors of dips that go great with the cheesy base. I created a simple garlic dipping sauce (that is better than your take-out pizza joints!) and a spicy jalapeño dipping sauce which uses a kitchen staple of mine, Daisy Brand sour cream.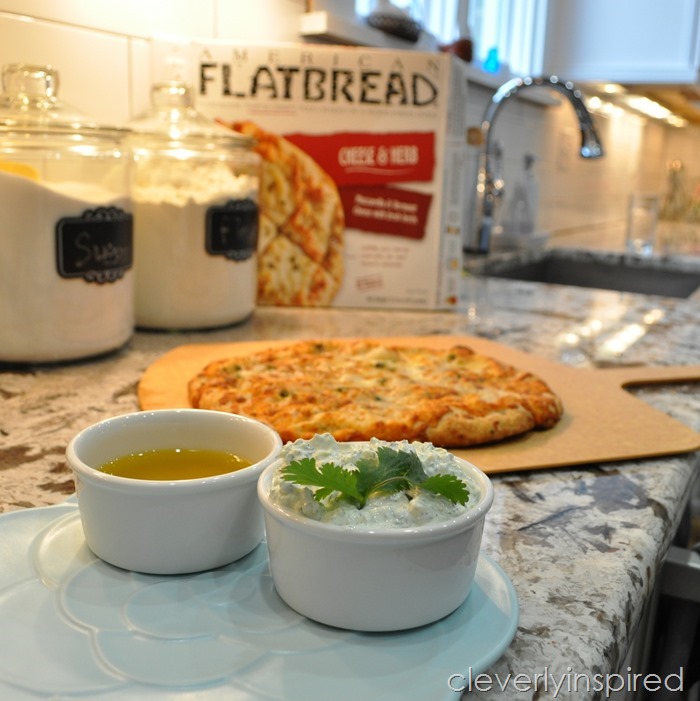 No need to order carry-out or delivery when you have everything that you need for a fun and festive afternoon right in your fridge and freezer. You can find everything you need for this tasty snack in the freezer and dairy aisles of your local supermarket. Easy Home Meals also has some great ideas, so be sure to search our Cool Food Panel Pinterest board where you will find a ton of easy recipes and ideas that your family will love.
Here is what you will need: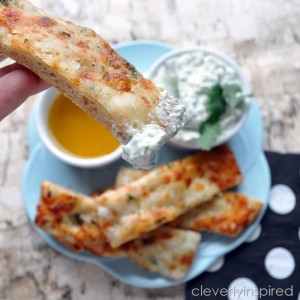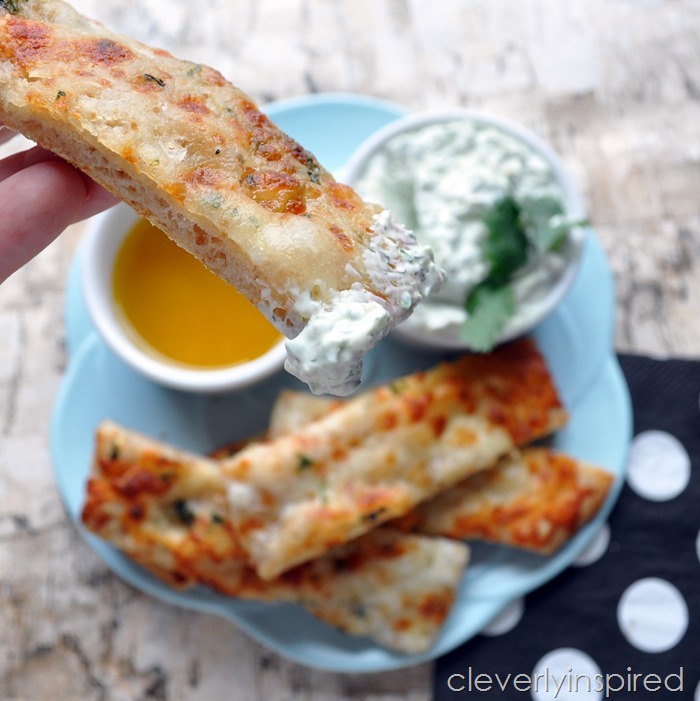 Pizza Sticks with homemade dipping sauces
Ingredients
Spicy Jalapeno Dip

1.5

C

Daisy sour cream

2

jalapenos finely chopped

1

T

dillweed

1

T

minced dried onion

1/2

C

chopped cilantro

1/2

t

garlic salt

Combine and chill in fridge until serving.

Garlic Butter Dip

4

T

melted butter

3

T

olive oil

2

t

garlic powder

1/2

t

garlic salt

Combine and serve right away.

Bake your favorite American Flatbread pizza's and slice up into sticks….Dip away!!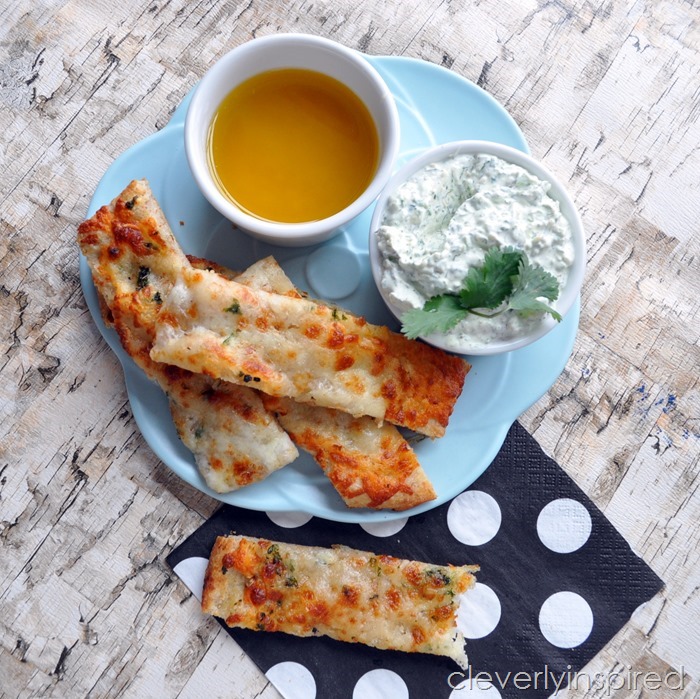 When you are preparing your grocery list, be sure to remember that your grocery's freezer section is loaded with party nibbles and munchies that allow you to spend more time with your family and friends and less time in the kitchen. Entertaining should be fun and not a hassle! Take advantage of all the goodness in those convenient sections of the store, especially when stocking up for your big game party!
Sidenote: A project of mine is up for Bob Vila's "thumbs up" award.…You can vote every day of February. I would love your vote! Mine is the industrial style metal light. It is very easy to vote….no registering at all:)
I am a brand ambassador for the NFRA (National Frozen and Refrigerated Foods Association) & a member of the Cool Food Panel. I have been compensated for my time spent writing this post. All opinions, photos, and thoughts are 100% mine own.