Readers who have been following MADMEN :Did ya watch the last episode of  Madmen? I thought that the ending was really good way to finish the whole story. I think that it's hard for  a show's producer to end it the way that everybody wants it to end. Regardless of how we said goodbye….I want to see more.  Don…doing yoga at a retreat on the Pacific ocean…such a great oxymoron to how he lived his live the past 7 seasons.  I'm telling myself that he went back to work…. he was reconnected with his kids…came up with the iconic Coke commercial…became a better man.  At least that's what I want to happen for his character. I guess the producers kind of leave you to make your own conclusions. But I do love that they ended the entire 7 years with Don smiling. He rarely smiled during the whole series and it was almost as if he became at peace with himself and his past. The character that you wanted to shine through all those years came shining through in those last minutes. I just loved it! The other thing that immediately caught my attention was the girl at the retreat center who had the ribbon through her braids just like the girl in the iconic Coca Cola commercial they played at the end. I feel like the writers were trying to tell us that Don goes back to New York has big success and that retreat inspired that Coca Cola commercial. I have come to find out that that Coca Cola commercial was developed at McCann but the executive that developed it actually came up with the idea while stranded in a Ireland Airport overnight. In Mad Men land land I like to think that Don was inspired by these awakenings he had at this retreat.:) Ok…onto real life….
So our Lakehouse is up for sale again….our sweet renters had to move out to be closer to home. If you know anyone searching for a perfect little cottage on a fabulous lake please let me know! We would love to see it sell this season. Here is a link to the listing….We love this sweet little home…and would love a family to be able to enjoy it!
With summer weather here…and Memorial Day this weekend…I wanted to share with you this yummy fresh guacamole. It is good for you..and perfect to have with an ice cold beer:) Or margarita!
I was never a huge fan of guacamole until I had this recipe. It is made with the freshest of veggies so that makes it i no guilt snack right?!?!! That is always a good thing. I usually double the batch because it goes pretty quickly. A little tip to keep it from browning in the refrigerator is to press some cling wrap on top of it before you cover. Just stir it up again before you serve and you're good to go. Mix up a fresh margarita….get out your favorite tortilla chips and enjoy a little Mexican fiesta at home! This recipe screams summertime which means that it's right around the corner right? Enjoy!
Another little tip…to scoop out the fresh avocado…use a cookie or ice cream scooper. Comes right out of the shell:) Add as much heat as you like….we find that 2 seeded jalapenos is just hot enough for us:)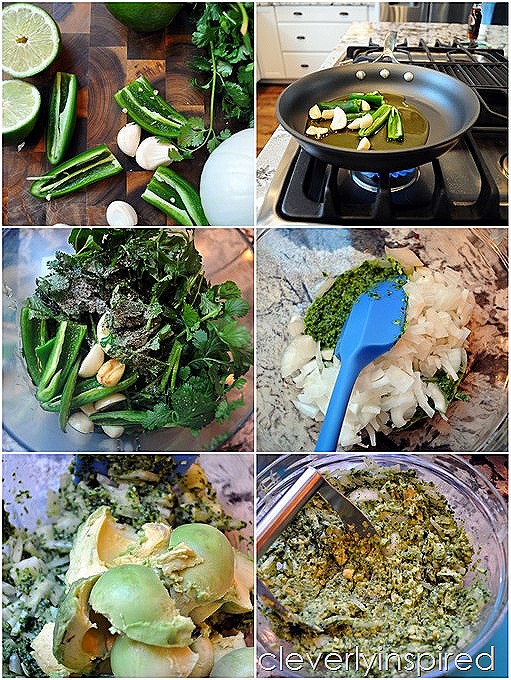 You will need: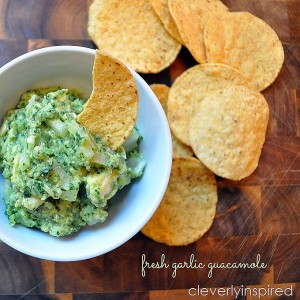 Fresh Garlic Guacamole
Ingredients
3

T

olive oil

2

clove

garlic

halved

1

or 2 jalapenos

halved and seeded (adding as much heat as you want)

1/2

c.

cilantro

2

limes squeezed

salt and fresh pepper

1/4

C

onion minced

2

ripen avocados
Instructions
Heat the oil and add in the jalapenos and garlic. Saute just a few minutes until fragrant.

In a food processor, combine cilantro, lime juice, and jalapeno mixture. Pulse until combine.

In a bowl, combine onion, jalapeno mixture, and avocados. I use a pastry blender to mush it all together:)