Hey hey….yall in the holiday hurricane yet? Getter done mode?? We are staring exam week here….so basically my kids go into school just to take their exams…just like in college. I will be spending a bunch o time in the car this week for sure….I think I have Christmas in the bag though…pun intended:) We had a great weekend celebrating Christmas with our good friends from college. Attended a UD game and watched them get beat…BOOOOOOO! It was still a fun time though as usual:) Yesterday my friend Janet had the annual Christmas cookie swap. Peeps really brought their A game…..sooooo many good cookies and really creative! The cookie swap is my kids favorite day of the month….look forward to it every year:) There is sooooo many opportunities to eat sweets this month….and I wanted to balance all that sugar out with a fun and healthy appetizer….so here ya go:)
I was looking for a healthy easy appetizer to serve up to my friends at our annual gift exchange. I have seen the antipasto skewers and that idea led to this idea of putting a salad on a skewer. I realize it probably would have been easier to just toss a salad in a bowl but eating food on a stick seems to be a lot more fun and festive.
One head of lettuce made about 24 skewers. This would be perfect party food for your holiday celebrations or just to make your family feel a little special one night. A fun way to make a veggie look a lot more fun:) All you're going to need is one head of lettuce a container of grape tomatoes some chopped or sliced mushrooms and really any other solid fixing that you would want. You could obviously cut up some peppers maybe some red onion…. anything goes. I used long wooden bamboo skewers that I snapped in half. Cut a slice off the side of the lettuce and lay that piece flat on the cutting board….then cut into long strips….place skewer in wedge piece while it is still on the board….slide the other veggies on top. I placed mine on the platter and let folks drizzle with dressing.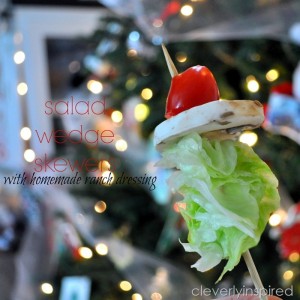 Salad Wedge Skewer Appetizer
Ingredients
head of lettuce

sliced mushrooms

grape tomatoes cut in half

optional peppers and red onion cut

12

wooden bamboo skewers cut in half
Instructions
Slice off side of head of lettuce and place cut side down on board.

Cut that into long strips of about 1 inch width and insert skewer.

Place remaining veggies on skewer.

Serve along side favorite dressing.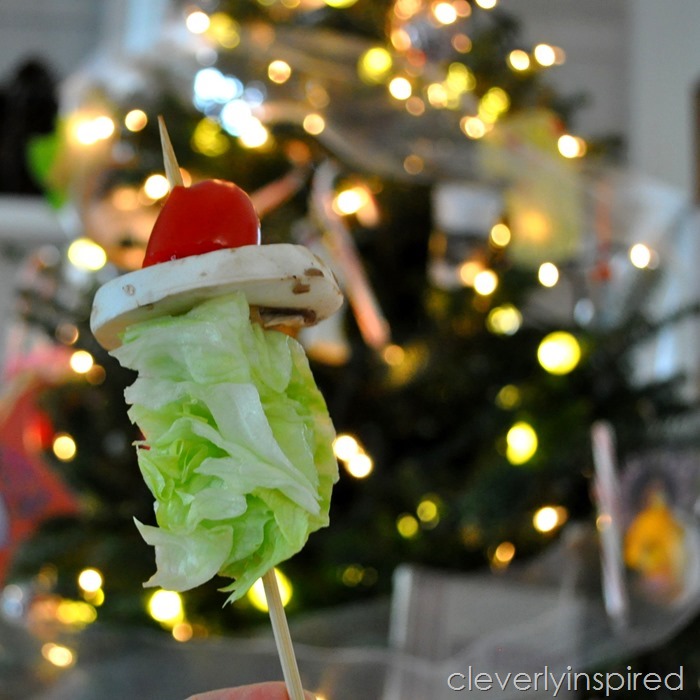 I made Pioneer Woman's homemade ranch dressing to go along with it and that was a big hit! I would highly recommend her homemade ranch.
1 clove garlic
1/4 teaspoon kosher salt
1 cup real mayonnaise
1/2 cup sour cream
2 T parsley
1 T dillweed
1 tablespoon minced fresh chives
1 teaspoon Worcestershire sauce
1/2 teaspoon ground black pepper
1/4 teaspoon paprika
1/8 teaspoon cayenne pepper
Dash hot sauce
1/4 to 1/2 cup buttermilk (as needed for desired consistency)
Mince the garlic with a knife and then sprinkle on the salt and mash it into a paste with a fork.
In a bowl, combine the garlic paste, mayonnaise, sour cream, parsley, dill, chives, Worcestershire sauce, black pepper, paprika, cayenne and hot sauce. Add the buttermilk to desired consistency and mix to combine, tasting frequently and adjusting seasonings as needed. Chill for a couple of hours before serving, thinning with more buttermilk if needed.
Have a great Monday friends!
xo