Hey yall! Happy 38 frickin days before Christmas….oh my goodness….game on am I right?!?! We had a great weekend here…celebrated my friends 40th bday on Friday…and lots of lounging to recover on Saturday and Sunday. I did get to work yesterday a bit and started to decorate. I'm keepin it simple this year….and it's looking real nice:) I'll share a fun project with you this week that I made yesterday. I used the very last piece of my old fence part-–that little fence made 3 projects for my house! Never pass one up!
I have told you about the house that I worked on with Mark Simpson Builders a few times….And I wanted to share with you a few pictures of the completed home. It really turned beautiful. The newly married couple just moved in last week….and before the closing I popped in to take a few pictures. It is always fun to see new products…and even just reworking some products that have been around forever.
The exterior colors are Delicate White (PPG paint), Crazin Cranberry door (ppg), and Trim is Flagstone (ppg paint).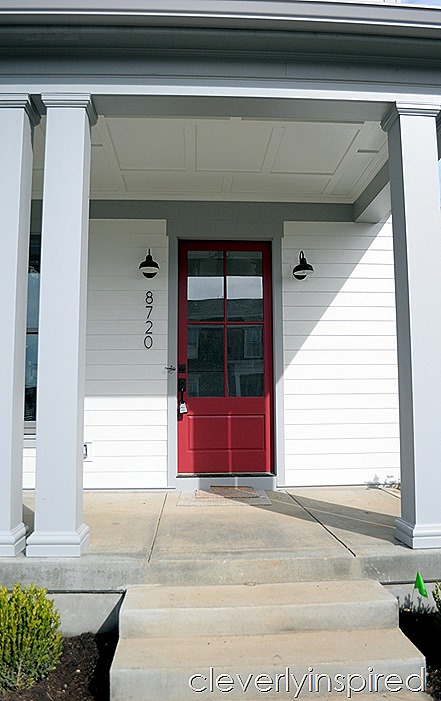 You walk into a foyer similar to our house…Color on the walls is Natural Choice by Sherwin Williams. A delicate non color that is a nice backdrop. On the bench, our trim carpenter did a herringbone pattern for the top and it was stained Jacobean by Minwax (as well as the floors.) (Floors are rustic grade Solid Hickory. )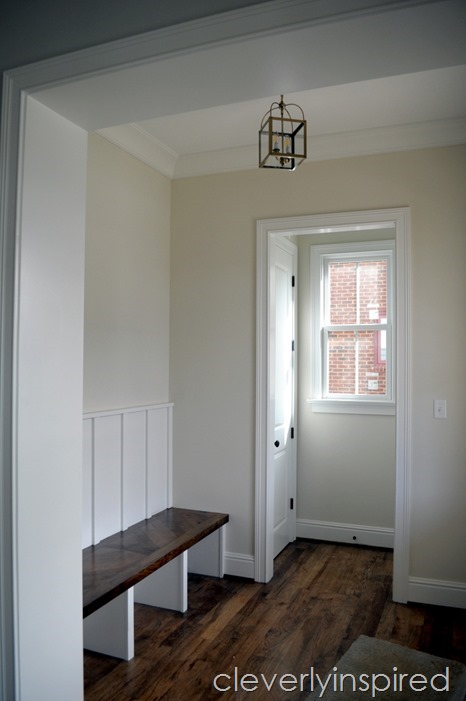 ….then you step into this family room…and gradually into the open kitchen space….Family room is painted 1/2 strength of Aloof Gray (Sherwin Williams sw6197). All the trim is painted Pure White (SW 7005.)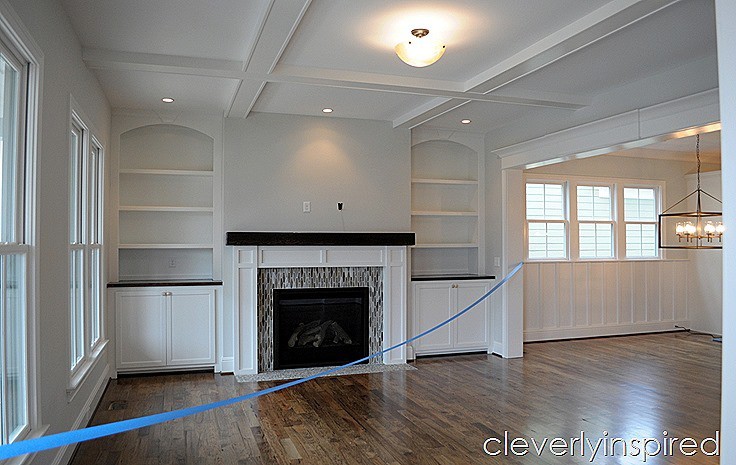 I shared the fireplace tile on instagram a while back….it is one of my favorite features. I talked about it a little here too….I love the chunky cedar mantle paired with this delicate muted hex tile….perfect.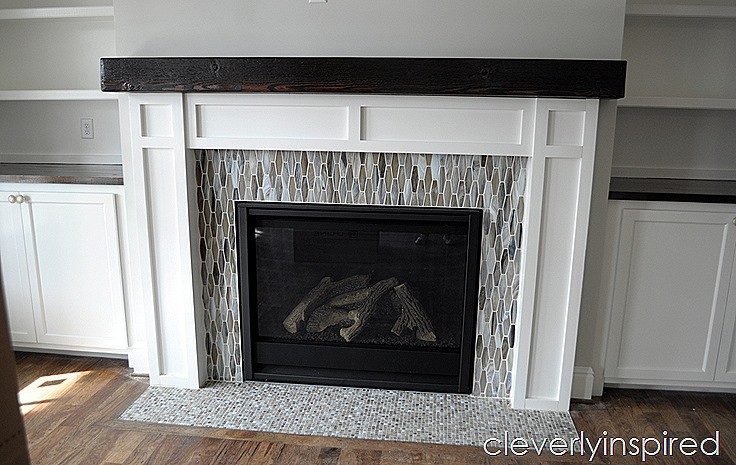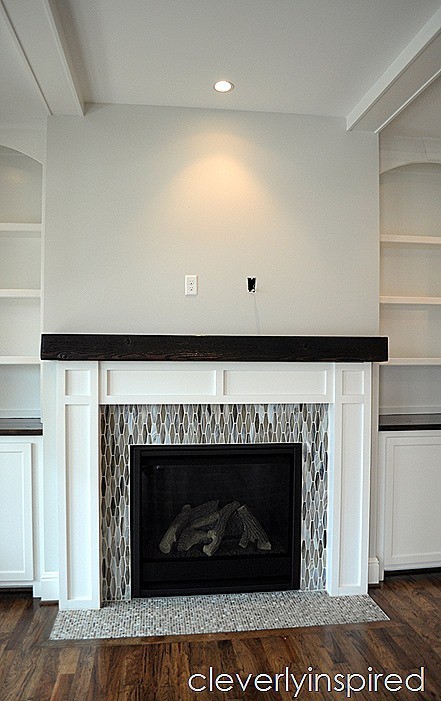 The first thing you see when you move into the kitchen is the dining space….love the board and batten trim in here….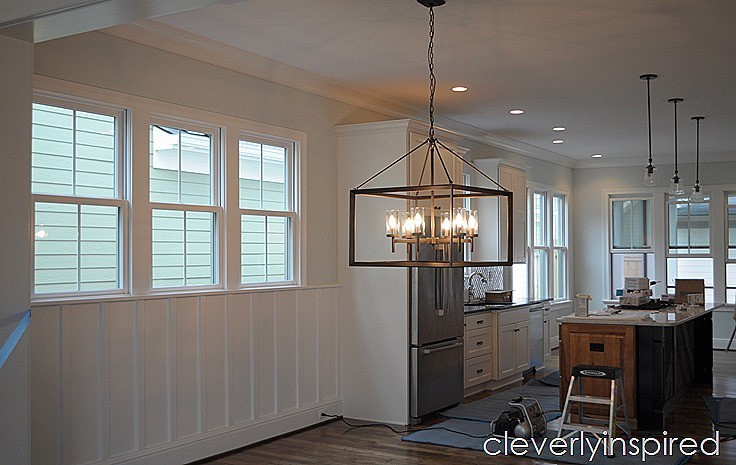 The kitchen is painted 1/2 strength of Sea Salt (sw 6204)….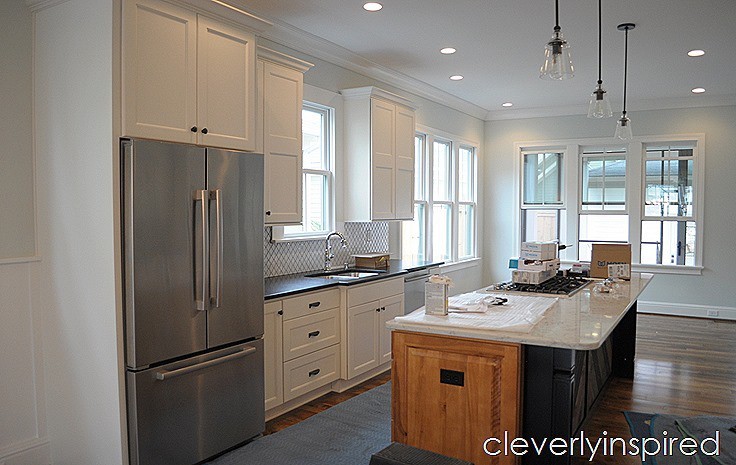 …..then you come to this massive awesome island where I did my reclaimed look wood treatment. The counters on the perimeter are honed milky way granite…the island is quartz…..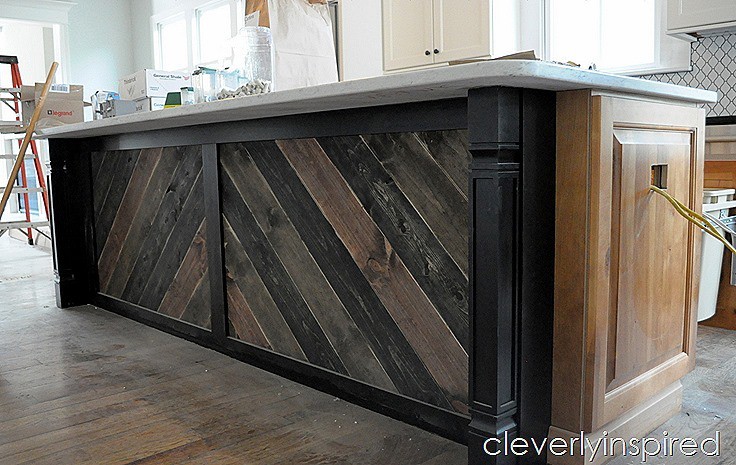 I think this moroccan backsplash is one of my favs….we paired it with a charcoal grout…it is stunning….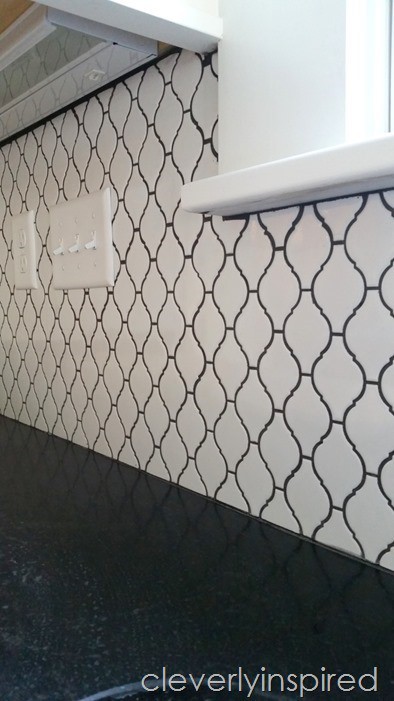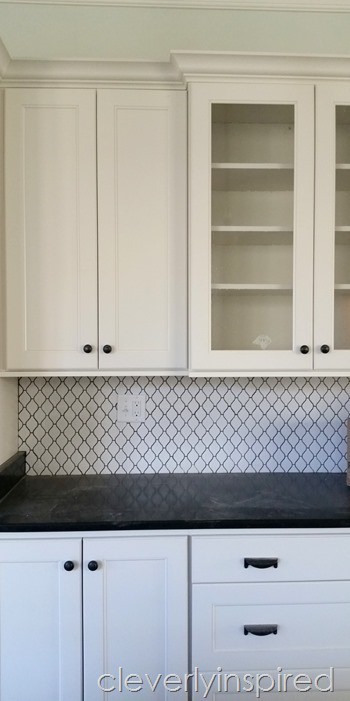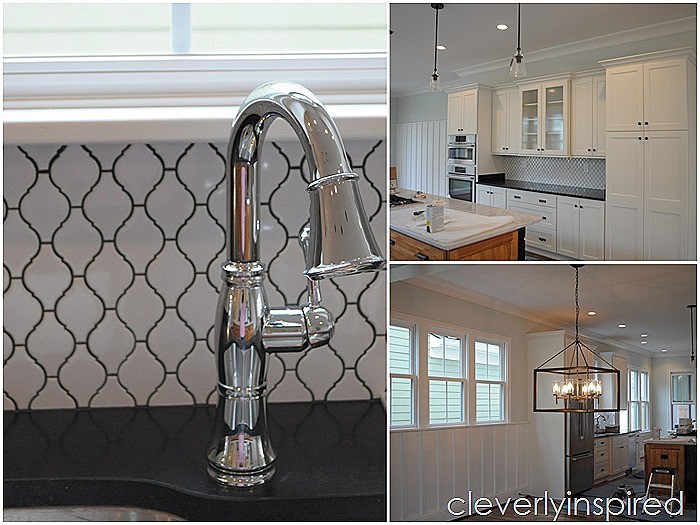 You continue to the back of the kitchen area and there is a really nice sitting space (perfect for some leather reading chairs….then you will come upon a locker "drop" zone where we did a fun trim detail and chalkboard…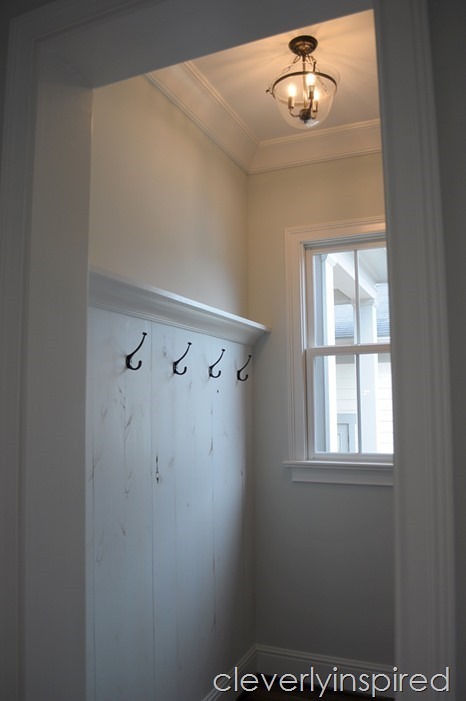 8 inch rough pine was painted the trim color and then sanded to reveal some of the grain. Perfect spot to drop your purse:)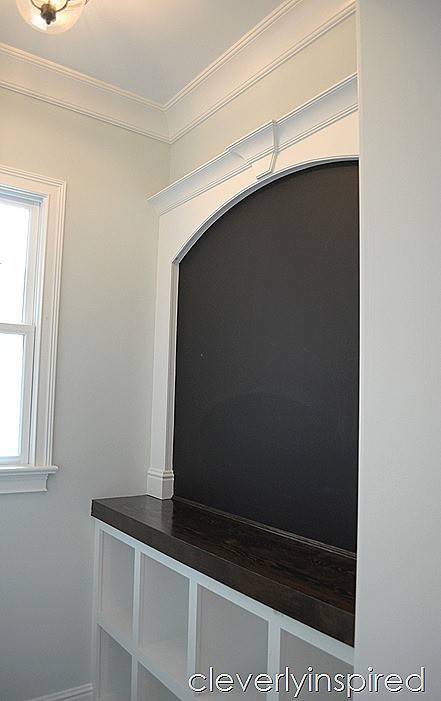 I love the mixture of the stained woods with the bright white trim….classic….
The dining space has this fabulous wet bar space that is perfect for entertaining. We did traditional subway tile with gray grout….stained wood…hone milky way granite…it came together like it has been here for 100 years….love!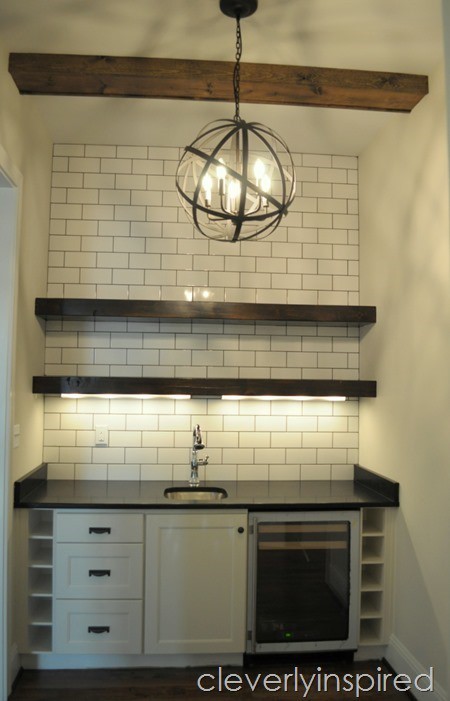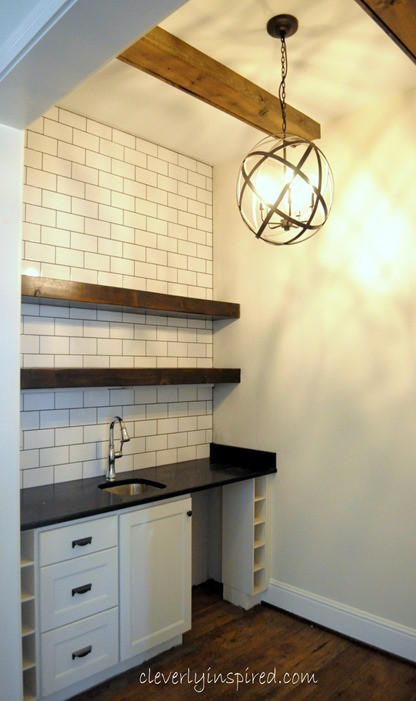 A few other neat touches are the large hex tile in the master….we did it all the way to the ceiling…a mixture of 3 colors of the same tile.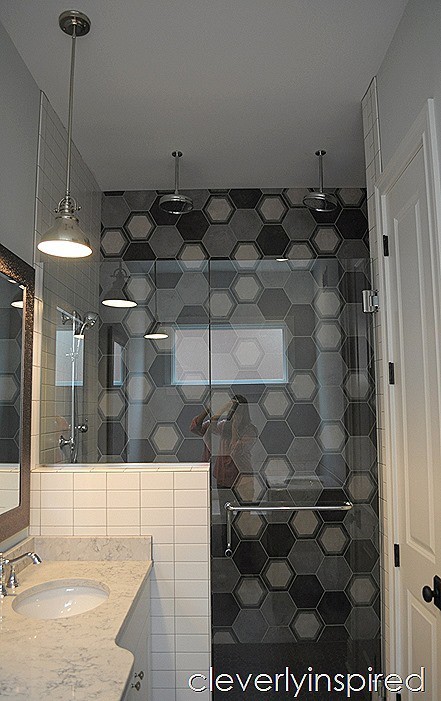 One of the guest baths has a black hex with white grout….and is painted Comfort Gray sw 6205….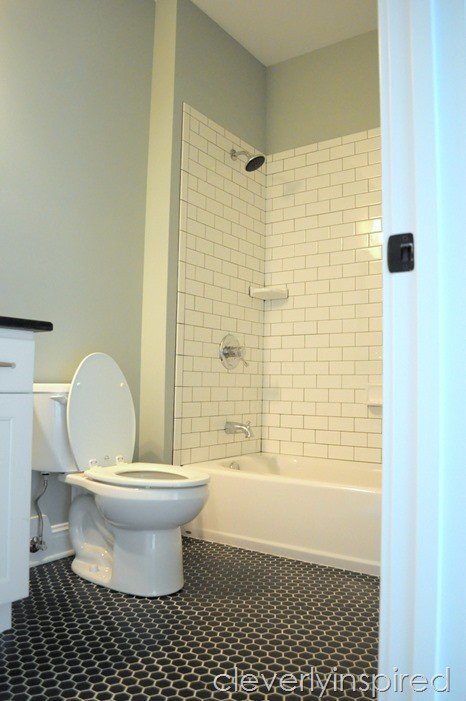 All the common spaces are painted Natural Choice sw 7011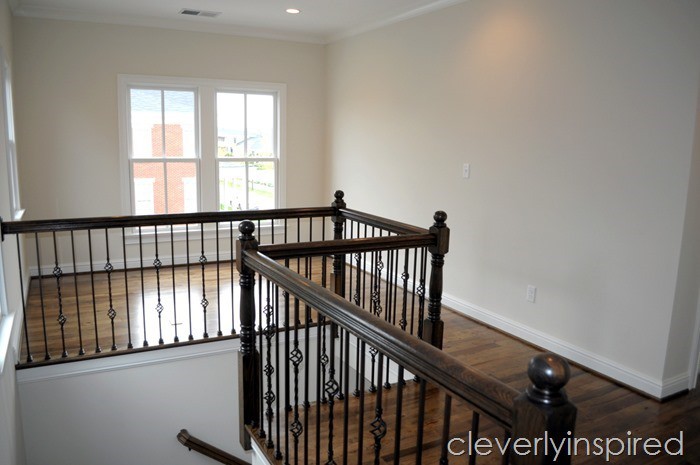 The Master bedroom ceiling is cozy with these stained wood beams and the center we did 8 inch pine white washed. The walls are Comfort Gray sw 6205.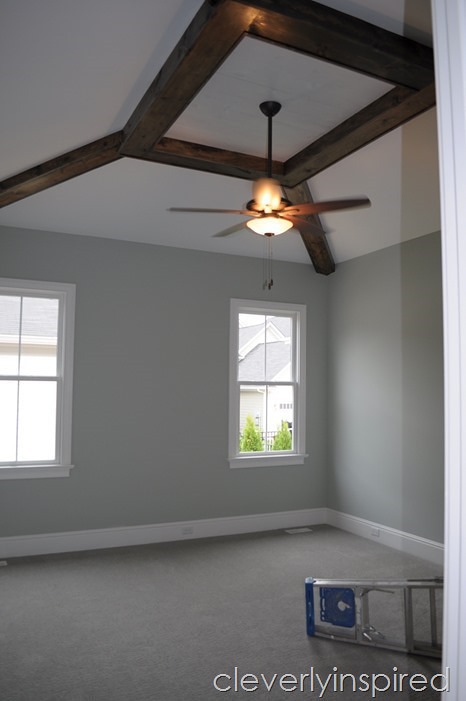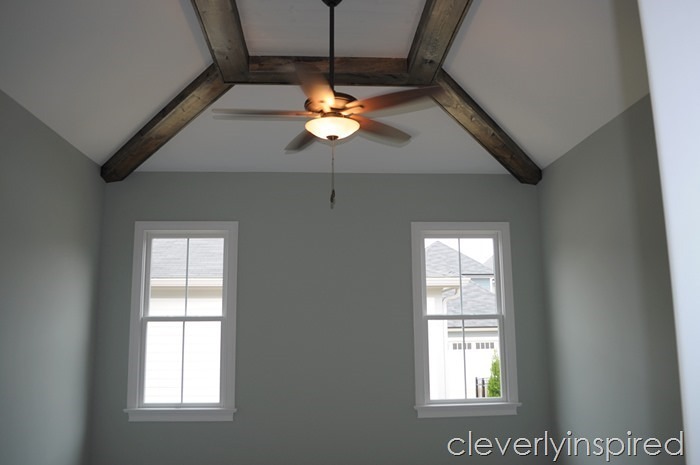 Hope that gives you a few ideas to use in your home. I adore this home….I love that it is brand new but it has the character and warmth of an old home.
What is your favorite detail??
xo