Hey all! How was your Easter weekend? We had beautiful weather and good family time. Last night was a great night for walking…all four of us went out on a nice long walk…with Stella of course too:) We were asking each other favorite memories…and I wish I could have bottled it up….it was one of those moments were I found myself thinking—"gosh, what did I do in my life right to have all this goodness?" My kids…who are teens….are some of the funniest, kindest and caring people I know—and they are really a joy to be around (99% of the time:) I think they are at a stage that is awkward to show how they care about each other—but when asked a question like "what is your favorite memory of your brother/sister"….they both had a answer right away to let that other person know—"I really do love you, even thought I don't know how to show you sometimes…"—It really did warm my heart…not to be corny—but this momma felt so blessed….
I have been doing some design work lately. This brother/sister office is something I pulled together for my friend Rhonda. Her son is in high school and her daughter is in 8th grade. They share this space for crafting and school work. I wanted it to reflect both of them and punch a bit of their personalities in the space.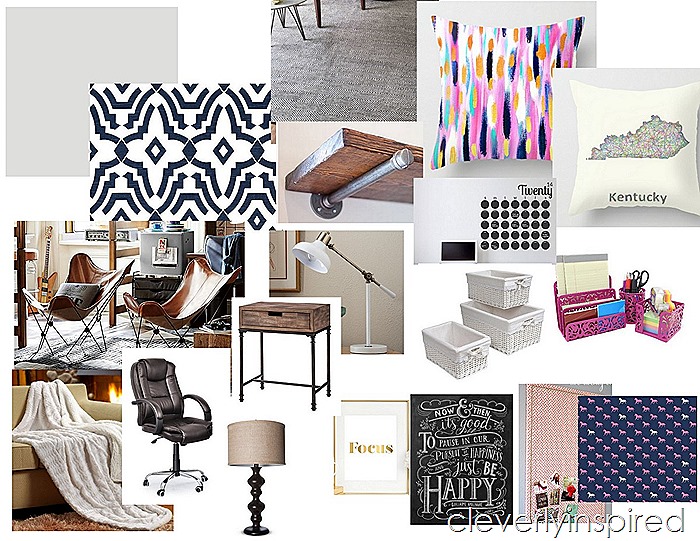 This space is common in a lot of your homes so I thought that maybe you would like to see what I pulled together. The only thing that was for sure staying was a pink desk chair….so I had to work with the pink….Here were my suggestions for the space: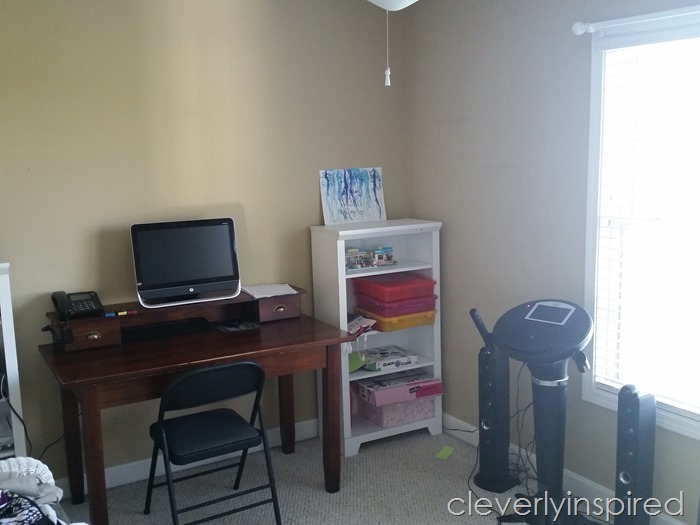 First off I would paint the walls this very pale light grey color. Nebulous White by Sherwin-Williams will be just the right amount of color for this smaller room.
I would like to see a gray patterned area rug. A 5 by 8 should do the trick.
For the windows I would do this graphic Navy pattern panels. They will just be for looks because these are only 25 inches wide by 84 long.
I would like to see leather wing chair like this one from Pottery Barn Teen. I think to create a small sitting space in front of that nice big picture window would work really well. It allows for another texture in the room and also just a nice place to sit and read for the kids.
I would place a bunch of pink on the pillows for this chair. I also like the idea of a white textured blanket and an accent table next to the chair with a lamp. I think this will separate the kids workstations nicely also.
As for girls nook, I suggest leaving the desk and the chair. I would give her some pink office accessories to repeat pink another time. As for the wall I would like to see two long wooden shelves. I suggest using these industrial metal brackets that I found on Etsy. This will allow you to cut the wood to whatever size you want. I would suggest they would go from wall to wall in her nook space. You can either paint the wood white or stain (walnut) it both would work great. This will give some needed storage. I suggest these white wicker baskets or something similar that you might be able to find at TJ Maxx or Home Goods. Encouraging her to keep her art supplies tidied up.
Under this shelf I think it would be a nice if she had a fabric covered bulletin board. I suggest this Navy with pink horse fabric. I enclosed the link to find out how to do that.
For the wall that is to the right of the windows near girl's desk I suggest (3) 8 x 10 pieces of art. I've suggested two of them that I found on Etsy. I would like the other to be a picture of the kids in black and white. I would use a white frame.
As for boy side of the room I suggest keeping his desk and the two bookcases where they are. I suggest getting him a new office chair that is a bit larger. I like the idea of using the large wall above his desk for this chalkboard calendar art. These are actually vinyl circles that you place on the wall to use as a chalkboard.
I like the idea of the soft pale gray walls with pops of navy and pink. All of those colors compliment each other nicely…and can take on a feminine or masculine look.
Do you have a space that you are stuck on? I would love to help. See the design services tab on the side bar to find out more:)
BIG ole shout out to Cottages and Bungalow website for naming me a top 50 designer to follow….I am in some fabulous company. Check out the list!
For a complete buying list click here:)
Have a great Monday!!