This is a sponsored post for the Acorn Box. I have been compensated for my time and efforts in writing this post. All thoughts, pictures, opinions and errors are mine all mine:)
I get to work with some pretty cool companies in my job and this is one of the most fun projects I was asked to be on. Back in the summer time my daughter really wanted to purchase a Nutri Ninja. She was wanting to try out some of the smoothie recipes that we had seen on the web. We spent a lot of the summer experimenting with this fun machine that makes it really easy to be healthy but at the same time is such a quick tool to have in your kitchen. I was asked to participate in this media campaign with a Acorn box…and they ended up sending me a new Nutri Ninja…along with some other great products for the kitchen. I knew right away what I wanted to share with you. This make-ahead Quick Quiche in a mug recipe is perfect for busy school mornings.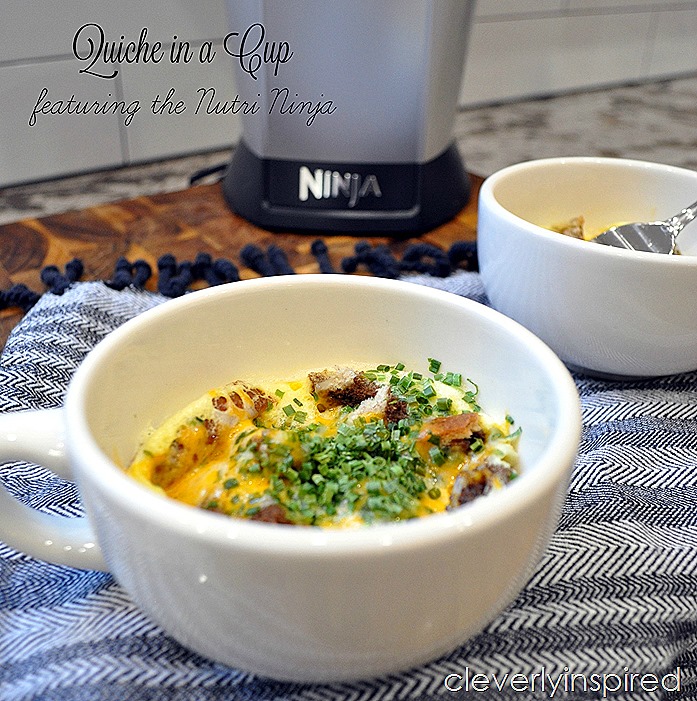 I even made a Youtube to show you:)
You want to fill the kids up quick with some protein in the am and this literally takes just a minute to make. The Nutri Ninja makes it really easy!  I like that everybody can add in what they want to and it can appeal to a lot of different taste.  Of course we all know that the ninja make some amazing smoothies and is really good for eating on the go. But it's also great for recipe prep. It cuts down the time you're going to be in the kitchen. You pop it in the dishwasher and it's good to go for the next time. I think some of the best feature is the Auto IQ blending program is that it has two settings that are really consistent for blending frozen and fresh juices. It honestly can turn ice into the finest of ice shavings that is perfect for all your frozen drinks.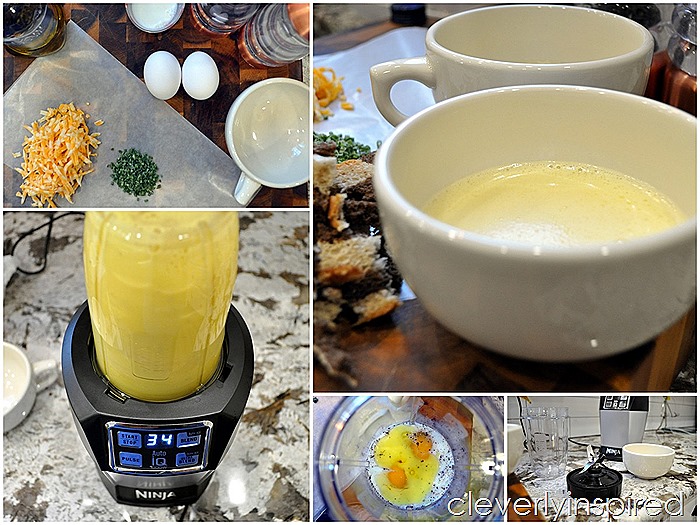 It is really easy to clean and it allows you to multi task in the kitchen which is really what were all doing anyway am I right?!? Just because you have to be up and out the door within 10 minutes doesn't mean that you can't eat a nutritious breakfast that will get your day off right foot.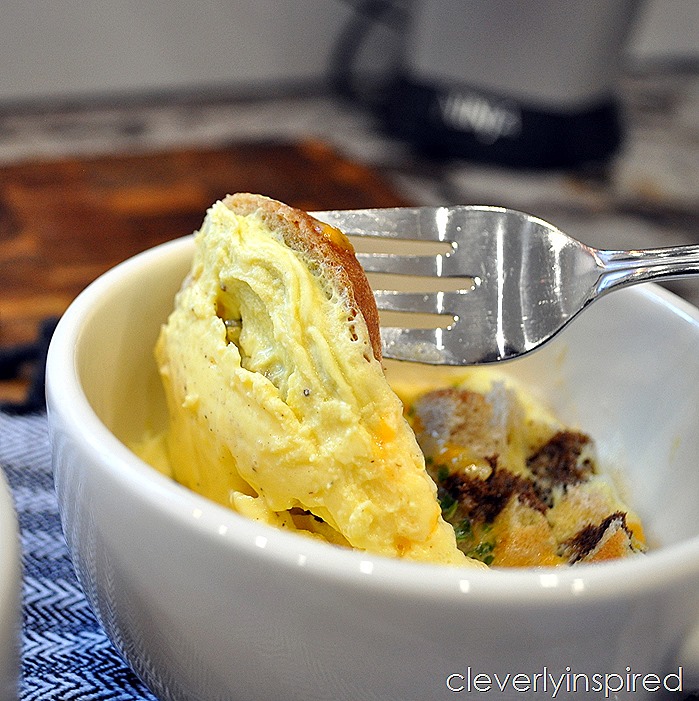 If you would like to try to shorten the time that it takes you to make this really quick quiche in a mug you could whip up the egg ingredients the night before and place them in a Rubbermaid container and keep it in the fridge. In the morning, just pour it into your mugs top with the bread, cheese and spices…pop in the microwave. (you could even just microwave it and let is cool…pop it in the fridge and reheat gently in the am.)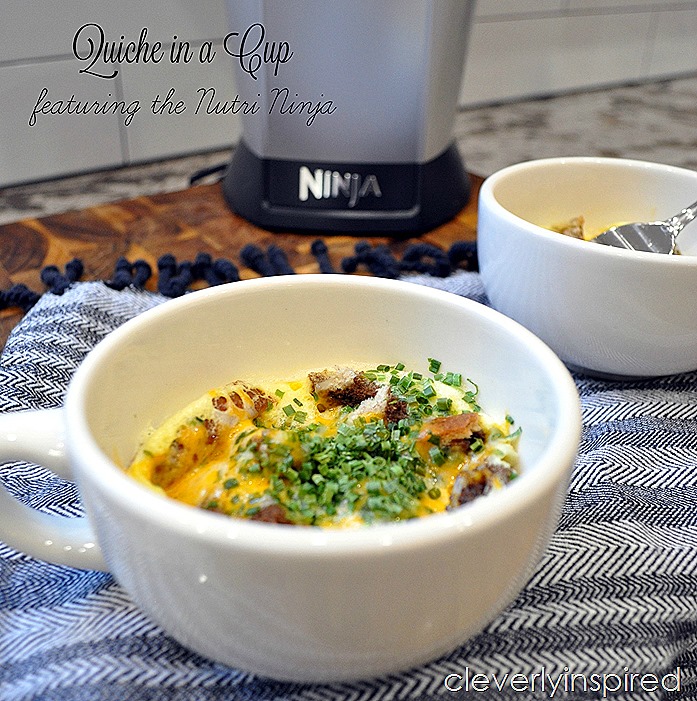 #theHolidayBox Quiche in a Cup recipe
Ingredients
2

eggs

3

T

milk

salt

pepper

1

T

olive oil

1

piece

of rye bread cut up

1/2

C

shredded cheese

1

T

chives
Instructions
In the Nutri Ninja, blend the eggs, oil, salt, pepper, milk

Pour into mugs and toss on bread, cheese, chives (and any other toppings you want)

Microwave 2 minutes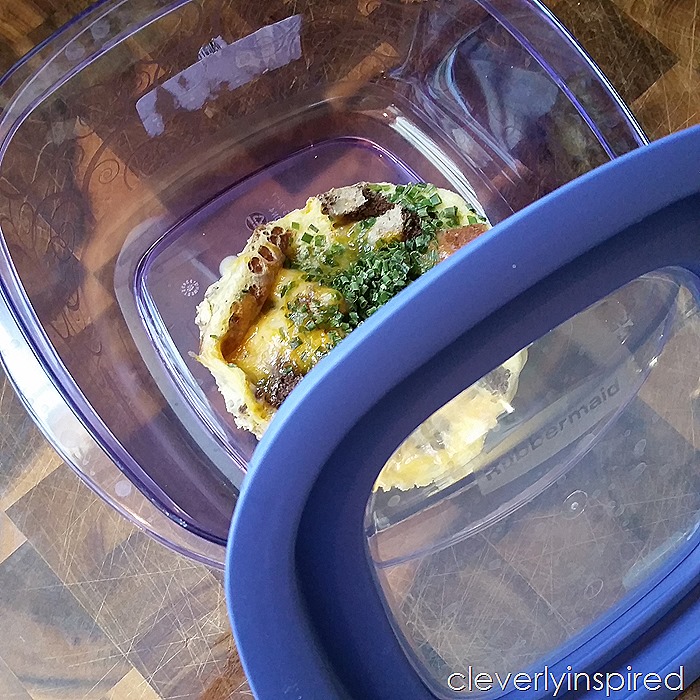 I do like how the Nutri Ninja creates a really fluffy egg base to pour on top any of your favorite toppings. Bacon, onions, green onions any and all would be great on this. A quick tip about bacon is if you have some left over you can chop it up with Chicago Cutlery knives.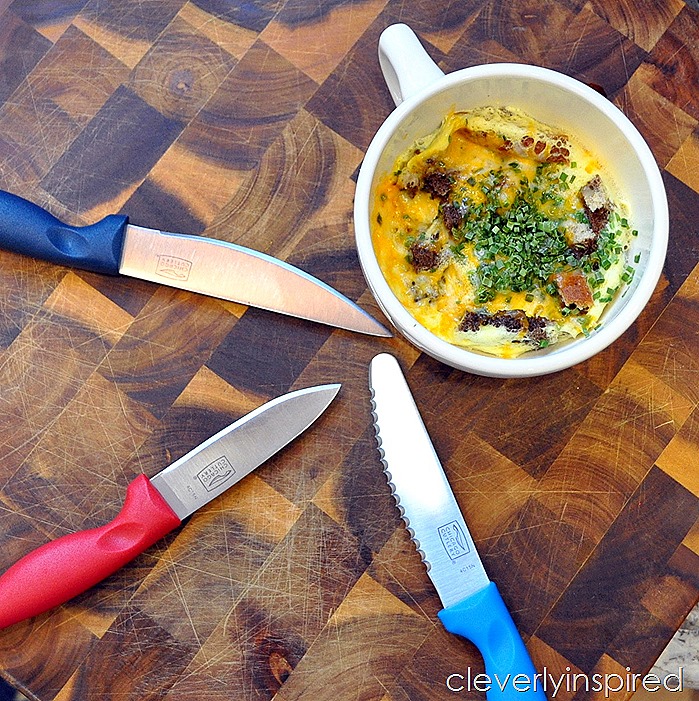 They make them in this great four pack that you can keep handy in your top drawer and not worry about it poking you all the time. I specially like this small paring knife. I tend to grab it for most quick cuts in the kitchen.
This quick quiche in a mug pairs greatly with some herbal tea. If you want to have a few friends over just double the recipe and pour a pot of tea and have yourself a nice lazy morning. It's great for busy weekday mornings but it's even better for lazy Sundays:) The Signature Tea Co. makes many favors…in these really cute tins…available at Walmart:)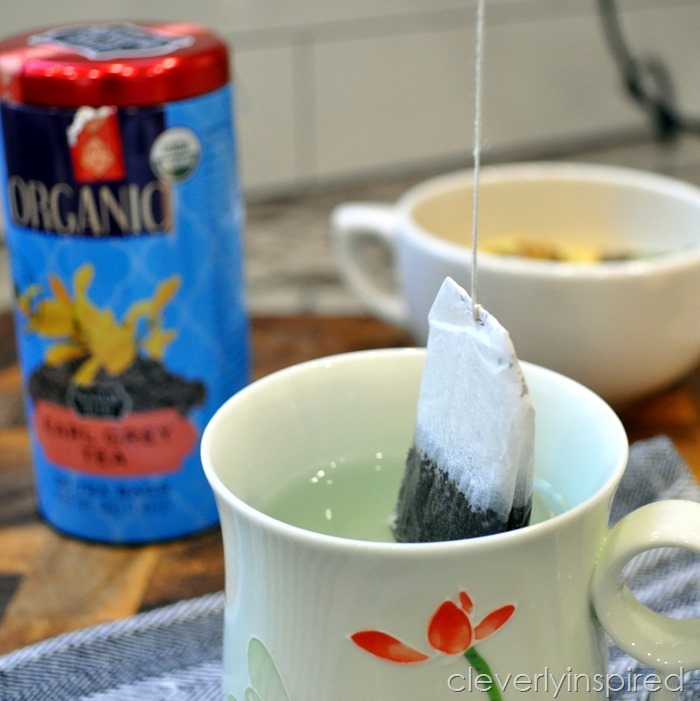 I love the containers that these herbal teas come in. I thought next week I might share with you a fun teacher gift or hostess gift that will take no time and you can kind of grab and go. Make a few to leave at your door and take them with you when you run out to holiday parties. The Sharpie marker will also help to make quick work of your gift-giving this season. These Sharpie extreme are perfect for writing on freezer meals….will not rub off or fade:)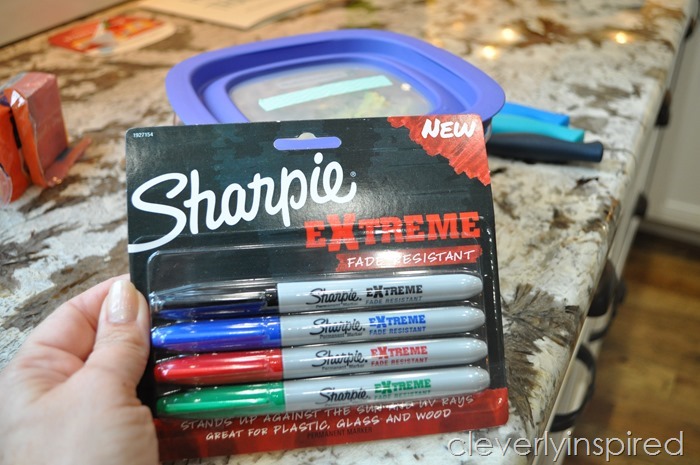 I love all the things that came in this year's holiday box. I know that you can find all of them at your local Wal-Mart store. I would encourage you to take a look at the YouTube video I made and feel free to share it and pass it around. I think that quick breakfast meals in the microwave are always a win-win for everybody! Nutri ninja makes it so easy to have a healthy quick breakfast on the go and many times will please most family members. No whining allowed!
Ingredients:
1 large egg
1 1/2 tablespoons whole milk (substitutes: half and half or heavy cream)
1 teaspoon melted unsalted butter
Pinch of salt
Pinch of freshly ground black pepper
4 small grape tomatoes, halved
1/8 cup torn pieces of fresh bread
1 tablespoon grated cheese (e.g., cheddar cheese, mozzarella, etc.)
1 teaspoon chopped fresh herbs, plus more for garnish (e.g., green onions, Italian parsley, chives, etc.)
Directions:
In a microwavable mug, add egg, milk, melted butter, salt, and pepper and whisk until thoroughly mixed and egg whites are completely broken up. Add halved grape tomatoes, torn bread, grated cheese, and chopped herbs on top of egg mixture, making sure ingredients are evenly dispersed and have not settled to bottom of mug. Ingredients will stay settled within the quiche mixture better if you do not whisk ingredients into egg mixture.
Place mug in microwave, and cook on high for 1 minute, just until egg is completely cooked and quiche is slightly puffed. Garnish with fresh herbs and serve immediately.