You know how you always start the school year out really strong, like everything's really organized…. all the markers are together….the pencils are sharpened and you have this great plan for breakfast and everything's going to go so smoothly?!? Well this recipe is in celebration of that really hopeful way to get the year started off on the right foot and have everything together. Come springtime I'm sure you won't feel like making your own crackers for a healthy back-to- school snack, but maybe at the beginning of the school year you will be more than enthusiastic to bust this recipe out! And I will tell you this, these recipes take almost zero effort…and have big flavor :)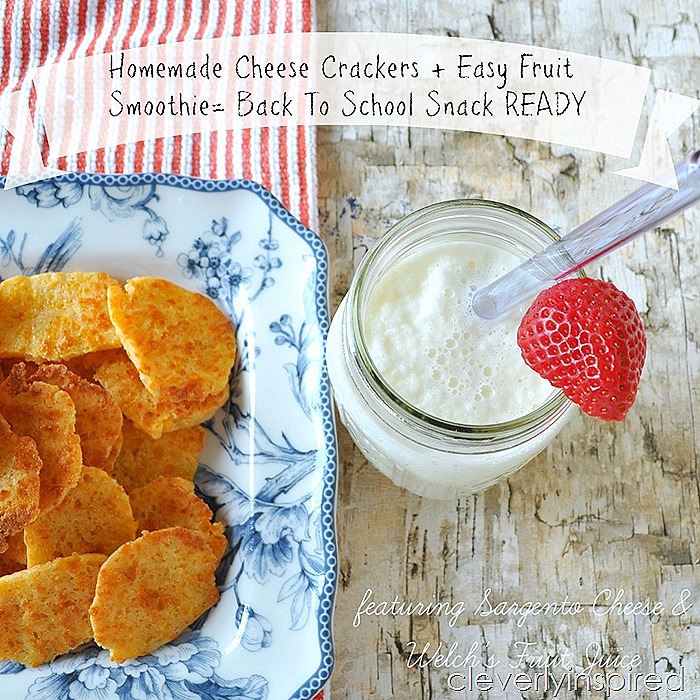 This was the first time I made homemade crackers, but will not be the last. Some of the recipes I had found told me to roll out the dough– but I know the mess that involves– so I did it my own way ;)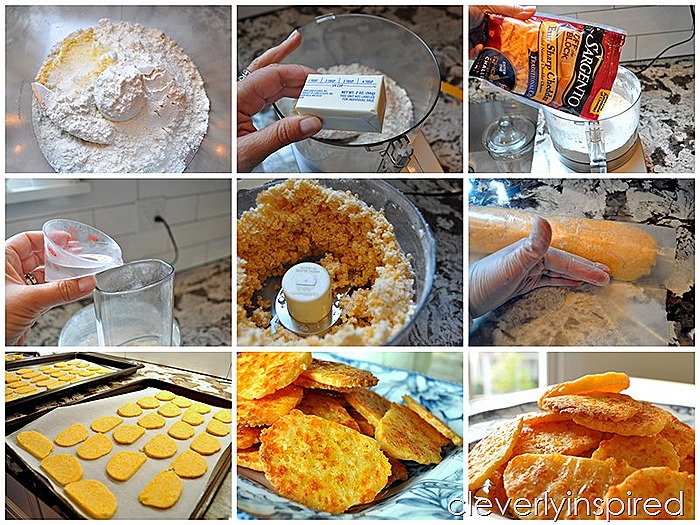 I used some wax paper and rolled it into a log prior to chilling it in the refrigerator. If you shape it and place it in a fairly tight roll before it chills, it will be that much easier to cut into uniform shape. I actually chilled mine overnight and baked them in the morning. Use a really sharp knife and place the crackers onto parchment paper and to cookie sheets. This recipe made about 60 or 70 crackers. Try to slice them as thin as possible. Bake them at 375 for about 18 minutes until crispy on the edges. Let them cool on the pan and then transfer to an airtight container. They will keep nicely for a week. Besides packing in lunches, these crackers are also a great afternoon snack that will keep the kiddos full until dinner. Just heat up some frozen spinach & artichoke cheese dip to go along with them. Yum!!
The fruit smoothie is perfect for breakfast too….but my kiddos loved them with these crackers. It comes together so easy using ready-made Welch's fruit juice cocktails. The star fruit kiwi was a hit in our house. You can also add in frozen fruit (such as Rader Farms) for some easy, extra nutrition points! All you need is a bit of yogurt, ice cubes, a half of a banana, maybe some additional frozen fruit …and you're good to go :) Another option is to pair this homemade smoothie with some frozen waffles and breakfast is ready at a moment's notice!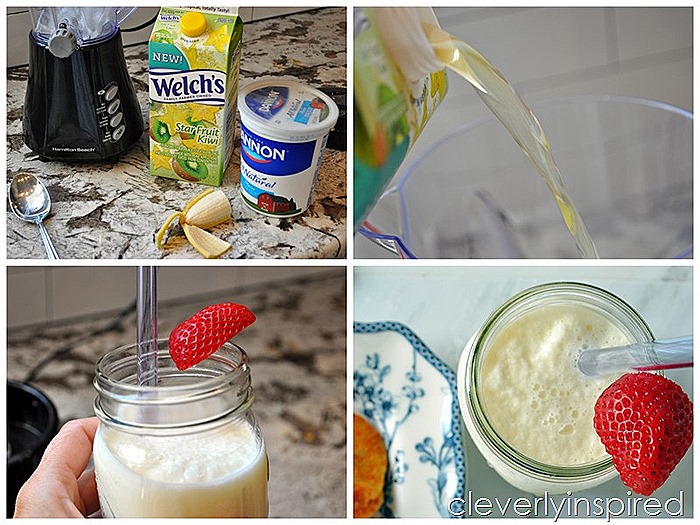 Be sure to keep you head up when you are traveling down the freezer and dairy sections in your grocery store. There are countless snack options that are quick and healthy—you can eat and go! Also check out Easy Home Meals Pinterest that is full of great ideas to get dinner, breakfast and snack time done and done!! #EasyHomeMeals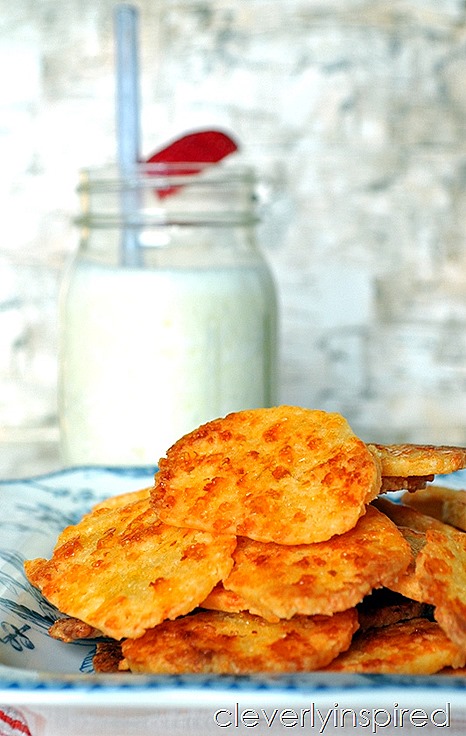 For the smoothie:
1 C Welch's fruit juice
3/4 C vanilla yogurt
1 C ice
1/2 banana
Optional: Rader Farms frozen fruit blend
Blend until smooth in blender.
Remember that the dairy aisle is filled with goodies to make your life easier. These homemade cheese crackers and easy fruit smoothie recipes are made to be quick and painless…and really healthy too!
I am a brand ambassador for the NFRA (National Frozen and Refrigerated Foods Association) & a member of the Cool Food Panel. I have been compensated for my time spent writing this post. All opinions, photos, and thoughts are 100% mine own.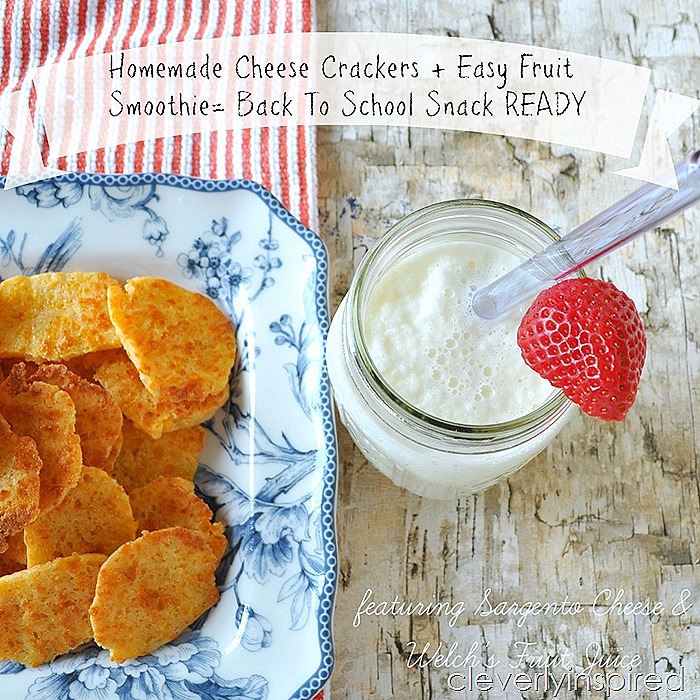 Homemade Cheese Crackers
Ingredients
1

C

flour

4

T

unsalted butter

8

oz.

Sargento Sharp Cheddar

shredded

3/4

t

salt

1/2

t

dried mustard

3

T

cold water

.
Instructions
Combine all ingredients with exception of water in a food processor, until coarse crumbs form.

Pulse in the water until dough combines.

Place on wax paper and form a long narrow log.

Wrap in plastic and chill for 30 min or overnight.

Slice and bake on parchment lined sheets for 18 min at 375.

Cool and then store in an airtight container