This is a sponsored post written by me on behalf of Kalaty Rug for IZEA. All opinions are 100% mine.
Popping in to share two designs that are centered around some really cool rugs.  My friends at Kalaty.com rugs invited me to put together two rooms that are based on two styles of rugs that they sell on their website. I was inspired by the warm colors of fall and winter. What is great about a fabulous rug is that it can be multi seasonal just based on the furnishings and accents that you put in the room. Either of these rooms would look great in the summer by just adding in a few different tones in the accents.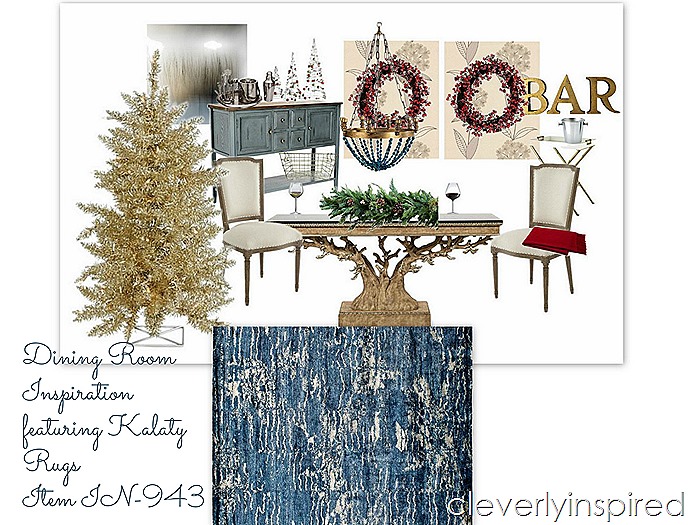 The blue rug here can play cool in the spring and summer by adding a touch of pinks and whites. Here it looks great just for the holidays with accents of gold and cranberry colors. The right rug can make such a difference in a room. I was very impressed with the large selection and also uniqueness of some of their rugs. I would encourage you to look at some of their newest rug collections contemporary,ikat, and southwestern styles. Many of them are unique and could make all the difference in your living space.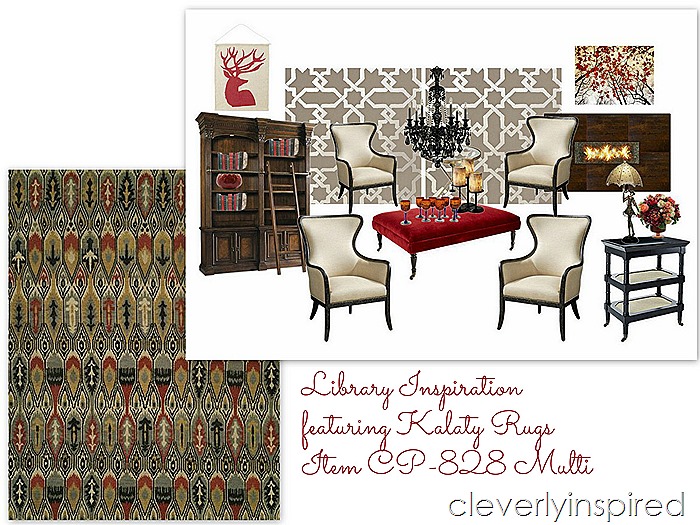 The other rug that I chose is a bit outside of my comfort zone. I am typically not drawn to Southwestern styles but I found the colors in this rug so warm and inviting. It made me think of the library with a roaring fire some good wine and a great book. All of the buying list for these collections can be found on my only board here and here. Also be sure to check out all the rug collections at the Kalaty website.
Kalaty rugs is a 4th generation family owned business. It is a company dedicated to a quality product. I would love for you to stop by and visit them on your favorite social media to see what they are all about… Kalaty's Pinterest, Kalaty's Facebook page, Kalaty's Twitter.
Sign up below to win your very own!!