I am back friends. Did you miss me? I had a great break with a bunch of fun family and friend time. So recharged…even though I could have easily been happy spending one more week at the beach. I hope you had a nice Easter and break too :)
A friend of mine recently wrote me asking for some help with some organization in her kitchen. I think this is a very common issue for many families. The kitchen serves as restaurant, library, game room, workspace…you name it..the kitchen does it. In this family in particular, mom uses the space to Tudor also—so it has to be organized and run efficiently.  Here are some of her issues she needed help with…
" Hi Tracie! OK I'm up to my ears in stuff. First of all we are in our kitchen all the time. I'm not into a formal desk but we are constantly on the computer in there so I thought this space would be a good work space.  I have bills and do I need those glasses in there? Can I put those down stairs in the bar area. We just finished that space and it isn't being utilized.
As you can see….we need an office space but a workable space that isn't going to look junky. The bakers rack…well that's a whole different story. Can't figure out where to put that stuff or if I should put some of those things on the shelves in the kitchen or in the drawers under the counter possibly.
It's overwhelming, you can say forget it, but I'm all for buying items that could help the spaces even more.
Bakers rack is tutoring paper, extra pads of paper, games, puzzles, tutoring supplies, batteries, school stuff. I tutor in that room a few times a week and so I'm not looking for stuff when they don't have a pencil or calculator. But it is also literally 10 feet from the space in the kitchen. Notice there is a picture of peppers. The house had that tile above the counter and there is a huge harvest turkey on the tile so I'm covering that up. "
Everyone dreams of having a huge harvest turkey tile…am I right? Why cover up that goodness? :)
Here is what I am suggesting:
I suggest getting rid of the bakers rack and in it's place adding a hutch. This one from crate and barrel (in the natural wood) is great because on the bottom it has sliding doors (conceal sins;) and on the top is plenty o storage.
Baskets that are all the same and containers…will create a organized look…even if things are just thrown in there. I would take everything off the bakers rack and sort it out. All the markers together, workbooks, pencils…etc. Then you will know what containers and baskets you need.
Pare down the pictures on display and buy all the same kind of frame…or buy a collage frame to display together. I always think of this quote when it comes to displaying pictures…"when you make everything special, then nothing is special" Only display the pictures you truly love…and they will stand out and be noticed.
As for the other side of the room…I would keep glasses there and move some to the downstairs bar (if they are used just for entertaining). Maybe add in some nice pieces that have some color (bowls, dishes, containers) since the glass cabinets are lite and pretty.
In between I would find two baskets for bill paying stuff and mail. Maybe a cute vase to hold pens and pencils..or mason jars.
A long narrow picture or mirror, chalkboard or bulletin board would be great to conceal the tile.
If the hutch piece isn't what you had in mind…it looks like a desk would fit great in that space too. Consider putting some long open shelves above with uniform containers to hold tutoring supplies and classroom materials.
Adding some color with a vibrant area rug, some fun art pieces and plants. An interesting lighting fixture makes the room feel a bit more special.
I like the idea of mixing the white cabinets with some rustic wood tones…along with leather baskets and rattan. The texture will make the space feel warm and cozy…yet very orderly.
Some track lighting on the desk/hutch wall will be helpful too.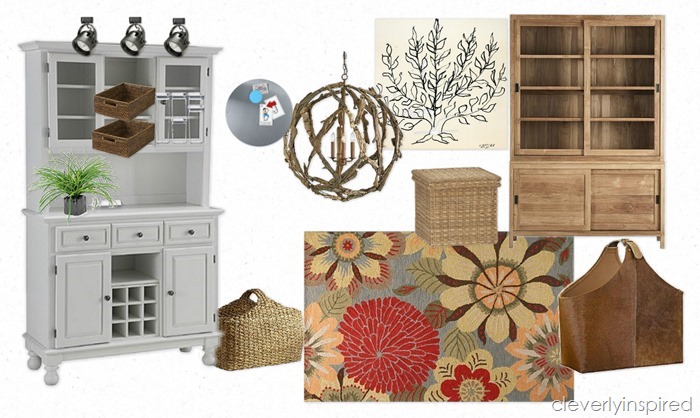 Some other ideas of organizing the kitchen are below….
I think a big key to keeping the order is to really take time and consider what you use and what you don't need. When you take a look at those things…and organize them by how they are being used…the space will feel a lot more useful :)
Have a space you need help with?? See my Design Services tab ;)
Here is the  buying guide for the board I created above
xo