Happy Halloween!!! It is supposed to be a rainy cold evening here…kind of glad my kiddos don't trick or treat this year:) I will be tucked under a blankie with a glass of something…sitting by a fire. Sounds about perfect to me:)
This week I hosted my friends to my annual say no to the dress party. It was last night and a complete blast! I highly recommend you gathering up some of your closest friends telling them to go shop at a thrift shop to find something that is completely awful and have everybody over for a few cocktails. It is a guaranteed "almost-pee-your-pants kind of a night! We even give out a trophy and prizes. I did a post about it last year here. I searched out some of my tabletop items…and these candlesticks were in badly need of a polish….so I thought with the holidays quickly approaching…. Sidenote: ..can you believe that November 1st is Saturday????  what say what!!! I thought it would be the perfect time to share this HUGE time saver!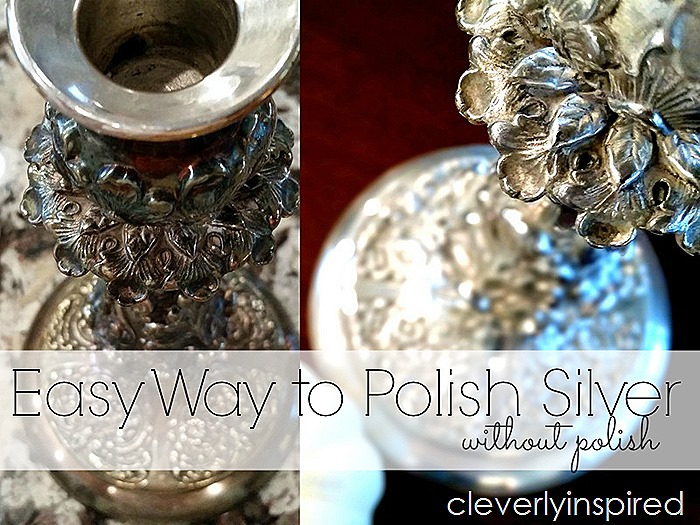 I have posted briefly about this silver polish in the past but I wanted to revisit it for holiday time. Sometimes you find something at Goodwill or garage sale and it's very badly tarnished. This is such an easy way to make it look like new again! All it takes is some household ingredients and a few minutes of time and you can take something that looks so old and beat up and make it sparkle again!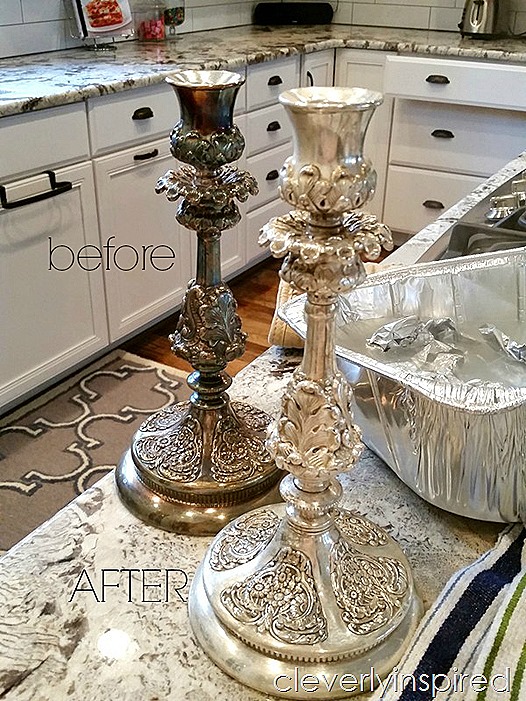 All you're going to need is either a foil pan or some foil inside of a pan some baking soda in boiling water enough to cover what you are trying to polish. In this case I had some pretty tall candlesticks so I used a large foil pan and I bent it so that my candlestick could lay down a little bit easier.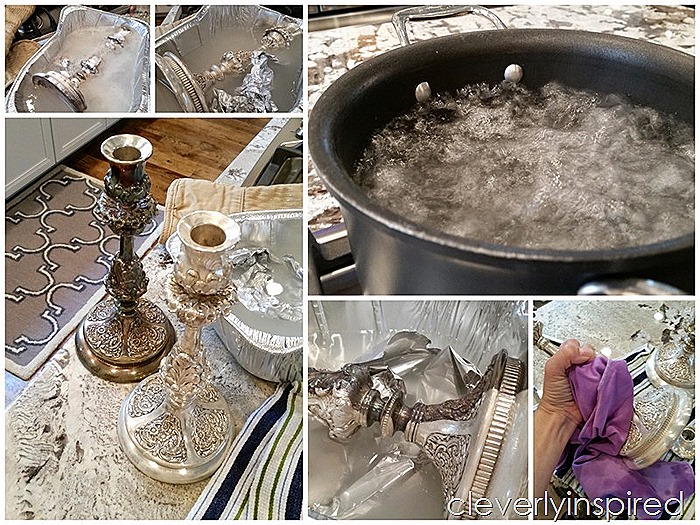 Next you're going to want to sprinkle generously some baking soda over the piece then pour on a lot of boiling water. In this case I boiled a large pot of water and poured enough to cover the candlestick. Since my candle stick stuck out of the foil pan I used some tongs to turn it until all of the tarnished was off.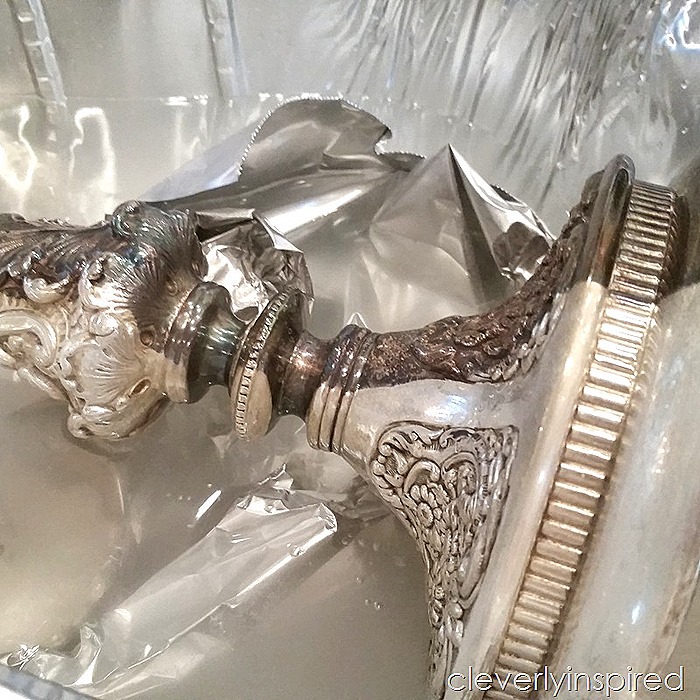 I really am not sure how this exactly works but I know that it's some sort of chemical reaction. You will smell a slight scent of sulfur as you see the tarnished literally just come off. After it's mostly polished up you can let it dry on a towel. Take a polishing cloth —I love this one that Norwex makes it….polished it up perfect and it will buff out anything that you might have not been able to get to with the boiling water and baking soda.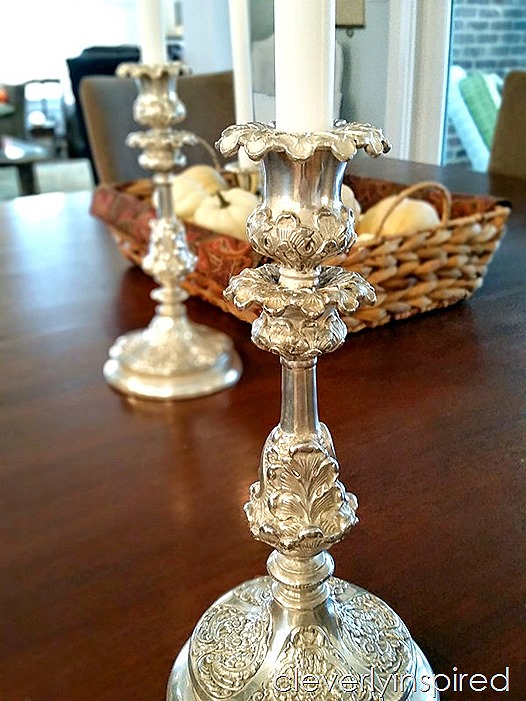 I have only tried this on silver and silver plated items so I have no idea if it works on brass or any other metal. I guess you would just have to test it out gently before you submerge the whole piece.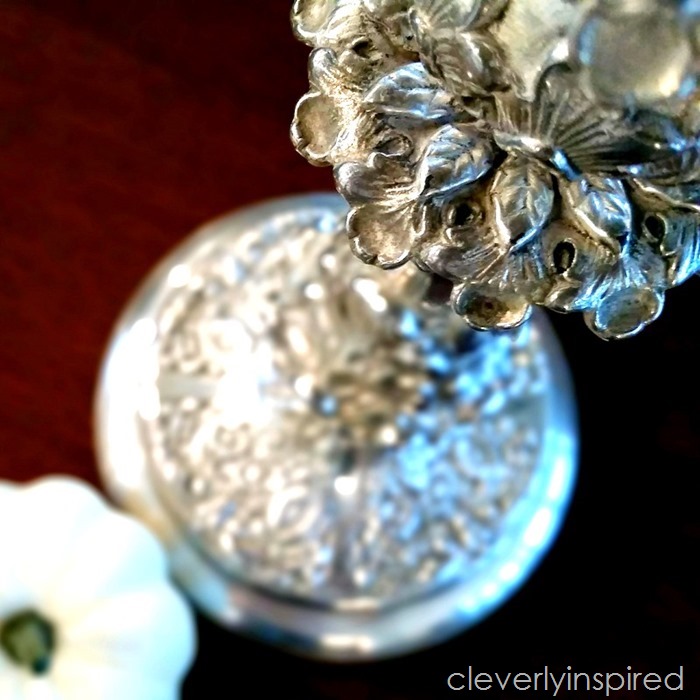 It really does make it so much easier to get your things sparkly again! Plus it's kind of a little science project for the kids have them figure out why it works hahaha!
Have a great weekend friends
.XO