What a great weekend here! Halloween night was a blustery winter-like evening. Our kiddos both had friends over for the night…and they walked to grab dinner. Hubs and I were perfectly comfy sitting in and having pizza by the fire. It actually snowed on Halloween! In Kentucky! Crazy weather! Nothing stuck to the ground…but still….
The weekend started off early with my "Say NO to the Dress/ Ugly dress" "bunko" (even though we don't play Bunko anymore…party:) I am telling you what….people brought their A game this year! Seriously—the hardest I have laughed in a long long while. I have talked about this 4th Annual party here and here. The general idea is to show up in something hideous that you found at a thrift shop. Prizes are awarded to Ugliest Dress, Best representation of time period and best use of accessories. I dressed up in a vintage Jessica McClintock dress (it wasn't the ugliest dress I could find I am sure…but my co-host and I were going more for the "Falcon Crest meets Dynasty look;)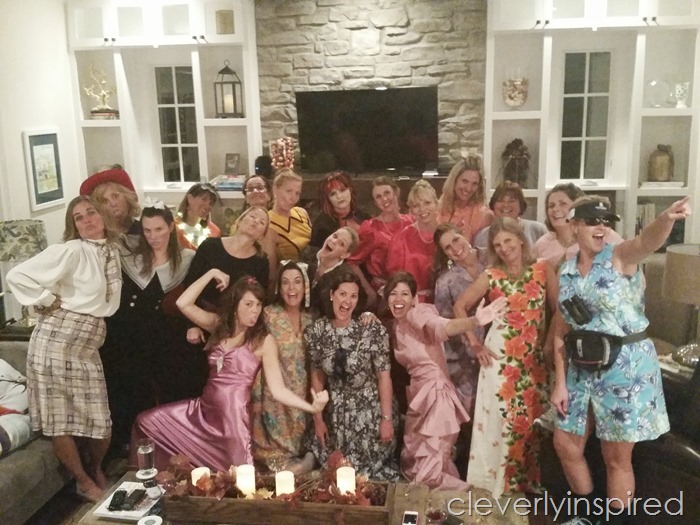 Special thanks to Google for putting together the 3 pictures and making them in motion….seriously makes me laugh so hard…. (this is my co-host/dear friend Sherri…who always brings the party everywhere she goes…) I found her dress right next to mine at the local Goodwill….check out the wingspan on those shoulders!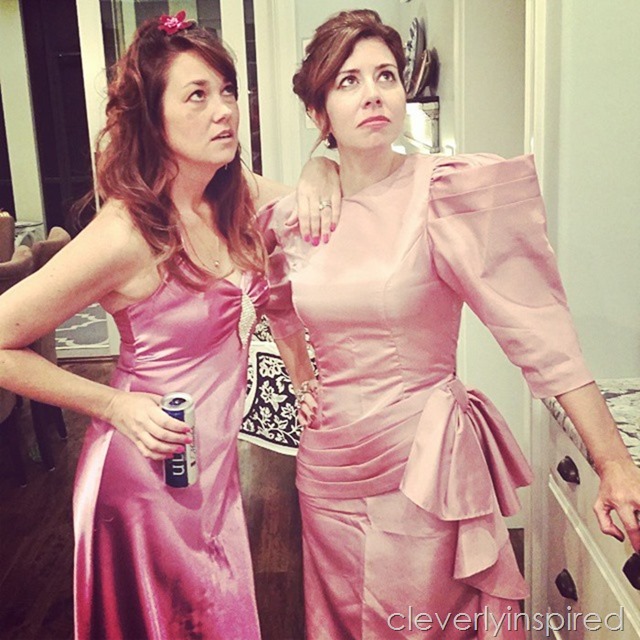 This years winner was a vintage "flying nun meets culottes outfit" worn by  Amanda. We actually had a tie for ugliest dress…so we had a dance off. You know that anyone who dances to "baby's got back" in a culottes is going to win….always.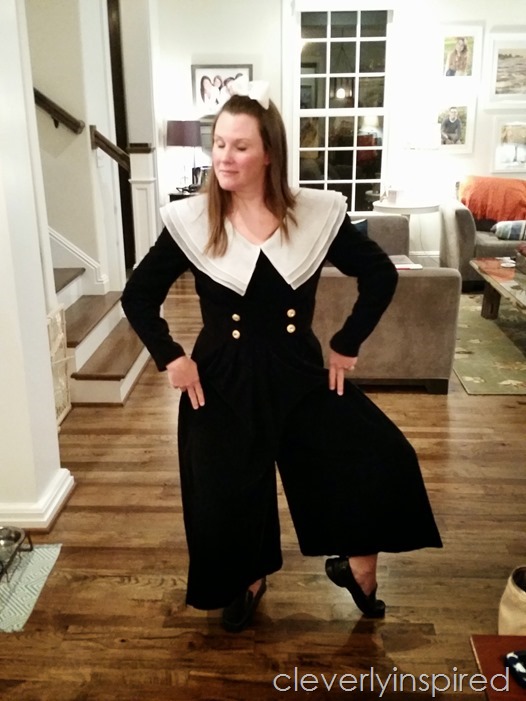 I can't stop laughing….Janelle showed up in a dress that matches the hydrangeas from her garden. I can't make this stuff up….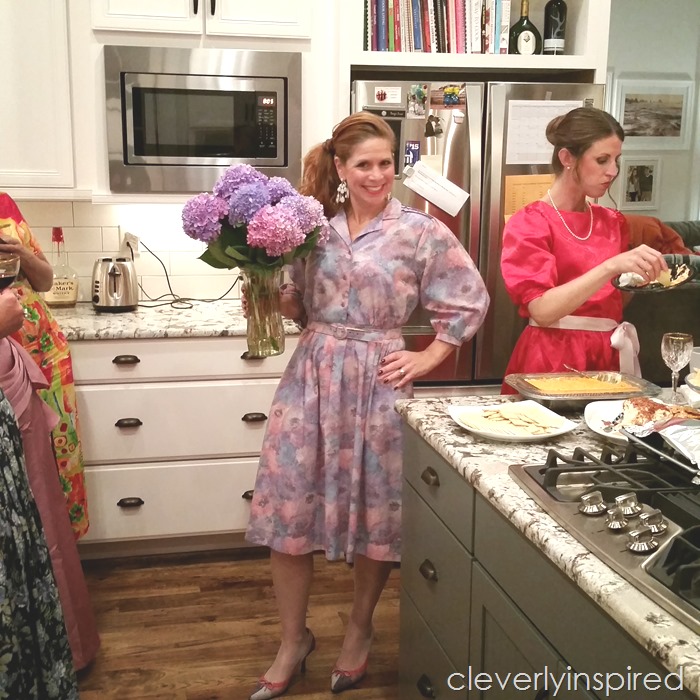 Brittany showed up in this three piece doozy…. "nine to five meets madmen" outfit. She took home the "best representation of time period"…(she's on the left…and she is probably yelling at her screen right now…that's is Jody on the right (we called her Charlie Brown all night….)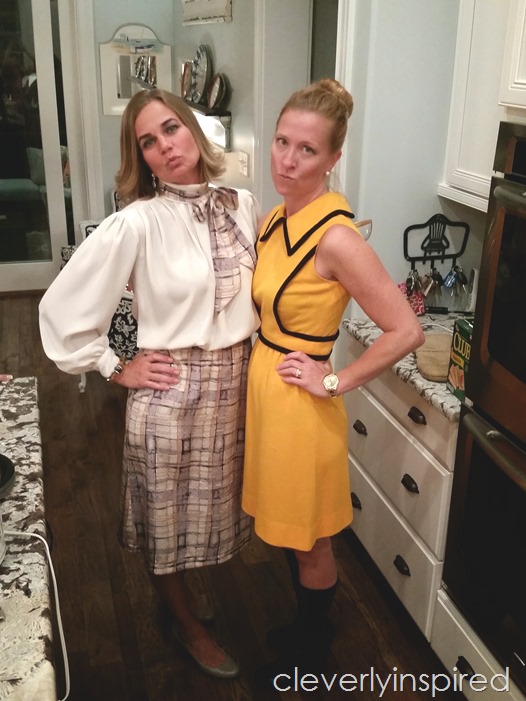 The winner for best use of accessories went to Richelle (she had on a visor, fanny pack, binoculars…and an awesome floral tank dress..) Sidenote: this is my "duckface"….not to be confused with my "something smells funny" face…:)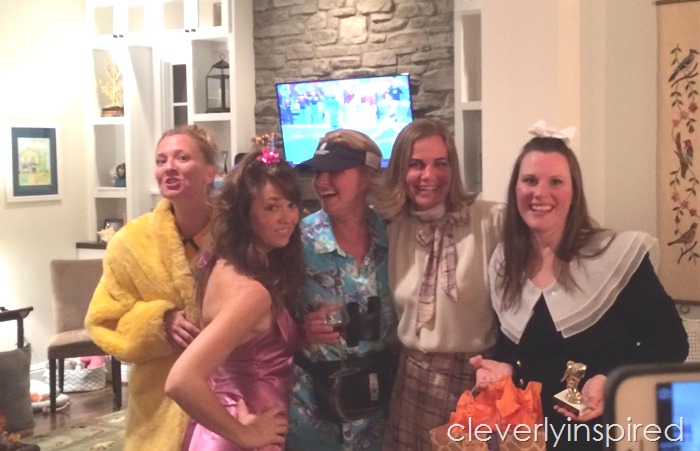 Too much fun….highly recommend doing this party with your peeps….
On Friday, I woke up and got the kiddos off to school and then jumped in the car to meet a complete stranger at the lakehouse. I had talked with Brandi on the phone a few times….but I don't know her at all. Her sweet little family is going to rent the lakehouse from us. She contacted me a couple weeks ago and said her family was looking to be closer to work.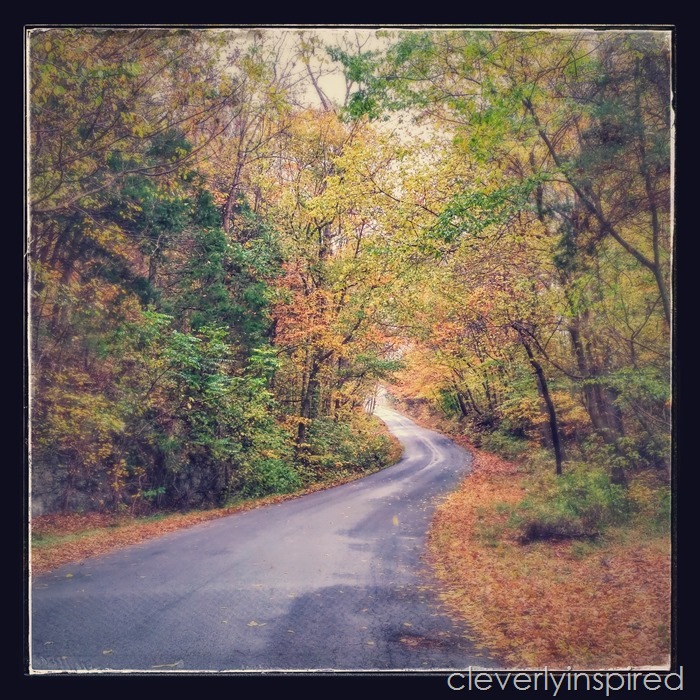 They love the lake and really wanted to be as close as they could be to enjoy it all year. She found my ad on Craigslist. It seems that in the news we only hear about "craigslist killers"…but thankful Brandi is not an ax murderer….I could actually see us being friends. The sweetest gal! We are so thankful that they can enjoy the house as a full time home….and that we can hold onto it now! We do love that lakehouse:)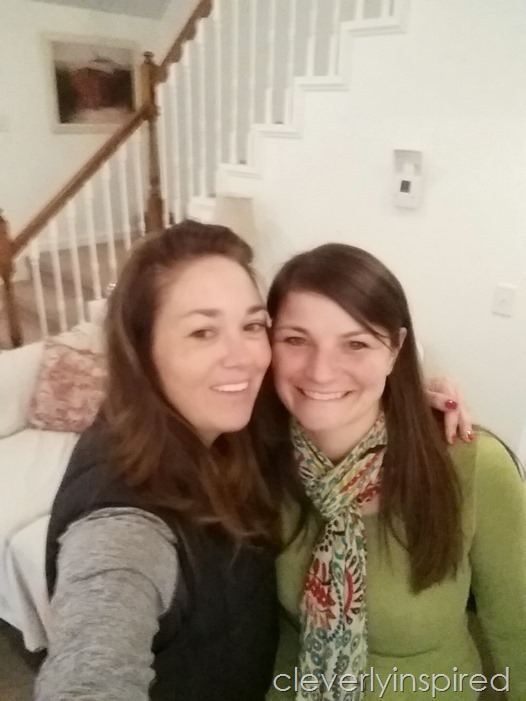 We took a selfie so that our husbands knew we were ok:)
Friday night was a winter-like evening here to we were perfectly  happy to just chill….this is where I spent it…first fire of the season….yay!
Saturday, the boys went up to Ohio for a football game….so Em and I had a nice girl day. Shopping and eating and movie watching…..perfection.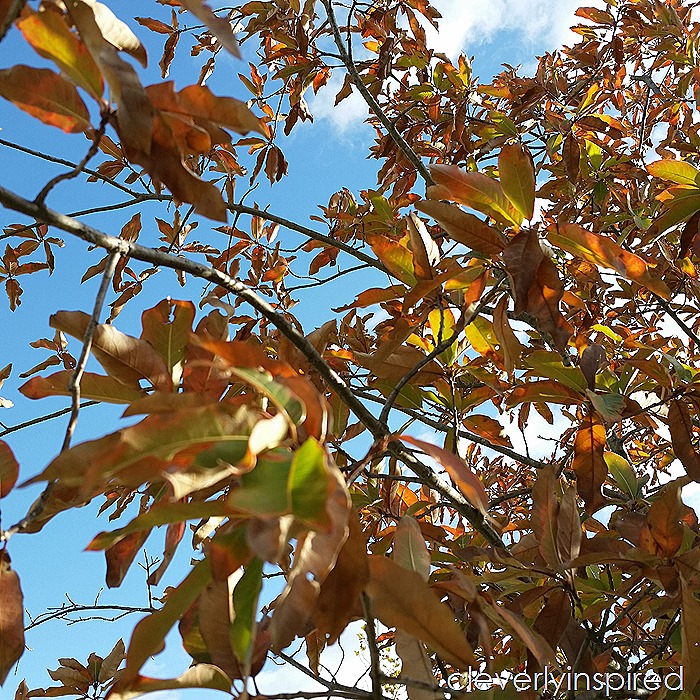 And apparently the 80's are officially back…..my girl begged for this sweater while shopping. I am pretty sure I had the same one in high school…just me?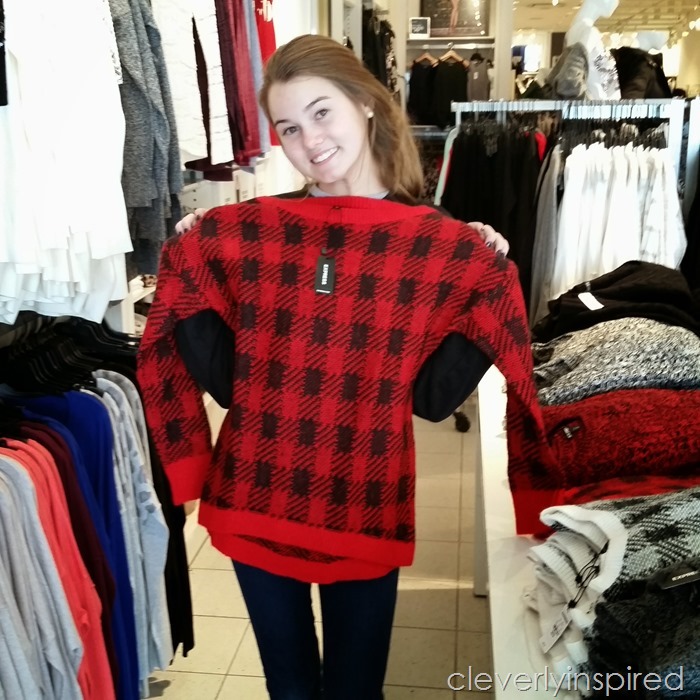 Sidenote: I picked up this fab door monogram from my friend Susan at For Pete's Sake Pottery. She is offering my readers 15% off. Use code "cleverlyinspired" in her etsy shop…. I did a champagne gold color…thought it will work fall and holiday:)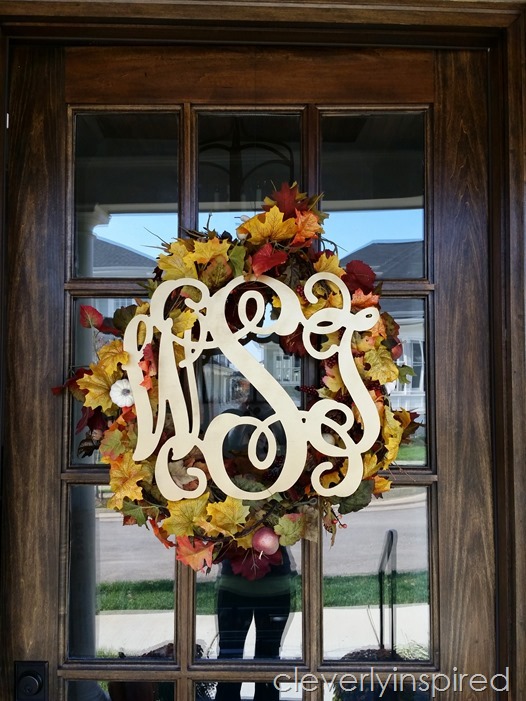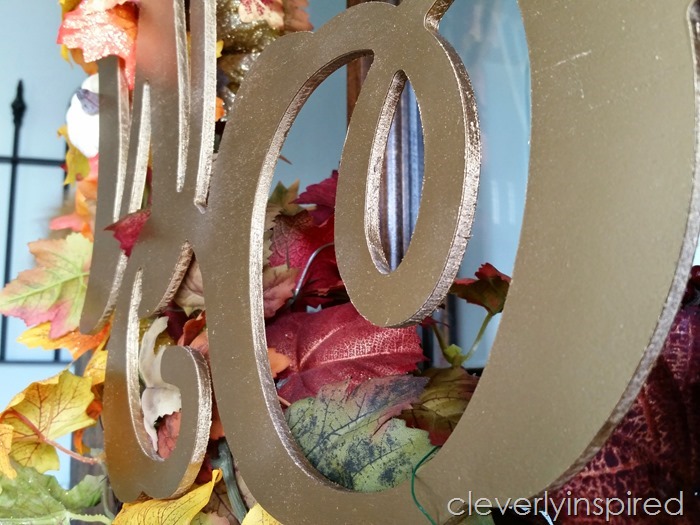 I received the tunics I talked about last week…I would compare the fabric to a cotton tee from target. A nice weight for daytime wear….looks great with leggings….plus covers your rear (Stella approves:)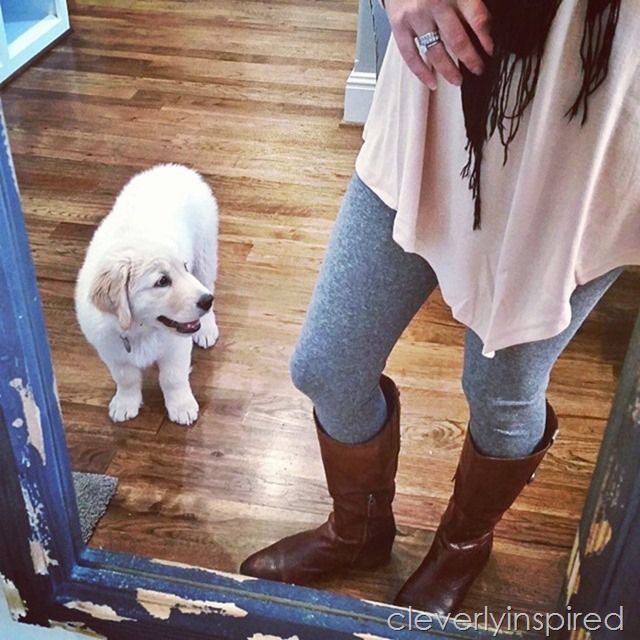 One more pic…because seriously….she is the cutest….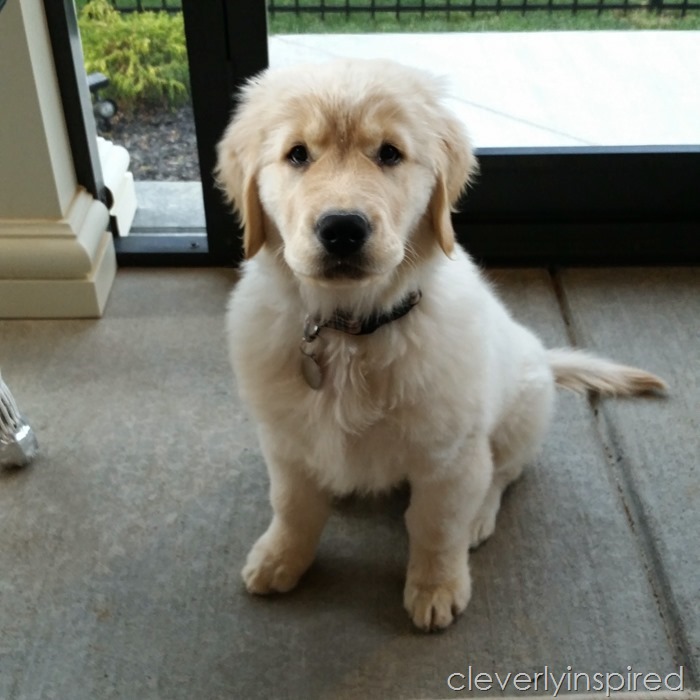 Hope you have a great start to the week!
xo
(kind of addicted to the galaxy "animated" photo setting…..:)