Hi all! Hope you had a restful and filling Thanksgiving weekend and start to your holiday season. I enjoyed a nice break from the blog and most technology….only plugging in a couple times a day. Nice to have a break! I am certainly NOT Martha when it comes to entertaining….I take a pretty casual approach to things. But I have been having friends and family over for the better part of 20 years….so I wanted to share a few things I have learned along the way that may make it easier for you—if you are looking at hosting your first holiday shin-dig…If you have any tips and tricks to add…we would love to hear them…be sure to comment below:)
And these are in no particular order….
1. Music: I think that music can make or break a get together. When you are having friends over who may not all know each other…the common thread of music gets the party started. It is an ice breaker…a conversation point…and a mood changer. I normally log into my Spotify account and create a playlist based on the mood of the party. Many of you like my Thanksgiving playlist…and I am going to be sharing a Christmas playlist too later this week. Set up a Bluetooth speaker so that friends can pair up their music too. Always a hit! (I know…don't you love my ipad stand….:)
2. Fresh flowers…..they are hard to beat. Something as simple as a "managers special" at your local grocery store…along with some babies breath. Not a lot of expense for a huge payoff:)
3. Menu card. Friends who have allergies….picky family members….nosy party goers….the menu card keeps the question out of "what are we eating?" It also starts conversations. Always a good thing.
4. Drink station. This cuts down on traffic flow issues. If your space is tight…and you want to be sure people move around the space….place the bar on a cart in a separate spot. I used a corner of my kitchen that was away from the fridge. Getting out all the clean glasses, ice bucket, ice, bottle openers, and napkins encourages folks to help themselves.
5. Repurpose some of your favorite pieces for serving ware. I like to pull out some of my favorite things and put it to work. This silver picture with some tissue paper is perfect for holding plastic forks and knives. Nice drinking glasses can double as votive candle holders. Collecting a bunch of candlesticks in various sizes grouped together is a perfect centerpiece for a serving area or a table. No need to go out and buy something new just make what you have fit the festivities. Holiday ribbon goes really far by just tying it on to some of your favorite things. Those pieces immediately fit together!
6. Let people help. There's no sense in doing all the work yourself if your friends and family are offering to help. It helps to share the load. You're the one getting the house all clean…so getting help with some of the food or beverages is a great way to lighten your load.
7. Place post-it notes or note cards into special serving trays to let you know what is going where. The more work that you can do ahead of time the less frazzled you will feel on the day of your party.
8. One signature cocktail is really all you need to make the party feel just a little bit more festive. For Christmas you can freeze some fresh cranberries or red grapes. Plop one into a champagne flute and top with a favorite cocktail recipes. It looks so festive and it took you no time at all.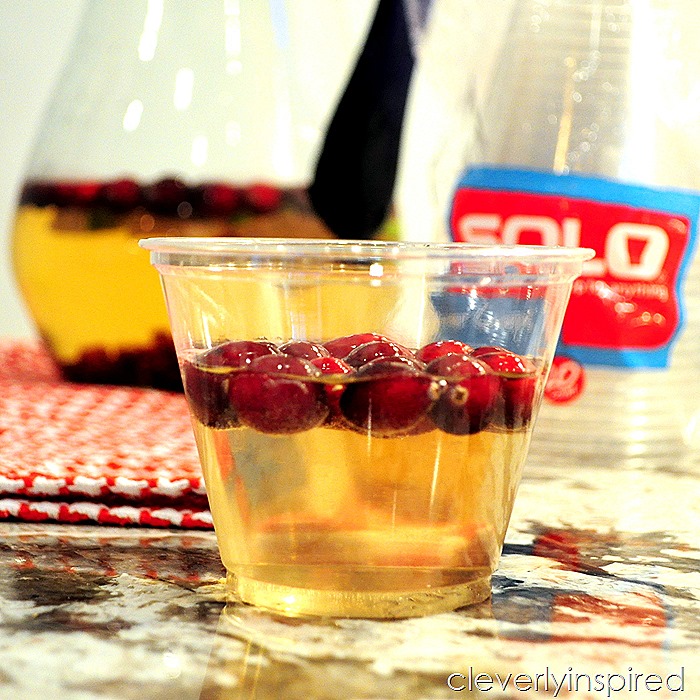 9. A favor or parting gift does not have to be anything very elaborate or expensive. I have done several in the past that I can make several weeks ahead of time and just have them ready to go. I think it's nice to send a friend off with a little something to remember the night by. (Here is a bunch I have done in the past…easy!)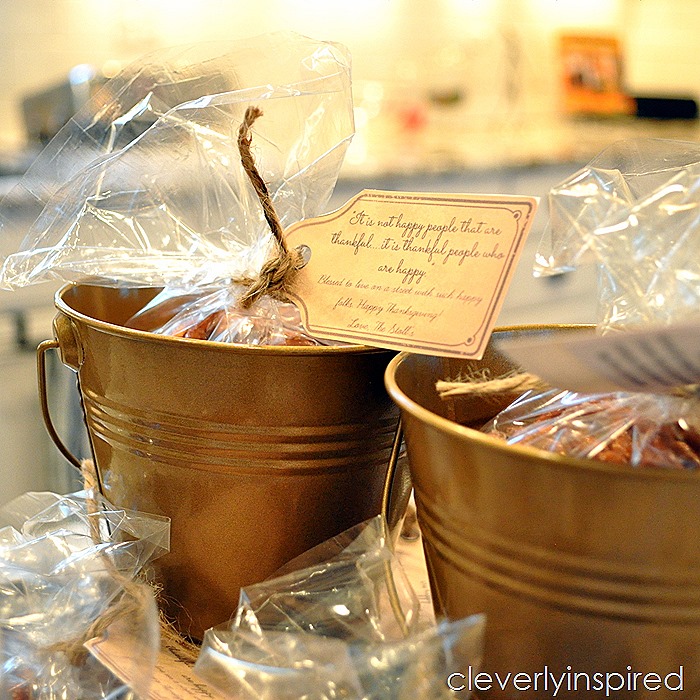 10. Lastly and yet most importantly make this be your mantra… People will not remember what you are wearing or how your house looks or if you had brand new wine glasses or the perfectly pressed napkins but they will remember how you made them feel in your home. Make them feel relaxed…make them feel warm…make them feel welcome…because that is what it is all about!:)
xo