So my peanut is going to her first high school dance tonight:) She is very excited! She is going with a very nice boy….we are friends with his family–which gives some comfort to the whole situation. I'm sure I will share a pic on instagram if you want to pop over there later.
Here is an easy little napkin holder to make for your Thanksgiving table this year:) I hope you have a great weekend!!…..
Thanksgiving is probably one of the only times of year that people actually spend more than 2 seconds worrying about what their napkins look like. My friends at the LeatherHideStore.com sent me some gorgeous tortoiseshell leather and I thought it would make really pretty napkin ties.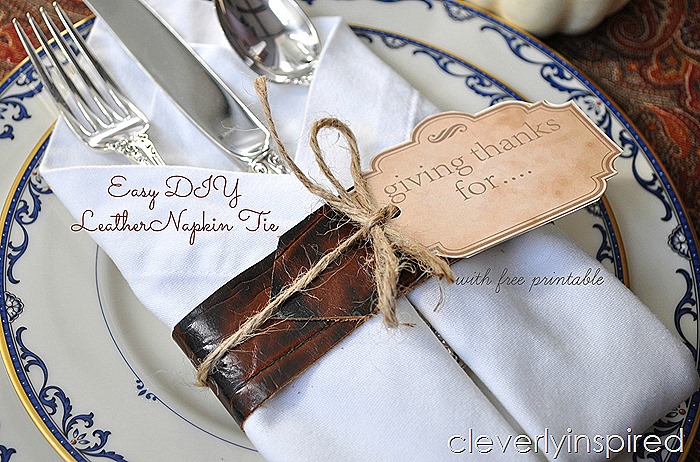 It doesn't take a lot of leather to make these but they do add a lot of interest to the table paired with some inexpensive jute roping a nicely pressed white napkin and some favorite silver. I'm sure you aren't using your white dinner napkins right now…so if you are hosting the big shin-dig this year…you might as well get a head start and make these up this weekend. They will be one less thing to worry about:)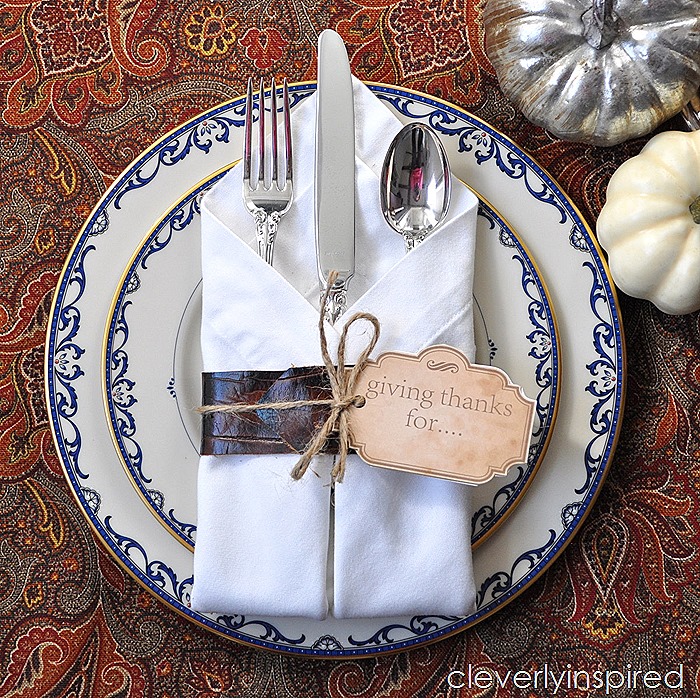 I love the mix of textures….makes it look really warm on the plate. I encourage you to stop by Leather Hide Store.com to see the huge selection of all sorts of beautiful leathers. You can order any quantity that you need. There are so many fun projects that you can incorporate leather with…like all of these on pinterest.
What you will need is 12 inches of leather, some jute roping, double sided tape,  this free printable that you can download and a white dinner napkin.
First for the super easy napkin fold….
lay pressed napkin on a flat surface and fold one corner up almost completely to opposite corner

roll in both side until they meet in the center

Flip over

Fold the rolled edges over

Flip napkin back over and place on the plate.
For the tie:
cut a piece of leather 10-12 inches in length

cut out notches on each end as shown below

use some double side tape to secure leather to each other.

tie with some jute roping

tie on the printable

guest can fill out the printable during the day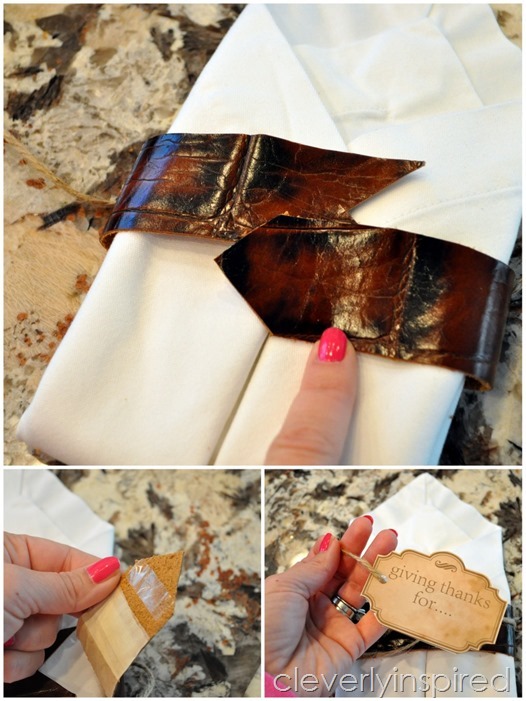 You can right click on the printable below to save it to your computer. I printed mine in "wallet" sizes.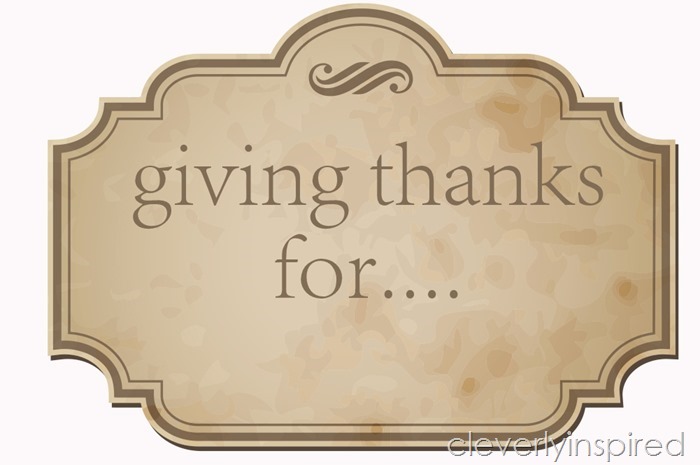 Easy!! Slide the silver into the pockets in the napkin. Wow your friends and family:)
Have a great weekend!
xo