Hey all! We made it through to Friday….barely:) High school can be exhausting….but lots of fun challenges are ahead. We had a busy week here and are looking forward to resting up this weekend. I hope you have some fun things planned too:)
I really lack patience sometimes when it comes to throwing up stuff on the wall. I like to just mark, hammer and hang….so creating a gallery wall kind of challenges me. I have done one in the past at our previous house….loved how it came out…a mixture of treasures that I had found along with some newer things. I like how a gallery wall can be ever changing….
The super tall ceilings in our new house are dwarfing some of my favorite pictures…so I set out to create a statement on one large wall…piecing a few of my favorite things all together. Again, my lack of patience and my need for instant gratification came into play….and this is how it all turned out. (Note: paint color on walls is 1/2 strength Coventry Gray by Ben Moore. Ceiling is Light French Gray by Behr. See "Paint Colors" tab on the side bar for complete post:)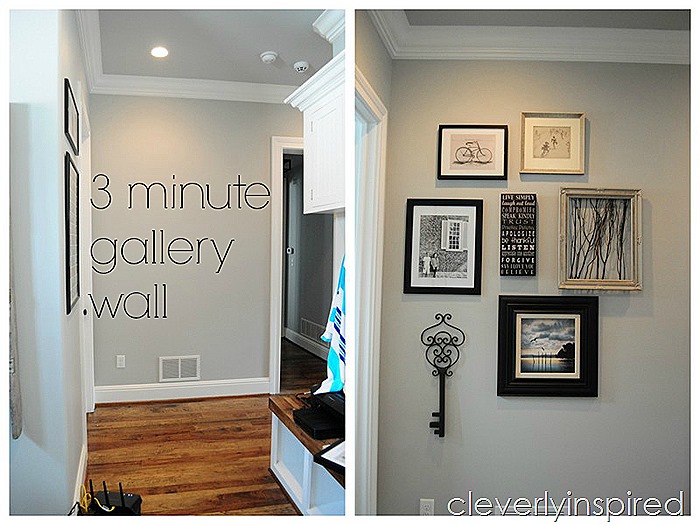 I started by gathering the pieces that were alike in color (ie all black, gray or darker toned pictures/items.) This wall is the first thing you see when you come in from the garage entrance.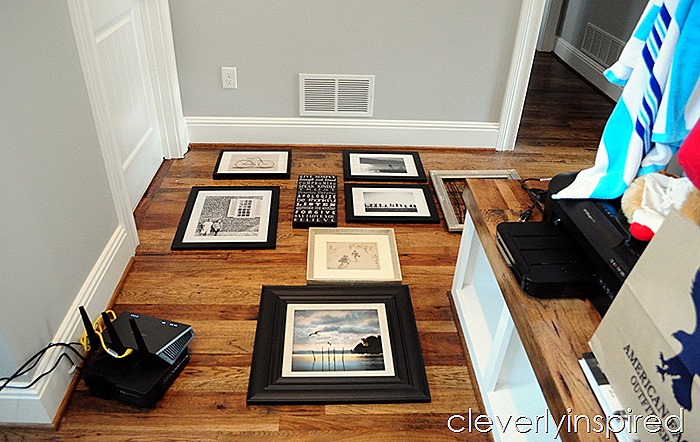 I began by placing the items on the ground….directly where they would be hung on the wall. (ignore the wireless router…that only seems to work for everyone when it is located on this wall…so that will be fun to decorate around….or not.) This gave me a visual for how they would be placed on the wall. You could even be all smart about it and measure the height and width….but that would have required me finding the tape measurer…and I was in a groove…you feel me?! Moving on….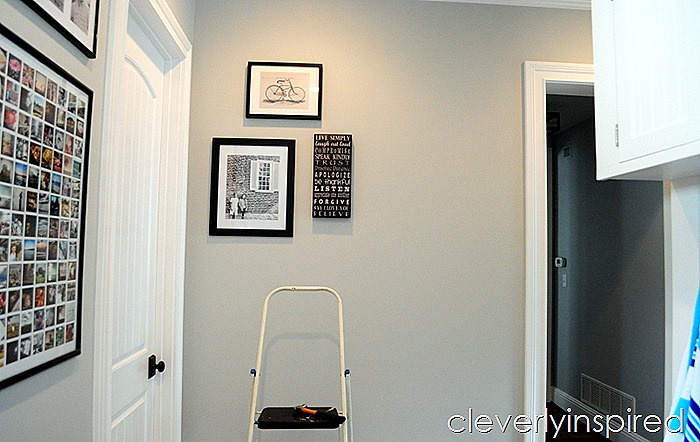 I started in the high left corner and worked my way towards the center and down the wall….trying to mimic what I had placed on the floor. It doesn't have to be perfect people…..they already look good together because they are of the same color family:)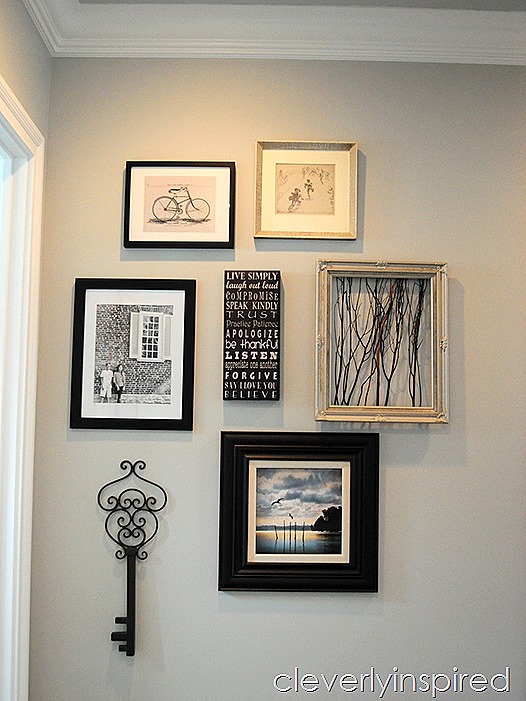 What I love is that I can continue to add pieces as I find them….and it will all flow nicely—just so it has some black or gray….it will blend.
My very favorite blog post even made it on the wall! The twig art remains a favorite in our house….still goin strong:)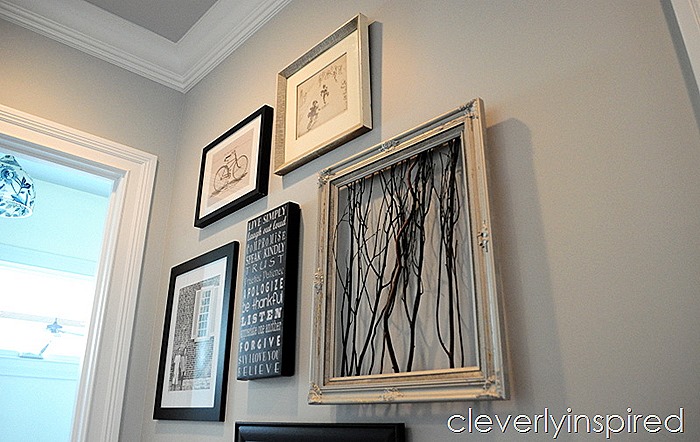 Have a great weekend friends!!!
Sidenote: Several have asked about what to start with if you are new to Norwex. I too am new to Norwex…but I have quickly fallin in love with the enviro-cloths for cleaning the kitchen…and the window cloth for cleaning stainless steel and mirrors. (it comes in a starter pack for $31) I get both cloths wet first….ring out the water and fold up the cloth into 4ths and wipe. My cloths are damp when I use them….I rinse them when I am done and hang them up for use later. I "deep clean" them once a week in my laundry tub with super hot water and a tiny drop of laundry soap. That is it….so easy! Here is the post and the youtube that sold me.… I will be closing out that "party" at the end of the month (link on the side bar)….but I will keep a party going should you ever want to come back and order:) Just email if you have further questions …
xo