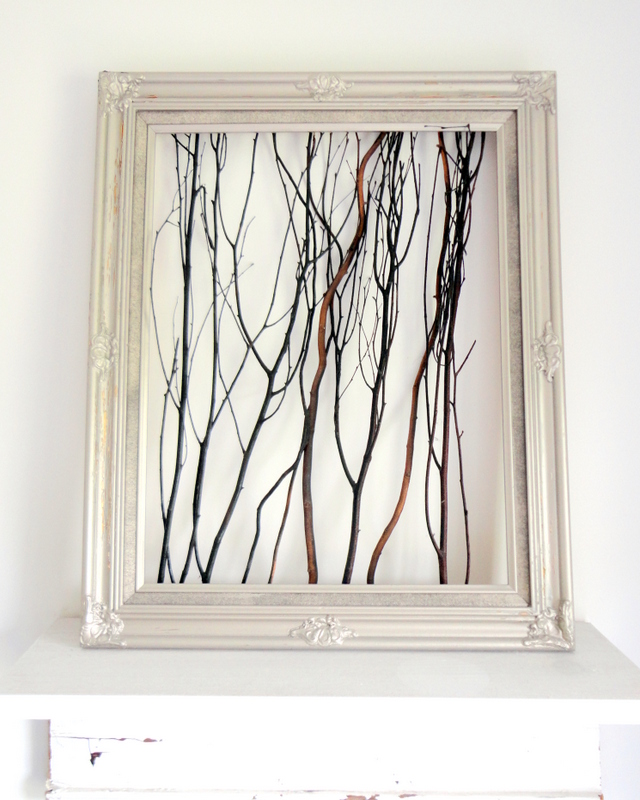 I love to wake up on a lovely Fall morning…before everyone else is awake. I sneak downstairs–make some coffee, grab a granola bar and the paper and hit the streets—looking for garage sales. I LOVE it! I LOVE to find something for nothing! Makes my day! So this past Saturday was that kind of a morning-JOY! This is what  I came home with….I spent how much??
What's your guess??? I bought a large lamp ($5), a big wood frame ($2) and a cute little wooden end table ($5)   That's right!!!! $12!!! I know–LOVE THAT! Booyah!
So I had an idea in mind to use the frame and these sticks from another goodwill trip…
I layed the sticks out on some news paper in the garage and I spray painted them black. Let dry.
Then I took the frame….sprayed a grey primer on because it was gold..
After that dried I sprayed a nickle finish spray paint on the frame.
What did we do before spray paint???!?! Seriously… love it!
When the frame was dry…I flipped it over…then I took all those sticks that I painted black. I laid them evenly on the back of the frame…(you see where I am going with this…I know…I was excited too :)
Then I got out some clippers and my trusty staple gun…hubby actually gave me the clippers…I was ready to pull out the miter saw.
I trimmed the sticks so they lined up with the edge of the frame. I stapled them in place–ensuring that they were spread out and evenly placed.
 And then…are you ready for it?!?! I flipped it over—and SMILED—LOVE THIS!
It is now my favorite piece of artwork… love it! And it cost $2!!!!! It looks really pretty with an electric candle at night too…..
Be inspired to be clever ;)
Tell me what ya think????