Green Giant has invited me to share a "surprise" or hidden talent. Is it weird that I thought of my dog first….seriously he popped right into my head when I heard the words "surprise talent". You see….our dog Putter…our beloved 12 year old Golden Retriever smiles. When we walk in the door after being gone…or first thing in the morning when you say good morning to him…he genuinely smiles at you. He makes himself sneeze from smiling so big. How did we get so lucky? You can't help but smile when you see him smile…it's contagious.
Here is my attempt at catching this on video…it is kind of a half smile….sorry for the shaky video work :) And please excuse my annoying baby-voice…he is my baby though;)
Funny right…I uploaded my video to the Green Giant Facebook page. You should tell your story on a video too! What family surprises will you share? Hidden talents…unleash them!!
Green Giant is sharing their big surprise too….putting all the goodness of their veggies into a yummy new chip! They shared a few bags with me….and we are all fans in our house. They are light, crisp and a perfect balance of sweet and savory. Quite a surprise ;) Healthy snacks that taste great are a win win. I bet if you buy some you will be shocked at how quickly your family will be asking for more.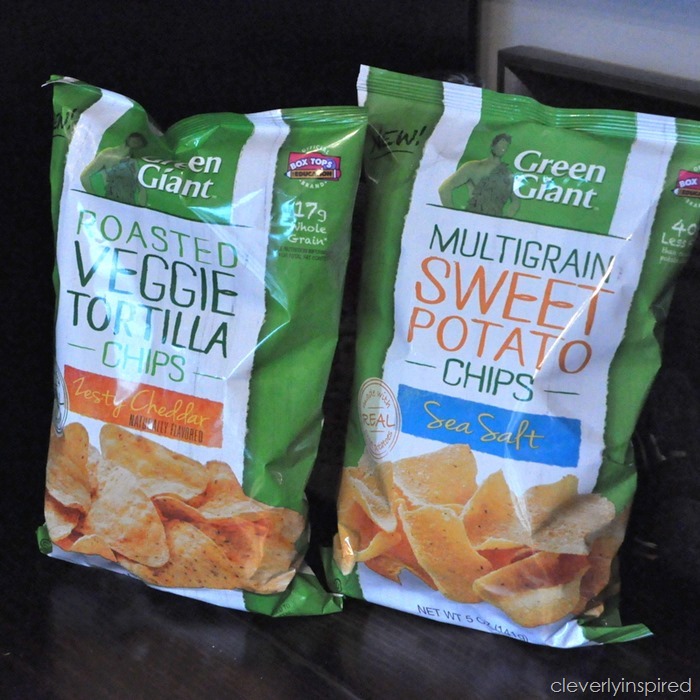 Our favorite was the zesty Cheddar flavor Tortilla chip. Perfect with some fresh guacamole or salsa. They are made with real veggies and whole grain.
Go check out how others are sharing their big surprises on Green Giant's Facebook page or YouTube channel
Product Information
The Green Giant™ Roasted Veggie Tortilla Chips – Zesty Cheddar Flavor are made with real vegetables, 17 grams of whole grain per serving (48g are recommended daily), and are naturally flavored.
The Green Giant™ Multigrain Sweet Potato Chips – Sea Salt Flavor are made with real sweet potatoes and made with 14 grams of whole grain. Plus, they contains 40 percent less fat than regular potato chips*!
*Green Giant Multigrain Sweet Potato Chips (6g per 28g serving) have 40 percent less fat than regular potato chips (10g per 28g serving).
Thank you to The Green Giant™ for being a sponsor. Show the Giant your surprise talent atwww.facebook.com/greengiant
I am a brand ambassador for companies that I believe my readers are interested in learning more about. I work with Social Spark and Clever Girls, along with individual companies that are targeting their products to my readers. I will always be mindful of your time and needs…and keep with the mission of CleverlyInspired; which is to inspire you to be clever in your own home. Doing sponsored post help me to continue crafting, baking, and projecting here at CleverlyInspired. I appreciate your understanding