Hi All!! I had to pick another winner for the Santa Set…number 39 was picked…Sadie! Contact me and we will get you all set.
I had a love/hate for my powder room. I love the wallpaper on the ceiling…but hate the green. It was time for a change. The colors were a bit dated and the wall were needing to be helped…to put it mildly. Boys of all ages using it constantly…need I say more?? The fine folks at Dutch Boy paints offered to send me a fan deck of their colors and also asked me to try out a gallon. Sure!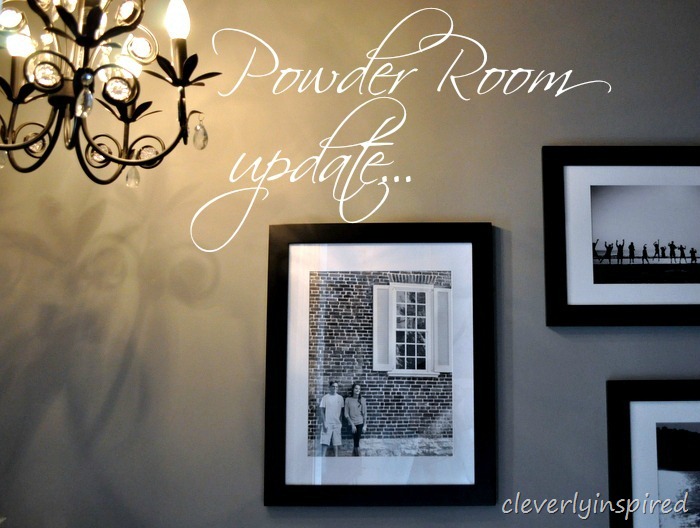 I chose Stonewall Jackson for the powder room…a very pleasing gray. Depending on the light in your space…it can show a bit blue/gray. In this bathroom…being so tiny…it was a true gray.  This room is super hard to pick a color….no real natural light…and the green that was on the walls was very tricky to see beyond. But I love this color. I even put it on the ceiling too (I covered right over the wallpaper…no moisture in this space made that an easy choice).  Covering up the green took two coats on all surfaces. The paint went on smooth and looks great!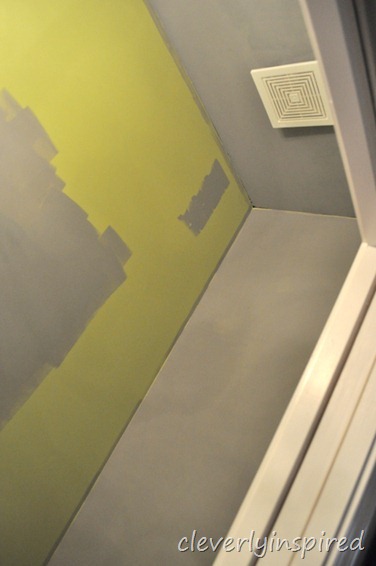 The fan deck the Dutch Boy sent me had several colors that I really liked. This gray was perfect to transition from the foyer and hallway.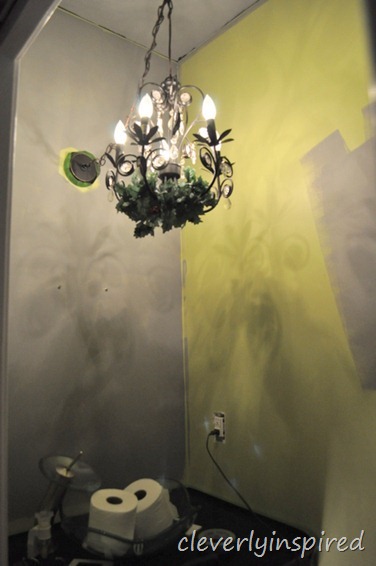 I found this fabulous mosaic mirror at Homegoods…along with the sparkly lamp. Just a few things left to do in here and the space will be complete. I have a fun "art wall" planned and a new chic light is being shipped to me from Shades of light. Your right….there is nothing wrong with this little black chandy…but we were wanted an update…and for me that included lights :)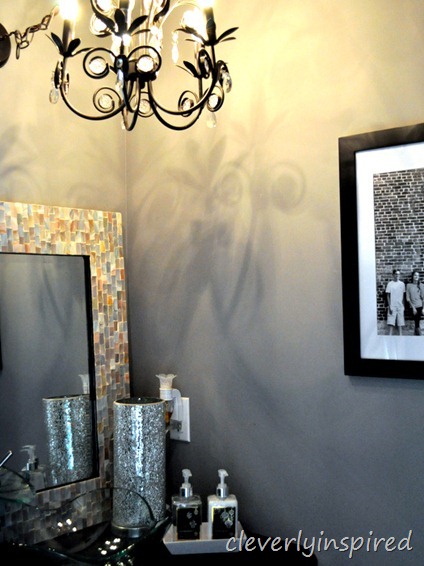 Here is another example of this color….in a larger bathroom….(shows a little bluer than mine.)
And this one….very striking I think.
The holidays have put some projects on hold…but we will be back at it soon enough.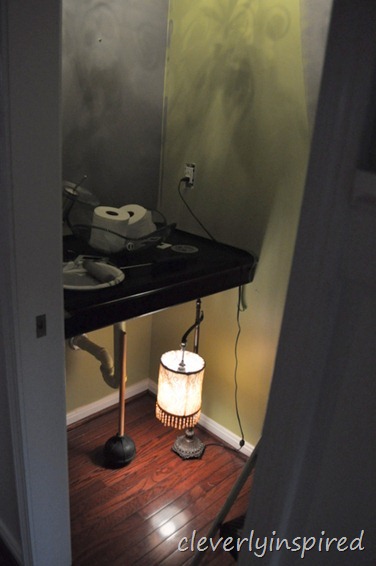 Nothing says welcome to my home like a plunger and lamp under the sink…and tp in the sink ;) #lifeofadiyer :)
Thanks to Dutch Boy paints for providing the paint for this project and sponsoring this post. Dutch boy paints can be purchased at most Sears locations.