Holy. Moly. I may never buy another caramel again. Have you ever made your own?? This recipe was really easy. I promise. I think the key to making candy is being prepared. Measure all your ingredients before you start. Turn your phone off. Put a show on for the kids. Tell your husband no grabbin-the-tush-time….for reals…because momma is makin candy ;)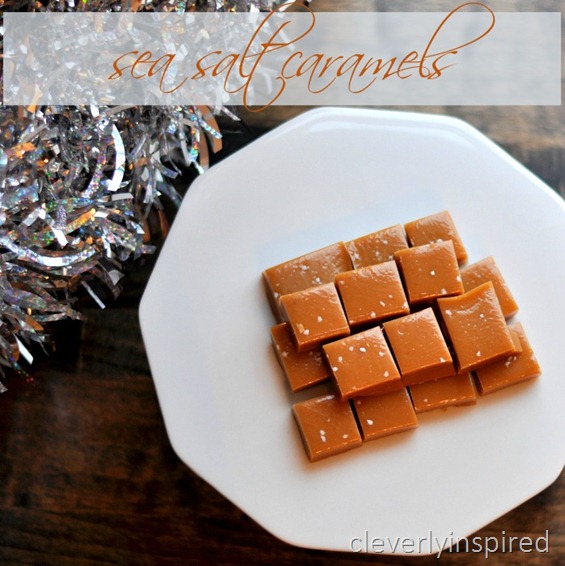 You can make this "sea salt free" if you wish…but why would you wish such a thing? It's like I don't even know you…:)
Ok….after you have your ingredients out and measured. It's time to start….
I shared these at my friends annual cookie exchange. I made one 8 by 8 pan and cut them into 56 pieces. 7 rows by 8 rows…yeah…I'm kind of a math genius like that….moving on…
Before you start…grab and 8 by 8 pan and line with parchment paper (allowing it to hang over sides so that you can get the caramels out after they are set). Spray paper and sides of pan with cooking spray.
Start with really good ingredients…that will produce a really great caramel :)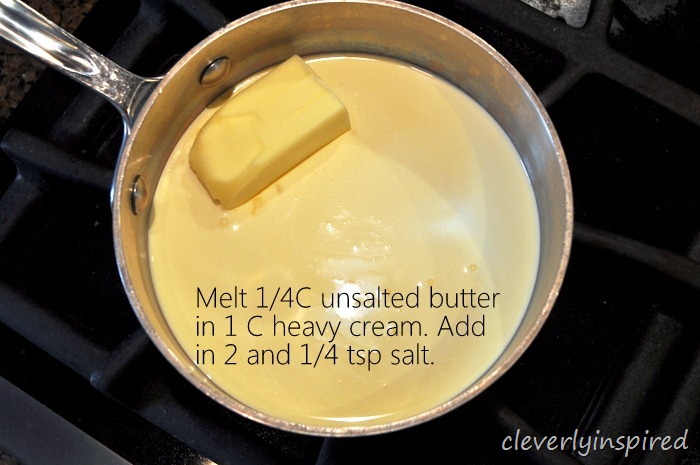 Step One: Melt butter, cream and salt (if making sea free…just add 1/4 tsp of salt instead). Set aside. (For a creamier caramel add 1/3 c more cream)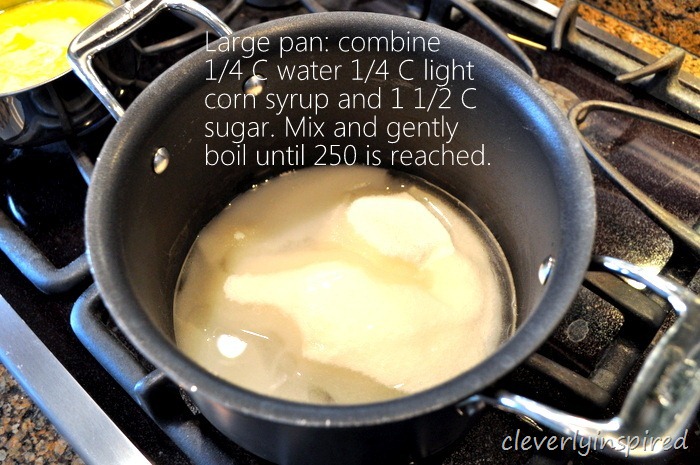 Step 2: Large pan, combine water, corn syrup and sugar. Stir to combine. Then leave it alone. Gentle boil until it reaches 250-255 on a candy thermometer.
Step 3: Turn heat off. Slowly whisk in the cream mixture into sugar. Mixture will foam up and bubble…just keep whisking until all cream is incorporated. Stop whisking and heat again until thermometer reaches 250. Don't stir at all.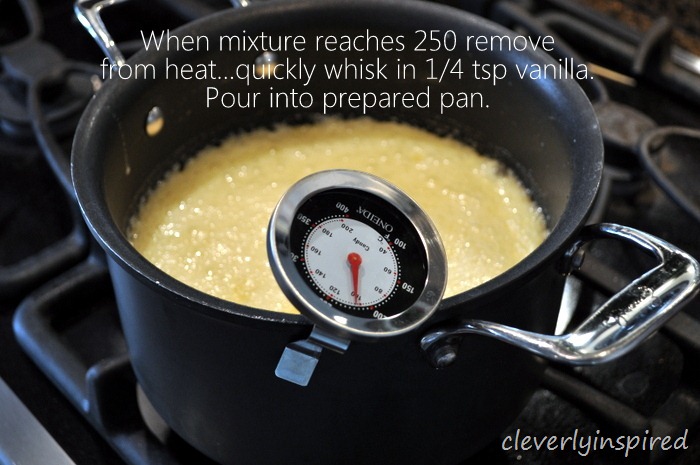 Step 4: Remove from heat and quickly whisk in vanilla. Pour into prepared pan. Lightly sprinkle with course salt. Let cool uncovered for a day and cut up :) Wrap into wax paper.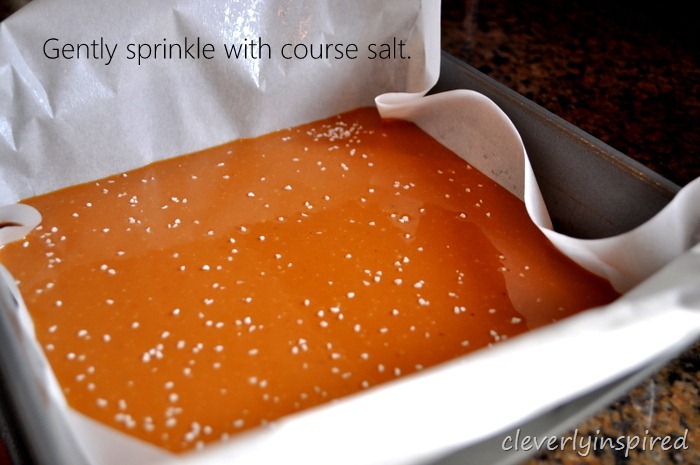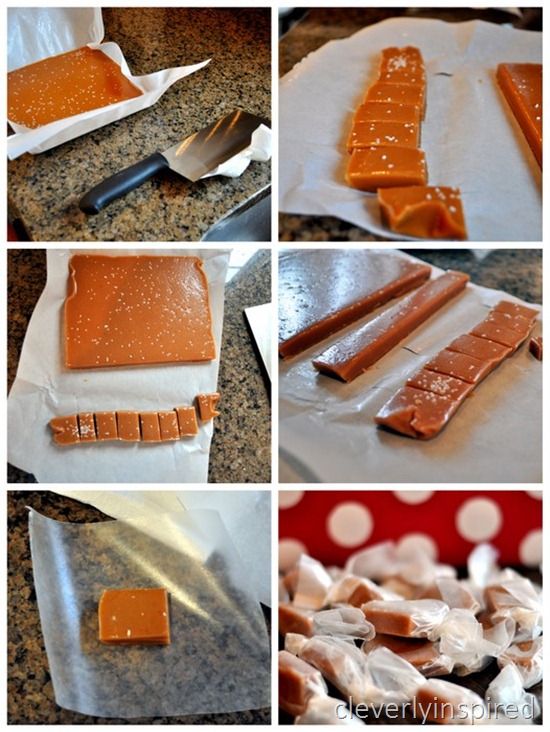 Rejoice! You just made scratch sea salt caramels!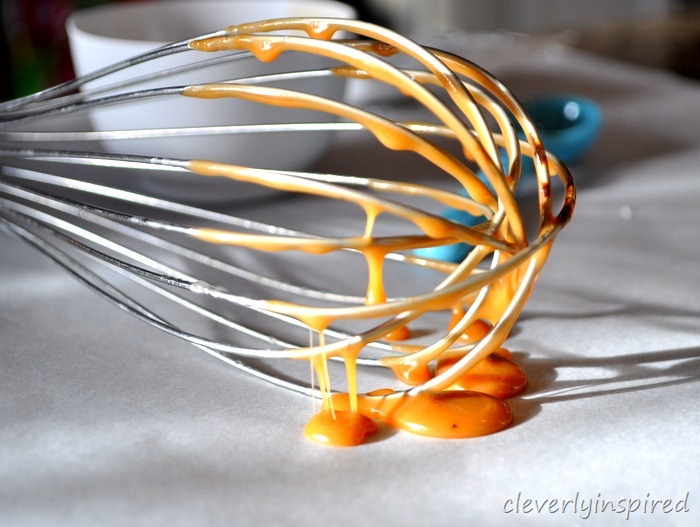 I won't look…go ahead and eat the cooled caramel off the whisk…:)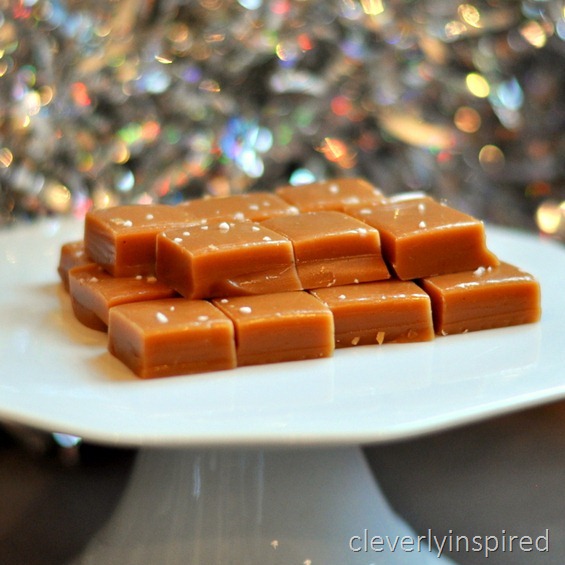 Ingredients
How to Make Caramel Candies
Makes about 56 caramels
What You Need
Ingredients
1 cup heavy cream
4 tablespoons unsalted butter
2 and 1/4 teaspoon salt (use only 1/4 if making sea salt free)
1 1/2 cup white granulated sugar
1/4 cup corn syrup
1/4 cup water
1/2 teaspoon vanilla extract
Equipment
8×8 baking dish (or similar size)
Parchment paper
2-quart saucepan
4-quart saucepan
Instant-read thermometer or candy thermometer
Spatula
Whisk
Wax paper
(adapted from the kitchn)
One more day to enter to win the custom DIY wine system from Artful Winemaker.com. (give the page a second to load…the entry is at the bottom…you will see a Rafflecopter box pop up to enter your email…) Good luck!
Sharing at ThistlewoodFarms, HOH, Tatertots
Sharing:

[shopeat_button]