Saturday mornings in our house start with waffles, bacon, music and cleaning…in that order. It is a great way to get everyone up and moving and helping to make the house sparkle. Music is the universal motivator don't ya think? I mean it is hard to stand still when you have some dance tunes on. And dare I say…you might actually have fun wipin down that toilet :)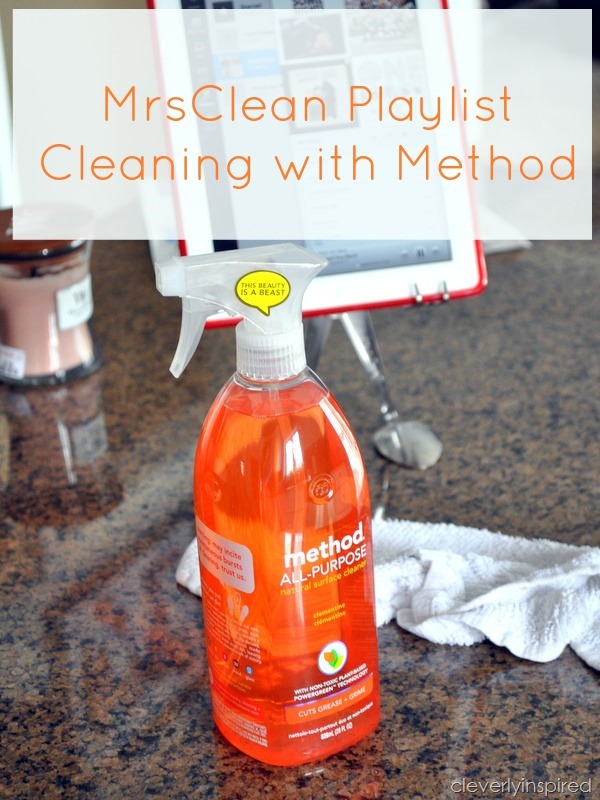 The fine folks at Method like to help us make the house clean. The fabulous clean scents like grapefruit, clementine, French lavender….they all leave surfaces dirt free and smelling great (just like your teen boy right??!!)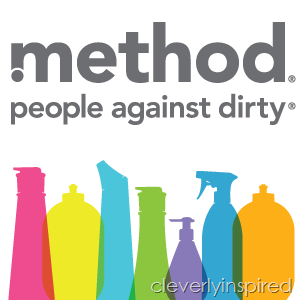 To help you in your quest to get your house sparkly clean….I have put together an hour of fabulous upbeat songs for you to get your cleaning groove on. What can I say, I am here to help :) I have chosen some that may be new to you…new music is always fun! Now you can be the one to tell your friends " have you heard this fun song by Cake?" (yeah, you're a cool mom…in your swagger wagon…work it girl…)
Method All Purpose Cleaner spray is available in a 28 oz. bottle and retails for around $3.99. It comes in a variety of fresh fragrances, including Clementine, Cucumber, French Lavender and Pink Grapefruit. You can also find two additional fragrances exclusively at natural food stores (such as Whole Foods Market), which are White Rosemary and Ginger Yuzu.
So many to pick from and they all smell divine!
Do you have a favorite song to clean to? Add to the conversation and leave it in the comments below:)
Mrs.Clean Playlist available on Spotify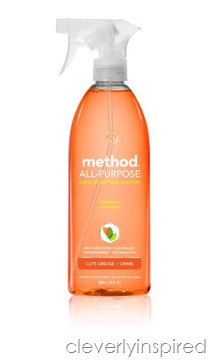 Method is in business to change business. Their challenge is to make sure that every product they send out into the world is a little agent of environmental change, using safe and sustainable materials, manufactured responsibly. And that also means no animal testing.
When it comes down to it, Method is here to make products that work, for you and for the planet. Ones that are as easy on the eyes as they are on the nose. It's a tall order, but they wouldn't want to do anything else.
When you purchase Method's all-purpose cleaner through Methodhome[dot]com, use the coupon code APCBLOG at the checkout to receive $1.00 off your online order.
I am a brand ambassador for companies that I believe my readers are interested in learning more about. I work with Social Spark and Clever Girls, along with individual companies that are targeting their products to my readers. I will always be mindful of your time and needs…and keep with the mission of CleverlyInspired; which is to inspire you to be clever in your own home. Doing sponsored post help me to continue crafting, baking, and projecting here at CleverlyInspired. I appreciate your understanding.
This post was sponsored by Method Cleaners. Opinions are 100% my own.