This just seems like a fantastic idea to me. A waterproof pouch for your smart phone. I have never been a huge fan of the big bulky waterproof cases for smartphones. Maybe that is why this one intrigues me so much. It is called the Aqua Pouch. Basically you can place your smartphone inside….listen, talk and use it just as you would normally. I am thinking this would come in handy in spring and summer when you are around pools and lakes:)  It would also help in those times when you cannot miss a phone call…like when the pediatrician is scheduled to call you back and you need to jump in the shower. Comes in a large array of colors too!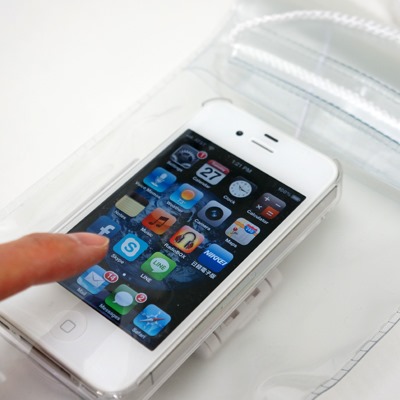 Aqua Pouch Speaker

This water-resistant smartphone/MP3 speaker will allow you to play your music or watch videos in the shower or outdoors while protecting your device from getting wet. You can even talk on the phone using the speaker. Simply place your smartphone inside the pouch, while connecting it to the 3.5mm earphone jack.
Features;
– Touchscreen devices can easily be controlled from outside the pouch.
– Attached foldable stand will allow for hands free viewing.
– Compatible with devices with standard 3.5mm earphone jack.
Available in 5 colors.