I am not going to write a long post about my time at the Haven Conference this past week. I know many of my readers are not bloggers…so they don't really "care" much to hear about it all (and for those who are bloggers who may have wanted to go but couldn't…could get annoying seeing all these post in blogland about how fabulous is was. But I wanted to list a few things about the conference just so you know what it was all about…
Pros:
1. Driving alone to Atlanta gave me plenty of time to sing at the top of my lungs. (hey, I just met you…and this is crazy…so here's my number….call me maybe…I could go on..shall I? Ok, I will spare you my entire playlist.) It was very fun actually.
2. Bloggers are incredibility funny, sweet and oh so creative. I enjoyed meeting them in person and talking "shop". Most matched up perfectly with their blogs…others not as much. But all around…a fabulous group of woman.
3. I got to build with Ana White…and better yet when she called me up to help she said "and you are Cleverly Inspired"…say what Ana…huh, seriously girl you don't read my little blog…to which she responded…huh yes, where do you think I get my inspiration. (I know she probably was foolin me…but I don't care…I love her. ) She is sweet, kind, generous..and a true craftswoman of woodworking.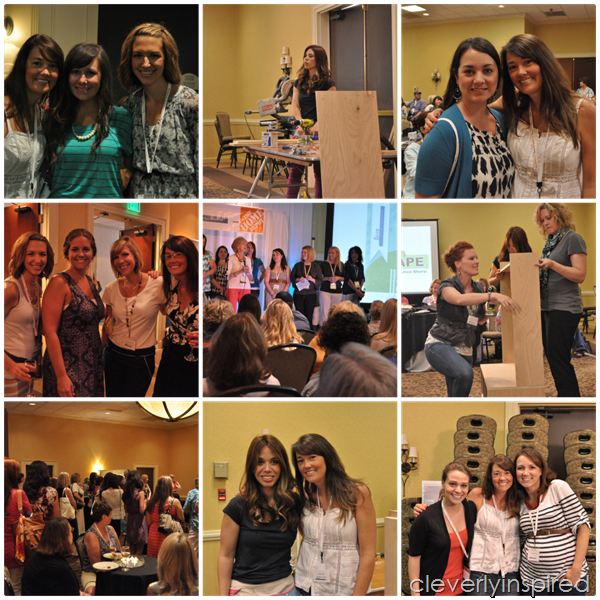 Cons
1. Haven 2013 is a whole year away. Boo…
2. Sherry and Katie cannot come over and have coffee and let the kids play in the backyard while we mull over fabrics for our next project. I adored meeting Katie Bower and her bff Sherry. Geniune, classy, hilarious and kind are all ways I would describe them.
3. Haven is over…and now it is back to laughing with each other only online. I hope to meet my Kentucky girls soon to rehash all the Haven goodness.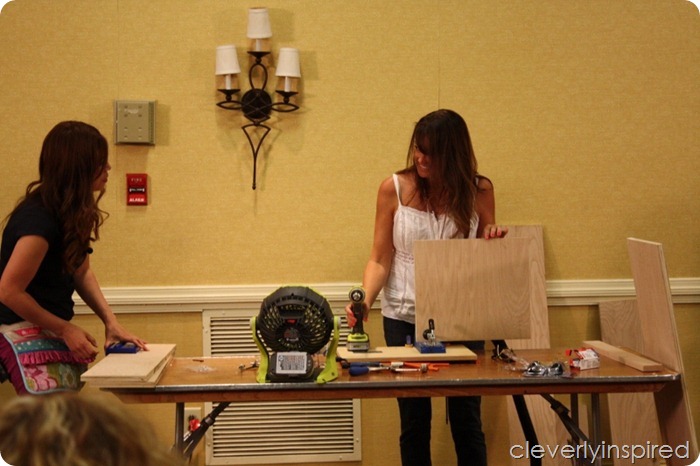 (thanks to Kim at Sand and Sisal for shooting this pic…it really did happen, ha! Kim…you rock!)
Special shout out to Jessie and Chelsea (my roomies)…how lucky that we got to hang out and laugh?!? Also to my home girl Traci….where is our picture girlfriend??? You are one of the sweetest people I know. The ladies from East Coast Creative –Monica and Jess…so great dining with you and chatting..also Beckie…you are a gem!
I met so many great people that I now consider friends. Can't wait to meet up again! Thanks to the Haven team for all your hard work!!!
If you want to learn more about Haven and see some post about it…head over to Southern Hospitality today!