I have been going through some things lately and came upon some jewelry that needed cleaning. My  mom recently gave me her silver charm bracelet. I remember this bracelet so vividly from my childhood. It was her date night bracelet. She would be all prettied up and this bracelet was fascinating to me. I love it! She was gifted charms at different points in her life…swimming awards, wedding, graduations, babies….they all hold a special meaning. I wanted to clean it up a bit and make it shine again.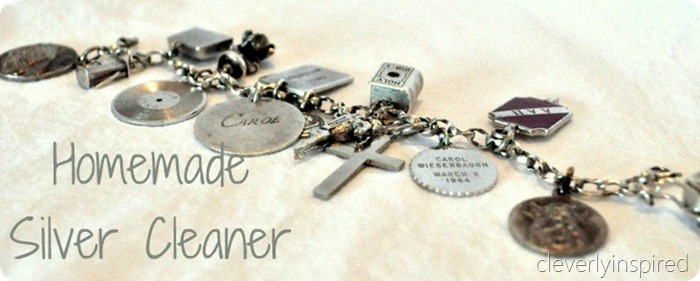 The formula I used is natural and homemade…and easy! All you need is baking soda, foil and a container of some sort…and boiling water. (I have only tested this on sterling silver…)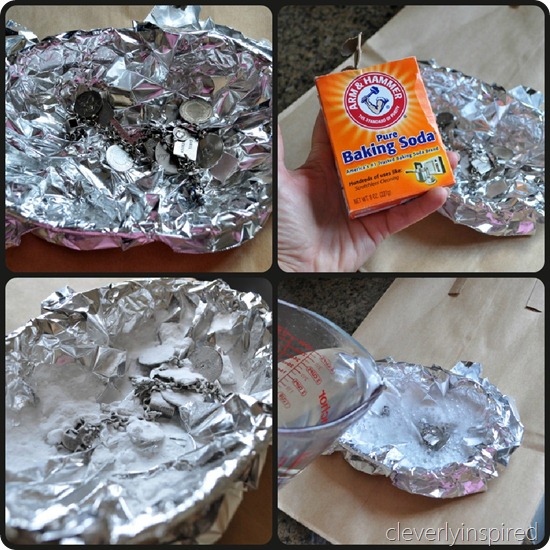 Crumple up some foil and lay the jewelry on top. Generously sprinkle baking soda. Pour on some boiling water.
Let the bubbles do there stuff! I let it sit for about 2 minutes and poked it with a wooden spoon. You will smell a faint sulfur smell (the aluminum and soda reacting…) Take the jewelry out and rinse off…pat dry. Good as new!!