Hey guys! We are full steam ahead on operation "add the tiny bathroom" at the beach house. My dad is meeting with our contractor to go over the size and be sure we have enough room to fit what we want to fit. I wanted to share with you the items that I selected for this bathroom. Our goal here was to place a wall sink alongside a toilet in a small four by four corner in the guest bedroom. What is there right now is a long 6 foot by 2 foot closet. Since we are using most of that closet for this new bathroom we will be left with a small 2 foot space for shelving/clothing storage..which will be plenty. I wanted to share with you some of the products that I found to use in case you are looking to add a small bathroom in your own home.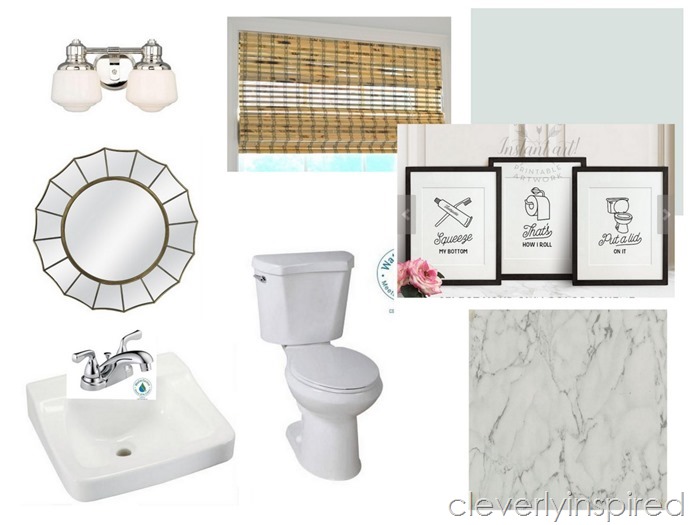 Lighting//Commode//faucet//sink//Vinyl floor tiles//Mirror//Art Printables
I think the key is to try to really consider how the space is going to be used. For us,this room will cut out the morning shuffle….people wanting to use the restroom and brush their teeth…at the same time:)
We placed the sink opposite the pocket door thinking that 80% of the time the door will most likely be open. This will allow the light to come in the bedroom from the new window in the bathroom. We are having a small window installed in this tiny bathroom so that it does not feel claustrophobic. The toilet will be right next to the sink. I found this very reasonable white wall sink at Home Depot. It was a fraction of those of the other ones that I found and it was a perfect fit. I liked that it had a little bit of space to put a soap dish. I chose this very reasonable Delta faucet to go with it in Chrome. The color on the walls will be blue (Topsail by Sherwin Williams.) A small light along with the mirror and a lower profile toilet. The round bowl toilet will save you about an inch-and-a-half as opposed to an elongated bowl.  I found some great vinyl tiles on eBay that mimic the look of Carrara marble.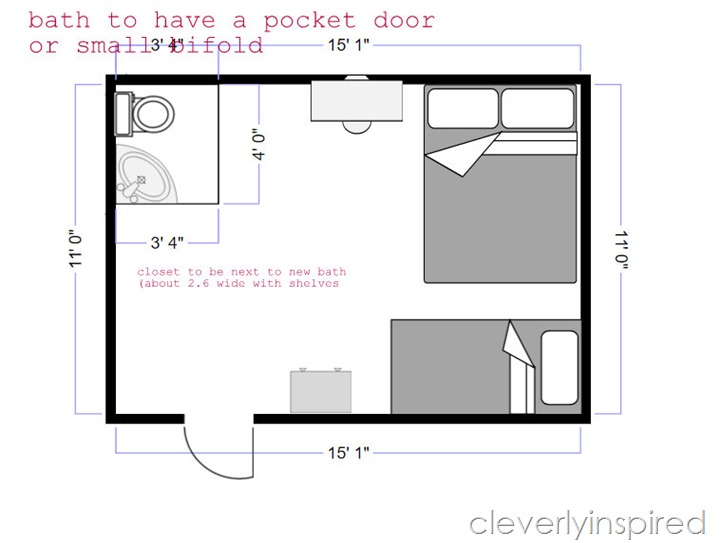 My suggestion to you if you're trying to do a small bathroom like this on a budget is to definitely check around eBay, Overstock, Signature Hardware, Target and Home Depot just to name a few. I am ordered most of the items on Home Depot…my contractor can pick up what I order—No shipping to deal with!
All in all this little bathroom will probably end up costing about $4,000. But we really feel like it will add at least  $10,000 and value to the house. When there's only one of their bathroom in a home the second bathroom is a huge bonus:)